FLOWERY BRANCH, Ga. – Falcons coach Dan Quinn said that one of the best ways a player can help the team is to know their own style – and to not try to be something they're not.
"When a player knows who they are, and when a player knows not only who they are, but how to work and develop that, I think you can blow the lid off who they could be, because they're really true to themselves," Quinn said.
Case in point: receiver Mohamed Sanu.
When you think of the prototypical slot receiver in the NFL, smaller guys like Doug Baldwin, Golden Tate or Danny Amendola usually come to mind. So, when you see Sanu – who is 6-foot-2 and weighs 215 pounds – lined up in the slot for the Falcons, he's hard to miss.
"How often do we see the very small guy in the slot?" Quinn said. "'Sometimes in the draft or free agency, just because they guy's 5-8 and 170 pounds, 'he's a slot!' Our slot receiver is a hell of a lot bigger than that, but that's not every big guy who can do that so he's found the niche of who he is."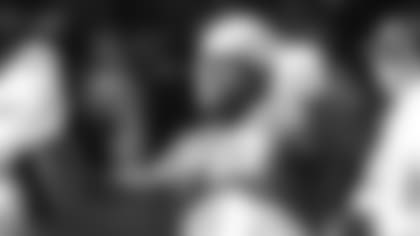 And Sanu, who is often on the field with Julio Jones, Justin Hardy and Marvin Hall, relishes his role. So much, in fact, that he used a video game analogy to make his point.
"Sometimes you need a guy that's quicker, faster can be shifty, shifty, stop on a dime and get those mismatches when he's going against a linebacker or another DB that's not as fast or not as big, you know," Sanu said.
"It's like almost another cheat code."
Sanu definitely flourished last season, catching 67 passes for 703 yards and five touchdowns. It was easily his most productive season in Atlanta since joining the Falcons in 2016.
Entering his seventh year in the league, Sanu said he learned to play slot because he's always felt comfortable playing inside or outside. He also knows that quarterbacks like big guys over the middle – not just a tight end.
"Yeah, I definitely see myself as unique in that regard," Sanu said. "I move differently. I move a lot faster and quicker than people think. When I get the ball in my hands, I'm very hard to tackle. A linebacker isn't going to just flat-out maul me because I'm big. And a DB isn't going to out-quick me because I can move, too. It's tough."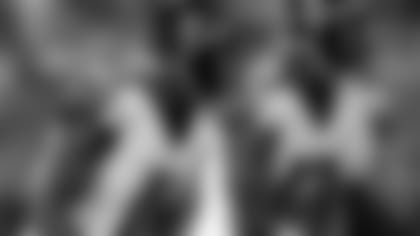 And with the Falcons adding first-round pick Calvin Ridley to the mix, the Falcons have one of the most talented and versatile receiving corps in the league.
"Our entire group is just different," Sanu said. "And people don't know a Marvin Hall or a Reggie Davis or a [Justin] Hardy. Those guys can make tremendous plays. And top of that you have we have Calvin Ridley who's going to come in and contribute really early. And that's the thing, we just have guys who can rotate in and out and not miss a beat."
Different for sure, and definitely in the conversation when it comes to the very best receiving units in the league.
"In my opinion, I think we're the best," Sanu said. "That's just my opinion. Everybody's entitled to their own opinions, and how they see things. I watch receivers play, I understand it. I study the game. There's a lot of talented receivers out there and it's tough to say, 'Oh, this group is better than this group because they did this and have better numbers.' It's not always about numbers. It's about how well you block. How you affect the game, the type of coverage you draw and little things like that. There's a lot of things that go into it."
Falcons free safety Ricardo Allen, who faces the Falcons receivers daily in practice, concurs. In fact, he hinted that he might lose a little sleep over it.
"It's a nightmare," Allen said. "To go against it every day, I personally don't think there's any other offense that has as many weapons from sideline to sideline that can give us as much pressure.
"If you've got Julio [Jones], you've got [Mohamed] Sanu and you've got [Calvin] Ridley on the field at the same time, and then you can throw the two running backs in there, who do you match up against, who do you put your best players on."