FLOWERY BRANCH, Ga. – When talking about the first week of training camp and how the team has been progressing, Matt Ryan said the Falcons were off to a good start but noted "we still have a long way to go."
But one player who Ryan thinks has shown a lot of progress – and might not have as far to go – is tight end Austin Hooper.
"Well, he's gotten a lot better," Ryan said. "A lot more polished. His first two years, he was productive. I think he got like 45 catches or something, similar around that last year. While it's not a huge, huge number, with the other guys that we have, it's a pretty good fit for our system."
The third-year tight end out of Stanford caught 49 passes for 526 yards and three touchdowns in 2017. Hooper also improved in virtually every single statistical category last year except in touchdown catches, hauling in three for the second year in a row.
Expect Hooper's arrow to remaining pointing up, his quarterback said.
Ryan said he thinks Hooper has figured out the timing of the offense and is being a little bit more patient with his routes and understanding where he needs to be. That's especially important as the two continue to work on not only timing, but chemistry.
"I think being on the same page is critically important in this league because things happen so fast," Ryan said. "You have to have so many reps, you have to have so much time on task and an understanding of what we're expecting from each other in order to be successful."
And when it comes to putting in reps with Ryan, Hooper has done that – and then some. For the last two offseasons, Ryan and Hooper have spent time working together privately. In 2017, Ryan went out to Hooper's home state of California and this past offseason, Hooper stayed in the Atlanta area to work.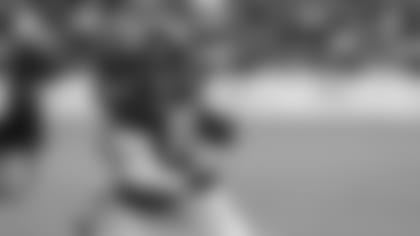 "If you want something, you've got to sacrifice something else," Hooper said. "I sacrificed spending time with family and friends, and doing vacations, and doing all of this quote-unquote fun stuff to get to work with Matt. Matt's twins were on the way, and I knew he wasn't going to be on the West Coast after the season ended so I made the executive decision like, 'OK, wherever Matt's going to be this offseason, I'm going to be a part of it.'
"Hopefully, good things will come."
Ryan certainly thinks so and credits the young tight end's work ethic. He said that it sometimes takes time for young players to figure out what it'll take to be successful in the NFL, and also noted that every player is different.
"Everyone can tell you what their routine is and how they do things but we're all different," Ryan said. "We all have different personalities and we all operate differently. I think he has kind of gotten to a point where he's comfortable with himself and understands what it takes for him to be productive and has figured that out. To me, he looks really good."
With first-round pick Calvin Ridley added to the offensive arsenal in 2018, Hooper will need to cash in on his opportunities.
"I think that, along with the additions that we have, is going to make for him to have a really good year," Ryan said.