MIAMI GARDENS, Fla. -- Arthur Smith said this week's matchup with the Dolphins is almost like a divisional game just for the simple fact that they've already seen Miami in action during the preseason.
The Falcons made the trip down to Miami in August, partaking in a couple joint practices and then a game to cap off the week. Smith said that while there is something to be taken from that experience, it's not truly telling of what may happen this Sunday as neither coaching staff was "full out game planning" in the preseason.
"You have a little better feel for their personnel," Smith said. "But (with) the teams, we're a completely different team than we were when we went down there, and so are they."
With kickoff coming Sunday, let's take a look a five things we will be keeping an eye on as the Falcons make their second trip to Miami.
For the first time in about a month, the Falcons will have their full gamut of offensive weapons active on Sunday. Gage has been dealing with a high ankle sprain for a few weeks and had to miss three games. Gage said it was a frustrating injury as doctors told him he would have to be out longer than he wanted.
The Falcons No. 2 receiver said he had never experienced a high ankle sprain before. He's been pretty healthy as a receiver in this league, only missing one game his rookie year. So, having to sit out was new for him. He said on Friday he's pleased to finally get the green light.
As for the Falcons No. 1, Ridley is back as well. The receiver did not travel to London two weeks ago to face the Jets. He said he was dealing with a personal matter that he would like to remain private.
With both Ridley and Gage back, the Falcons offense is right where it wants to be when it comes to skill player depth.
Fowler has been ruled out for Sunday's game in Miami. He suffered a knee injury against the Jets and hasn't been able to practice this week. The Falcons will be looking to their depth to fill in for Fowler.
Steven Means will continue to lead the room, but expect an extended role for Ade Ogundeji. The rookie has taken on more responsibility in pass rush week in and week out. Without Fowler, the Falcons will be relying on Ogundeji more than ever. There's a chance he may even take over Fowler's starting role.
More so, there should also be an expectation to see more of Jacob Tuioti-Mariner and Brandon Copeland in rotation as well, particularly Tuioti-Mariner who's been a healthy scratch at times this season.
The Falcons have their work cut out for them in pass rush without Fowler, but Ogundeji may be up for the test.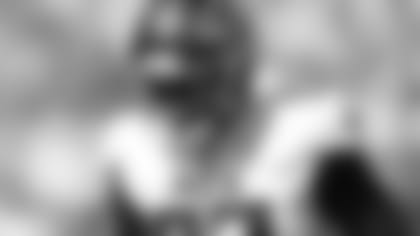 4. Striving for more consistency
Matt Ryan said he's been pleased with the progress he's seen this offense make through the first five games of the season, but he knows there's still a lot to clean up. Something he noted specifically was the need to see more consistency within the offensive attack.
Ryan said the next step this offense needs to take is in that consistency, whether that be in the run or pass. The Falcons want to be on a consistent attack through four quarters, and not be as up and down as they sometimes have been in first set of games this season.
"I think we still have a long way to go," Ryan said. "It's still early, but I think you're starting to see us trend in certain directions, at least I feel that way."
5. The need for a decisive win
The Falcons have a pretty solid opportunity in front of them. They are coming off a win over the Jets and a bye week. Atlanta is one win away from a .500 record, and they're starting to find their identity as a team (particularly as an offense). Meanwhile, Miami is in a more tumultuous state. They're 1-5 and coming off a demoralizing loss to the Jaguars in London last Sunday.
The Falcons may see one of two teams in Miami: Either the Dolphins come out angry and with something to prove, or they come out dejected and flat. In whatever capacity they do show up on Sunday, the Falcons have to account for it and they have a chance to do it in a way that is decisive.
There really hasn't been a game so far this year that the Falcons could consider decisive. The Jets game seemed to be heading in that direction early, but New York hung around and made it quite the game in the fourth quarter.
If the Falcons can go out on Sunday and really get a lead and maintain it against Miami, that bodes well for Atlanta as it enters into a period of a couple divisional games in the coming weeks. It changes the narrative around those divisional games, too. If the Falcons take a big step against the Dolphins and really come up with a no-doubt win, it makes the Carolina and New Orleans games a bit more interesting.
But the Falcons have to get through Miami first, and that's where the focus will be on Sunday. Falcons Final Whistle | A Postgame Podcast
Break down the hottest topics surrounding the Atlanta Falcons and how they can impact the team's success with Falcons Insiders Scott Bair, Tori McElhaney and Terrin Waack. Like and subscribe to join us for the lively debate on Falcons Final Whistle.
Welcome to Falcons Final Whistle – an Atlanta Falcons football postgame podcast during the season that shifts gears in the offseason to answer a pressing question about the team's future each week through free agency, the NFL Draft and the offseason program.