FLOWERY BRANCH, Ga. -- It was the week before the Falcons season opener when Matt Ryan stood behind a microphone for his first midweek news conference of the season. He broke down the Eagles defense and noted his overall excitement to finally see the field with a new coaching staff. But towards the end of one of his answers, Ryan said something that when tweeted, struck a nerve.
"I think we'll be a very different team in November and December," Ryan said.
Truth be told, it wasn't dissimilar to what Arthur Smith had said time and time again through the preseason: that he envisions this install process to be a "constant evolution" for this team. He didn't foresee a night and day turnover. He sees a process. Ryan was saying the same thing, but when this quote hit the Twitter landscape, it disheartened Falcons fans who had previously clung to a quote from Arthur Blank and Rich McKay. During the coaching and general manager search of the offseason they agreed this team could be competitive now, and that was their expectation regardless of who they chose to lead the charge.
For some, what Ryan said felt like a contradiction. Fans weren't looking for a process. They wanted results (i.e. wins) now. So, Ryan's quote was one that got misconstrued in meaning, with some feeling that because Ryan said this that the Falcons offense would not be competitive. And when the Falcons started out 0-2, that only added fuel to the fire.
But that wasn't what Ryan meant when he said what he did about this team looking, feeling and playing different later in this season. He was right in step with that "constant evolution" comment from Smith. Perhaps at the time Ryan knew that this offense was still trying to figure things out, and instead of filling anyone with false hope, he was honest in his evaluation of where the offense was at the time. It would be unfair to say they knew in training camp what the offensive identity would be. It would be unfair to say that even now.
However, through five games, and with a 2-3 record, we're seeing this "constant evolution" that Smith and Ryan discussed play out, particularly with the offense. As a thought exercise, it's interesting to put the above quote from Ryan up against a quote he had this week as the Falcons prepare to face Miami in Week 7. This recent quote probably sheds a little light on how many questions the Falcons offense truly had for itself going into the season.
"There's an evolution as the year goes on and your team changes from sometimes what you think it might be during training camp to what it becomes," Ryan said.
Ryan noted it's as simple as having a better understanding of how to use the playmakers around him. Take Cordarrelle Patterson for example. He's been in the league for nearly a decade, and while everyone is well aware of what he can do on special teams, there hasn't been anyone who could figure out the best way to use him offensively. That is until Smith started calling plays for him.
Now, Patterson is not only a catalyst for this Falcons offense, but he's arguably one of the most versatile offensive weapons in the league through the first quarter of the season. No one knew he could be that through the offseason, preseason or even through Week 1. Now there's no questioning it.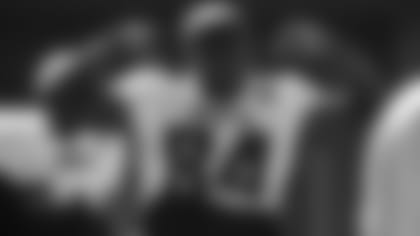 Then there's the development of Kyle Pitts. After a 100-plus yard receiving day in London that included his first touchdown catch, fans were finally treated to a primary example of what Pitts can be in this league. When Ryan breaks it down, he actively sees Pitts turning into the player that "he's going to become." But it took patience to get there, and it's still a work in progress as defenses adjust to him, but there is a little more clarity than the Falcons had before.
"How you thought teams would defend where he is on the field and what they would do (to account for him)," Ryan said of what he was evaluating in regards to Pitts. "Now maybe it's a little bit different, so we're utilizing him in different ways."
Ryan was candid about the "unknowns" of the offensive line, too. Even with three of the Falcons five starting lineman returning from 2020, the Falcons had two new (and young) players they are relying on early.
Between Matt Hennessy at center and Jalen Mayfield at left guard, even Ryan said there were things this offensive line had to learn about itself, and the same goes for a play caller learning about this offensive line, too. What run plays can be featured? What's going to be the best protection for a certain moment? These things had to be workshopped. And this unit has showed progress in that troubleshooting by only giving up one sack through the last two games against Washington and the Jets.
Offensive coordinator Dave Ragone said when it comes to figuring out what a team can become, finding an identity is a very fluid process.
"They're evolving. They're living," Ragone said about offenses. "You have to be able to adjust to your personnel not even just because of what they can do but also who's available."
And that's exactly where the Falcons are right now.
Looking back, we've actually learned a lot about this offense through five games. And what's interesting is that we're learning it as the players and coaches are, too. It's all happening in real time. Ryan said what you're seeing play out is a massive playbook shrinking itself as each game passes.
"You figure out the things that you do well, that fit your guys and fit the opponents you're going against," Ryan said.
Ryan concluded that the Falcons have a long way to go. And they do. No one is saying otherwise.
There needs to be more consistency in certain areas, but it's a bit more obvious that there is a comfortability in the scheme and game plan now than there was in Week 1 or Week 2. That's what the Falcons are looking to build upon, and at this point in time in this process, that's a good step.
"It's still early, but I think you're starting to see us trend in certain directions," Ryan said, "at least I feel that way."