ATLANTA -- It may be a short week, but there is still a handful of storylines to go over before the Falcons host the Patriots on Thursday night.
Following a 43-3 loss to Dallas on Sunday, the Falcons are looking for vindication. In order to do so, however, they must go through a New England team that seems to be hitting its stride. Head coach Arthur Smith said it's as physical a team as you'll see in the league, a marker of any Bill Belichick team. The Falcons must be ready to play.
But to get us ready, here's your primer for the game ahead.
Patterson has dealt with an ankle injury for most of the week. Though he has practiced, he has been limited. Smith said on Wednesday Patterson would be a game-time decision. So, be on the lookout for an update on Patterson later on Thursday afternoon as the Falcons inactives list comes out prior to the start of the game.
Also listed as questionable on Wednesday's injury report was safety Jaylinn Hawkins. Defensive coordinator Dean Pees mentioned on Wednesday that Hawkins injured his ankle prior to the start of the game Sunday against Dallas. Like Patterson, Hawkins practiced throughout the week but was limited. The status of both of these key players will be important to monitor as the day goes on.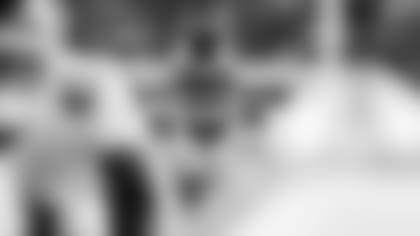 Smith said a couple times throughout the early days of the short week that he wanted to see this group of receivers "get open versus man coverage" more. Offensive coordinator Dave Ragone brought it up, too. It was something players and coaches agree was a reason Dallas' defense looked as stout as it did.
The stats back that up, too, as Dallas' defense had more passes defended (10) than Matt Ryan had completed (nine).
"They did a lot of good things in disguising coverages, disguising looks before the plays," Russell Gage said. "They had a lot of things set up in good ways that kind of countered what we were trying to do."
With now a blueprint of what can't happen again, the Falcons receiving corp has its work cut out for it to remedy a tough day in Dallas.
Fowler returned last week after having to miss three games on IR with a knee injury. When speaking to the media this week, he said the competitor in him wanted to be full-go last week, but he understood coaches hesitation to put him back on the field full-time after only just returning to practice the week before.
Now fully healthy and with a true green light, the Falcons need Fowler to - as Pees put it - "be the guy we think he can be." The Falcons hope this Thursday shows just that.
Through the first couple weeks of the season, Fowler had two momentum-swinging strip sacks that meant a lot to this Falcons defense. His presence coming off the edge was missed when he was on IR. Can Fowler get back on track? Thursday will be a nice first test.
4. The need for a more balanced offensive attack
The Falcons are well aware that there needs to be positive steps taken forward in the run game in order for this offense to produce the way it wants to.
"We would certainly like to be more efficient and more balanced than we've been up until this point," Ryan said. "But you know, that's part of this game. It's my job and responsibility to go out there and try and make it happen and do the best I can with however the day is shaken out. I haven't done it. I didn't do it. At certain times I've done a good enough job. I didn't do a good enough job this past week."
Ryan has said before that it takes all 11 of the Falcons offensive unit working together for the run game to work, and that's true.
Mike Davis is averaging just 3.3 yards a carry, but his yards after contact is averaging around 2.7 yards. Patterson's rushing numbers are better, but not by much. He's averaging 3.9 yards a carry, but averaging 3.1 yards after contact. Those numbers show these backs are getting hit pretty close to the line of scrimmage frequently. For the Falcons to be successful in the run game, these numbers need to change. But can they begin changing against a physical Patriots defense on Thursday? We'll see.
5. Can Sunday's loss be redeemed?
Smith said he was actually glad the Falcons had a Thursday night game following a 43-3 loss to Dallas just four days prior. It meant the Falcons had no choice but to move on, and to do so quickly. Players and coaches agreed the loss couldn't linger. There was simply no time for it to do so. And perhaps, that's the best thing that could have happened for the Falcons.
There's a certain sense of redemption that can be had on Thursday night if the Falcons play better. The Patriots are rolling. They're on a four-game win streak. The Falcons haven't won at home in... well... a while. And they need a showing that makes Sunday's loss look like a "fluke," according to rookie pass rusher Ade Ogundeji.
They have the chance to do so on Thursday, and get back to a .500 record.
"You have lows during the NFL season, but you don't want put that crap out there," Smith said of Sunday's performance. "We gotta fix it. That's the bottom line." Falcons Final Whistle | A Postgame Podcast
Break down the hottest topics surrounding the Atlanta Falcons and how they can impact the team's success with Atlanta Falcons Insiders Scott Bair, Tori McElhaney and Kris Rhim. Like and subscribe to join us for the lively debate on Falcons Final Whistle.
Welcome to Falcons Final Whistle – an Atlanta Falcons football postgame podcast during the season that shifts gears in the offseason to answer a pressing question about the team's future each week through free agency, the NFL Draft and the offseason program.