It has arrived: The first preseason game of the 2022 season. (Well, for the Falcons and Lions at least).
This time tomorrow I hope we know a bit more about where the Falcons roster is at this point in the offseason. Yes, we'll see some starters, but we'll also see a lot of the players who are fighting for a roster spot. So, with this in mind, here are the five players I am most interested in seeing take the field on Friday, in no particular order. Let's get to it.
1. Feleipe Franks
As I wrote on Thursday, Arthur Smith said the chances of Franks playing quarterback against Detroit has yet to really be decided. However, between playing quarterback and tight end, Smith said he would hedge your bets that it won't be 50/50 for Franks. The college quarterback turned pro tight end has only played a small minority of snaps at quarterback throughout the two weeks of training camp, with majority of that minority coming in the last week. He's primarily stuck to his new roots, which is now catching passes instead of throwing them.
I'd argue Franks has had one of the best camps out of anyone on the current 90-man roster for the Falcons. He's flashed more and more as the weeks have gone on. I want to see that carry over into a more live scenario against players who'll actually tackle him to the ground. Have these two weeks of Franks at tight end been a mirage? Or is this move the real deal? We'll start piecing together that answer soon.
2. Elijah Wilkinson
Wilkinson has been the "starting" left guard every day of training camp except the very first day. Smith said last week that Jalen Mayfield was working through a "lower back issue." Mayfield missed two days of practice before putting the pads back on come Monday. Smith said they would assess where Mayfield is come Thursday and Friday to make a decision as to whether or not they play him. Mayfield said if he's 100 percent, he'd be out there. However, if he can go, he still won't be beside Jake Matthews. That's Wilkinson's spot right now.
Over the course of a six-year career, Wilkinson has made 27 starts at both tackle and guard. This isn't new to him, but it is new for Falcons fans to see him in said starting role. When it comes to offensive line play, it's tough to really get a good evaluation of where linemen are during training camp. No one is really ever going 100 percent, and cracking pads in the trenches is not happening to the degree it will against other teams. So, yeah, I definitely want to see how Wilkinson changes this offensive line as he slides into that left guard spot. Can Wilkinson prove that the Falcons have their starting left guard already on their roster?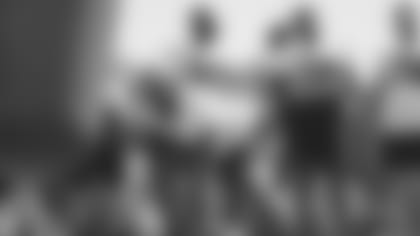 3. Desmond Ridder
You knew he would be on this list didn't you? I feel like he has to be. Dan Campbell said earlier in the week that he and Smith decided to play their starters throughout the first quarter. That means Marcus Mariota, as we already know. However, I think when it comes to this first preseason game we may see more of Ridder than Mariota. Now, could Smith want them to have equal playing time and give them both a half? Sure. But I'm not counting out the possibility of Mariota getting a quarter, with Ridder getting the other three.
Regardless, this will be the first time we see Ridder command an offense in real time, while going against a professional opponent. If nothing else, I am ready to see that alone since practices are relatively scripted. Let's see what Ridder can do when it's really live.
4. Arnold Ebiketie
The Falcons second round draft pick in the most recent NFL Draft is someone I'll have my eye on - hopefully - all night. Like offensive line play, the defensive front can't go too hard in practices. There's no tackles for a loss or sacks in practice. There can be on Friday night, though. And I want to see if Ebiketie can settle in and wreak some havoc on some offensive tackles.
Is this me saying he's going to come out of this preseason game with two sacks and a handful of tackles? No. Absolutely not. What I am saying is that I want to see that potential. He doesn't have to do it, yet, but I want to see that he can when given the space to do so.
5. Ta'Quon Graham
You probably weren't expecting me to write TQ's name but here we are. In case you missed the full revelation this week: Graham is one of your starting interior defensive linemen. He's playing right alongside Grady Jarrett and Anthony Rush. He's someone that - even in two weeks of camp - you can tell has made a Year 1 to Year 2 jump. He's cemented himself inside, and he's someone I am really looking forward to seeing go full speed in Dean Pees defense. We've yet to see this defense be fully unleashed. That's what I want to see from Graham, and I am kind of hoping we see a lot of that. This is a position I really feel like takes priority in evaluating when live looks are thrown at them.
Honorable mention: Isaiah Oliver, Darren Hall, Avery Williams, Tyler Allgeier, Frank Darby, Matt Hennessy, Drew Dalman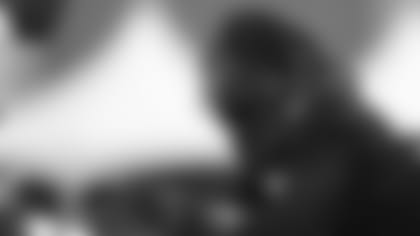 Interested in Falcons tickets?
Join us in 2022 for 9 Regular Season home games! Let us help you find the seats and benefits that interest you!