The Falcons Building Blocks series is a week-long series of stories that focuses in on certain talent that will be counted on throughout the course of the a transitional 2022 year in Atlanta, and beyond.
Last year, Scott Bair authored this series, and he had certain requirements and marks the five players on this list must his. They had to be on a rookie contract. They had to be 27 years old and younger. They had to be thriving already, "with leadership qualities and potential for even better down the road." Though this list follows a similar pattern, there are no such requirements for my list.
I'm looking at players the Falcons can build around, regardless of age, overall status or contract details. The Falcons are in the process of setting a foundation. Who can be the core pieces of said foundation? Kyle Pitts is up first.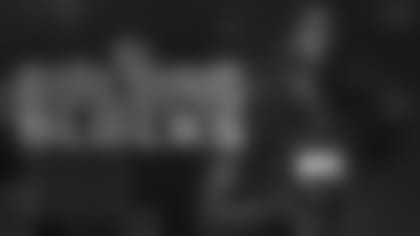 Kyle Pitts made last year's list before ever making a single catch at the professional level. Now that he has, and racked up over 1,000 receiving yards in the process, it's safe to say he's not going anywhere. 
The Falcons strategically made the decision to draft Pitts with the No. 4 overall pick in the 2021 NFL Draft. You don't spend that type of draft capital on someone you don't foresee being a figurehead and major contributor even this early in his career. So far, Pitts is living up to the expectations set before him upon his entry into the league. 
Ultimately, Pitts has become exactly what he was drafted to be: A face of the franchise. 
It's only been a year, but with so much turnover and transition within the Falcons organization, Pitts has already reached that point. The Matt Ryan and Julio Jones era of the Falcons is over, and Pitts is the future. 
And this is why he kicks off this series. 
Arthur Smith has said (a few times) that Pitts is just scratching the surface of the player he can be in this league. It's difficult to imagine what more he can do with the Falcons when he's already done so much already. But perhaps that's the point. Essentially, Pitts is a primary figure in this offense and will continue to be. That consistency in time of transition is important, and shouldn't be overlooked. 
If we're talking another 1,000-yard receiving season for Pitts in 2022 that'll track. Getting in the end zone more should be a priority as Pitts' role continues to evolve, but if he's just as productive from 20-yard line to 20-yard line in 2022 as he was in 2021, that's more than fine, too.
As for being one of the primary faces of the franchise at just 21 years old, there's a lot of responsibility that comes with that. Its responsibility Pitts is already taking in stride. He seems to be more comfortable both on the field and in front of a camera.
He carried a lot of expectations on his shoulders in his rookie year, and it didn't seem to ever phase him from the outside looking in. He looked to lean into those expectations. It's something one can expect him to continue to do in his second year in the league, and beyond.
Because that's what this series is about, right? How the Falcons can build around certain pieces? One has to think Pitts is one of the most important pieces of the organization as the next few years move forward.
As the 2022 season approaches, it's about consistently carrying over the production mark he set in his rookie year into a new season, one in which more defenses will have a better idea of how to take him away. There's almost a brand new offense around him, how does Pitts evolve as the offense does? We shall see.
At the end of the day, though, Pitts has shown he's calm, cool and collected. If he continues to carry these things with him, the Falcons should be better for it, in the long term, especially. Interested in Falcons tickets?
Join us in 2022 for 9 Regular Season home games! Let us help you find the seats and benefits that interest you!