The Falcons Building Blocks series is a week-long series of stories that focuses in on certain talent that will be counted on throughout the course of the a transitional 2022 year in Atlanta, and beyond.
Last year, Scott Bair authored this series, and he had certain requirements and marks the five players on this list must his. They had to be on a rookie contract. They had to be 27 years old and younger. They had to be thriving already, "with leadership qualities and potential for even better down the road." Though this list follows a similar pattern, there are no such requirements for my list.
I'm looking at players the Falcons can build around, regardless of age, overall status or contract details. The Falcons are in the process of setting a foundation. Who can be the core pieces of said foundation? A.J. Terrell, of course.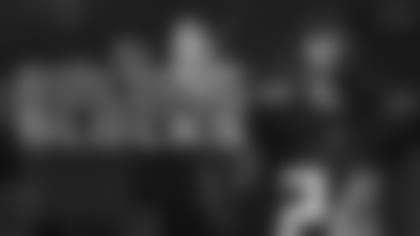 A.J. Terrell is one of the best young cornerbacks in the league. Full stop.
Terrell was one of the highest-graded corners, particularly in zone coverage, allowing a crazy-low 7.7 passer rating when targeted.
Terrell also held receivers like Jaylen Waddle, Deebo Samuel and Corey Davis to zero receiving yards when facing them in 2021. The most he was ever targeted in a game? Seven times against the Jets in Week 5. How many of those targets turned into a catch? Two, for a total of 10 yards.
Outside of that singular game, though, what's most remarkable about Terrell's 2021 season was how little he actually was targeted, which in and of itself is a compliment to a cornerback at any level. When a quarterback is actively choosing to throw opposite you? That's more telling of a player's value than any stat.
Don't get us wrong, though, the stats still look good.
Terrell was targeted 66 times in 2021, and he only gave up 29 catches for an average of 6.9 yards per catch. For someone who's No. 16 overall pick in the 2020 NFL Draft was met with loud disdain from the fanbase, Terrell has turned into a fan favorite in Atlanta, his hometown.
The final first round draft pick of the Dan Quinn and Thomas Dimitroff era has staked his claim in Atlanta, and he's a hold over from the old regime that Arthur Smith and Terry Fontenot greatly value.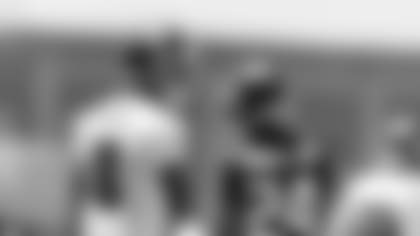 What's more, it's not all too common for a cornerback to be one of the primary faces of a transitioning organization. That's a spot usually reserved for a franchise quarterback or flashy wide receiver, not a tight end and cornerback. But Pitts' and Terrell's mark on their respective units is so significant they cannot be overlooked.
For Terrell, reestablishing himself as one of the best cornerbacks in the league is the expectation for 2022.
Some call Terrell's 2021 performance a fluke. Others say he's underrated and was snubbed a Pro Bowl invite. Though Terrell doesn't buy into any of this dialogue, this upcoming season is a big one for Terrell to prove to the league at large that the latter is true, and that he's more than a PFF darling.
So, when it comes to players the Falcons can build around? Think of Terrell as a foundational player of this defense. Pairing with Casey Hayward in 2022 presents an even greater opportunity for Terrell to establish his dominance at this level. If he can continue to demonstrate that same level of dominance again, no one will doubt how important Terrell is to the Falcons and their future. 2022 Season Tickets Now Available!
Our Longest & Most Flexible Ticket Payments
Instant Member Benefit Access
Best Available Seat Locations