Anthony Firkser and Arthur Smith's connection as a player and coach is almost serendipitous in a way. Their stories and paths coincide in a very deliberate and mutually beneficial way as Firkser is one of the only players to have played for Smith when he was a position coach, coordinator and head coach.
With so much turnover in the NFL, finding a duo who's trajectories criss-cross in the way Firsker and Smith's do is unique. There's a lot of history there, and it's interesting to hear Smith talk about Firkser's journey through the league while Firkser can do the same for Smith.
They can almost give a bullet-point synopsis of each other's resume. So, it wasn't odd when Smith was asked about bringing Firkser to Atlanta and he spouted off the highlights of the tight end's now six-year career in the league.
After going undrafted in the 2017 NFL Draft, Firkser signed with the Jets. At the time, there were people across the league who wanted to make Firkser a fullback because of his size, according to Smith. He didn't really see Firkser in that role, though, so when he came to Tennessee the next year as a tryout guy in rookie camp, Smith had the chance to see if he could convert to tight end, which was the position Smith was coaching at the time.
"He flashed," Smith said of that tryout. "We saw him as evolved, because he really wasn't a fullback. He was more of a receiving tight end."
So, the Titans (and Smith) saw value in keeping Firkser around, even with a tight end room that would include Delanie Walker, Jonnu Smith and MyCole Pruitt.
That first year with the Titans saw Firkser moving up and down the practice squad throughout the season. It wasn't until 2019, when Smith was the coordinator, that Firkser became a more stable figure of the offense.
Smith remembers the impact Firkser made on the field when he was given a more significant role.
He specifically recalled the Titans Week 10 matchup against Kansas City that year, when Firkser caught three receptions for 36 yards and scored a touchdown that helped Tennessee to the 35-32 win. Smith thought back to the Titans' postseason run that year, too, and how Firkser "made some of the biggest plays down the stretch" of Tennessee's upset win over New England.
"(Firkser) is a guy that's been fun to work with," Smith said. "He's been with me now in three different roles: tight ends coach, offensive coordinator, now head coach. So, he can kind of help fill in the blanks at times."
And that seemed to be the pull from Smith's perspective, as to why he wanted to bring Firkser to Atlanta. From Firkser's point of view, it also had a lot to do with reuniting with Smith. There's a trust between the two that Firkser saw value in coming back to at this point in his career.
"My agent and I were looking around, seeing what was out there, seeing what was opening but I think the comfortability with the relationship that I've had with (Smith), and how I know I fit into his scheme and his offense, I had some trust going in there," Firkser explained. "I felt like it was a good situation to continue that (trust) and go back to what I felt comfortable with."
So, it begged the question: As one of the only players to see Smith in so many different roles, how is he the same and how is he different? Firkser kind of shrugged.
"He's the same personality," Firkser said with a small smile. "His personality hasn't changed at all."
Smith still likes to give guys a hard time, joking around when he can, but Firkser said Smith has always been very cognizant of when the joking stops and the work begins. As a leader, Firkser said Smith still makes sure the players around him are working and putting in the correct amount of effort.
The difference Firkser sees in Smith has more to do with an evolution of scheme philosophy than it does personality.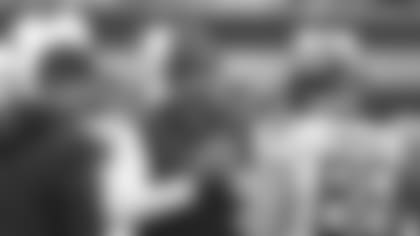 The tight end noted Smith grew each year the two were together, and he saw that growth in the way Smith expanded his view point of the offense by better utilizing players' particular strengths, and making sure to spread the ball around.
"Really making sure everyone got involved to keep the defense on their toes," Firkser said. "That way they're not keying the same guy through the same schemes. Stuff like that."
"I think he's done a good job evolving, making sure that he's getting us in the best situations possible."
In 2022, Smith and Firkser are not be the same people they were when they met back in 2018.
They're more seasoned. They've experienced more. Firkser is established at the tight end position, and has molded a career all his own. Smith is at the top of the coaching food chain. But they're back together again, and it's a pairing that the Falcons hope can continue to be fruitful for Atlanta as it was for both parties in Tennessee.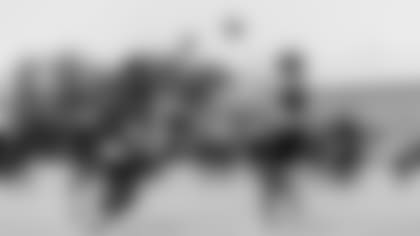 Interested in Falcons tickets?
Join us in 2022 for our biggest season yet! Find the best seats to watch the 2022 draft picks and your Dirty Birds in action!