It's been a little more than a week since Super Bowl LV was played but make no mistake about it, the NFL is in full offseason mode.
So, how close (or far) are the Atlanta Falcons from returning to the playoffs? More specifically, how likely are the Falcons to go from worst place in the NFC South to unseating the reigning champs and taking the division title?
Ben Linsey from Pro Football Focus attempted to answer the latter, in a way. Linsey recently looked at all eight teams that finished last in their respective divisions and then ranked them by their chances to go from worst to first in 2021.
Linsey began by noting that it happened last season, as the Washington Football Team won "the war of attrition in the NFC East at 7-9." Before that, Linsey notes, the Chicago Bears and Houston Texans each jumped from worst to first in 2018.
Will it happen again in 2021? It can, and a lot of factors will come into play between now and Super Bowl LVI.
"Whether it be injuries, major offseason movement or simply development of pieces already in place on the roster, the potential is there for NFL teams to see a stark difference in their results from year to year," writes Linsey.
Here are the eight teams that finished in last place of their division in 2020:
Cincinnati Bengals (4-11)
Jacksonville Jaguars (1-15)
Philadelphia Eagles (4-11)
San Francisco 49ers (6-10)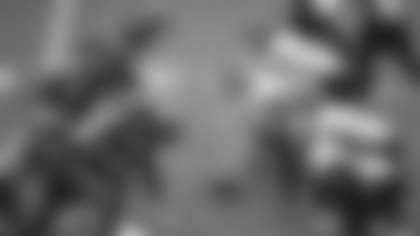 So, what does Linsey think of the Falcons' chances of capturing the NFC South in 2021? He ranked Atlanta the second-most likely team to do it, behind the 49ers. Here's a portion of what Linsey wrote about the Falcons:
"There are a few things working in the Falcons' favor when it comes to a potential worst-to-first swing in 2021. The first is that they were not as bad this past season as their record indicates. Despite earning the fourth overall pick in the 2021 NFL Draft, Atlanta actually finished the year at 18th in PFF's ELO Power Ratings. The second is that a perennial powerhouse in the division — the New Orleans Saints — could be primed to take a step back following Drew Brees's retirement and an offseason with plenty of question marks when it comes to the salary cap on the horizon.
"Offensively, the Falcons have the firepower to compete with teams. Even if Atlanta drafts a quarterback in the first round, Matt Ryan is unlikely to go anywhere next season, and he showed in 2020 he can still play, posting an 83.1 PFF grade that ranked 12th at the position. … Atlanta will be hopeful new head coach Arthur Smith is able to bring over some of the magic he worked in Tennessee, as well. Only the Kansas City Chiefs and Green Bay Packers have recorded more expected points added per play than Tennessee since Smith took over as the offensive coordinator in 2019. Add in Dean Pees out of retirement at defensive coordinator, and there are reasons to be excited about this new-look coaching staff."
Remember, the Falcons lost a total of 10 games by one score or less in 2020 (one of those losses was by eight points). That's a matter of being in position and knowing how to close out games.
A lot is expected to happen with the Falcons roster over the coming weeks and months. Will they close the gap? Time will tell.