Head coach Arthur Smith and quarterbacks coach Charles London were both asked what the difference is between expectations in May and June versus July and August for Marcus Mariota and Desmond Ridder. They both responded by saying it's all about how Mariota and Ridder command a huddle. That's what they want to see in the next few days, and weeks, of preseason practice.
They want to see Mariota and Ridder leading the offense. They want to see their own personal operation, getting the play calls in and correct, lining up guys in the right spot, etc. It may sound small, maybe almost trivial for professionals, but it's not. This is a very important part of a foundation that's being laid.
"A lot of the things we worked on in the spring we want to come out here now and emphasize it on the first day here," London said.
Of the homework the Falcons gave Mariota and Ridder as they went their separate ways throughout the last five weeks of summer, London said it was pretty simple: Here are the 12 or 13 installs we've completed through minicamp, know them like the back of your hand.
"We can't come back and start from scratch," London said, "we just can't."
Whereas mandatory minicamp and spring OTAs were used to evaluate what the coaching staff had in Mariota and Ridder, training camp is about execution. Period. It's no longer about if they can do something, it's about how well they do it.
Here's your progression. Here's your read. Here's what the play is supposed to look like. Get everyone lined up and do it. This is what the coaching staff is asking these two quarterbacks to showcase.
And they have all the information they need to do so.
"We put a lot on Marcus' plate. We put a lot on Desmond's plate," London said. "I don't think you can ever baby the quarterback. We put a lot on them, and we have high expectations for them."
Marcus is the starter, London continued, which was interesting to note since no one has really come out and said that point blank, even though it was the obvious answer all along. Ridder is the backup, but London added he doesn't want to change Ridder's mentality from his pre-draft goal of unseating a potential veteran quarterback. The competition has to be strong between Mariota and Ridder for each to come away from this training camp better.
London went as far to call Ridder a "pleasant surprise," saying he has really solid recall of the install from the spring. The Falcons are pleased with where Ridder's at right now, but its Mariota they'll rely upon earlier. And this all makes sense, too. Mariota is the veteran. He has the experience, not just in the league as a starting quarterback, but in Smith's scheme nonetheless.
That goes a long way and it was actually Ridder who brought this point up.
"Marcus has been in Coach's Smith system before," Ridder said, "so he knows a lot more. I am really trying to learn from him, and learn about how he goes about learning the game plan and learning how we do things each and every week."
For these two quarterbacks, we found out on the first day of training camp that the foundation has already been laid out before them. How they build up said foundation throughout camp will be an important start to a much larger offensive conversation in Atlanta.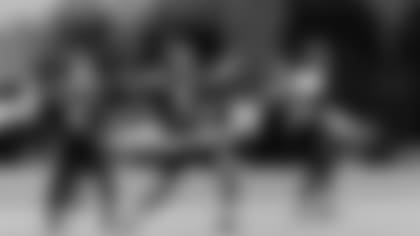 Notes, observations from practice
Updates on Debo's recovery: The Falcons placed ILB Deion Jones on the Physically Unable to Perform (PUP) list last week as he recovers from a shoulder procedure that he underwent this offseason. Smith said on Wednesday after practice that he'll have a better idea of Jones' timeline for return later next week, and should be able to give a more accurate timeline at that point. As a reminder: Unlike players placed on the PUP list in-season, players placed on PUP prior to training camp can return to active status at any time.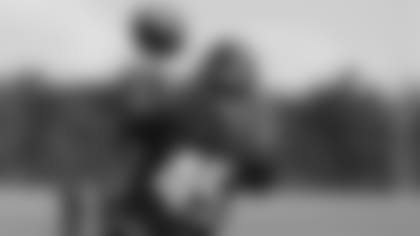 Center stage: Drew Dalman took majority of the would-be first-team reps at center on Wednesday. Smith said the coaching staff will rotate Dalman and Matt Hennessy at that specific spot on the first-team offensive line throughout camp. The plan is to give both equal reps with the first team. Smith noted he wanted to make a fair assessment of both at the position before setting the starters on the offensive line, which he added he wanted to happen sooner rather than later for chemistry to develop amongst the starting five before Week 1.
Feleipe Franks, tight end: Though Smith said Franks will take some reps at quarterback throughout the coming weeks of practice, he said it'll only be on certain days. Franks is rotating in with the tight ends a lot, playing the position exclusively on the first day of camp. We'll keep track of the days Franks makes the move back to quarterback, but for the time being it is Mariota and Ridder taking all of the reps. When asked about this post-practice, Ridder said you'd hear stories from people all the time about having three or four quarterbacks working out in training camp with a rookie quarterback only getting one rep at certain times. The pressure would be on to make the most of it. That's not the case with the Falcons, as it's only Mariota and Ridder taking all of the reps. Ridder jokes that they may look more tired than other quarterbacks across the league, but he'll take the extra reps any day.
More (obvious) depth: When asked the difference between last year's camp and this year, Smith said he believes this group has "better competition" and "more depth" than last year's when comparing where the organization was at the time. There seems to be an obvious difference in positions like safety, cornerbacks and running backs right now. Take the running backs for example. With Cordarrelle Patterson back on the field after being excused from minicamp as Smith didn't want to rev him back up for two days, the Falcons are actively rotating Patterson, Damien Williams, Tyler Allgeier, Qadree Ollison, Avery Williams and Caleb Huntley through drills and walk throughs.
Offensive line competition: Smith confirmed that outside of Chris Lindstrom and Jake Matthews' spots on the starting offensive line, every other job is up for grabs. We know more after the first day about where the staff is thinking the veteran free agents could line up. Elijah Wilkinson spent majority of his time at left guard on Wednesday, while Ifedi Germain was used primarily at right tackle. They both worked with the second-team, but it's of note to consider exactly where they are placed early. Interested in Falcons tickets?
Join us in 2022 for 9 Regular Season home games! Let us help you find the seats and benefits that interest you!