I know you're all brimming with excitement to read my answers to your questions. Well, you probably aren't, but humor me.
But, no more preamble. I hate preambles. Let's dive into what you really came here for.
David H. from Marshalltown, Iowa
Do you see a scenario where Julio comes back to the Falcons this season? He is a FA, yet still has a contract with the team.
I'm going to be honest: I was unprepared to see the number of questions Scott got asked about Julio Jones. Your question, David, was one of many. I guess I just didn't realize this was a hot topic. I get it that he's a free agent, but from a personal standpoint there is no way I see Jones reuniting with the Falcons. I mean, I guess the argument is that they are technically still paying him via the dead money hit that was spread out over two years when he was initially traded to Tennessee... but still. This kind of feels like a don't-go-back-to-your-ex scenario, and I feel like both "exes" in question have moved on.
I - personally - I would rather see Jones reunite with Matt Ryan in Indianapolis than return to Atlanta. But hey, that's just me. I am not speaking for the coaching staff or the front office here, and I want to make that clear. Do I see a scenario where Julio comes back to the Falcons in 2022, that was your question. My answer to your question is no, I really don't. But I'm not the one making a single decision regarding how this roster is constructed. If this question is asked to a different person, perhaps there's a different answer, but for me it's a pretty black and white break.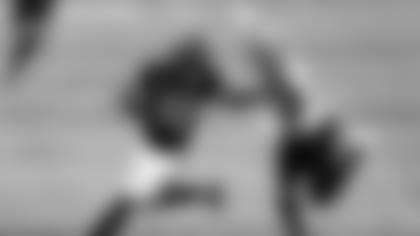 Flavius H. from Augusta, Ga.
Hello Tori. Thank you for taking up the slack while Scott is in vacation. I am encouraged by the way the two of you are working together. When I look at the schedule, I can see the Falcons winning 9 games: splitting with the Saints, winning against the Seahawks, Browns, taking both Panthers games, then winning against the Bears, Commanders, Steelers and Cardinals. Which of these games am I way off on? What am I missing? All of these teams are in a transition of sorts and I think that we can compete with them. Thank you.
I don't think you're missing much of anything. However, I will say I am a bit more skeptical about a few on your list. I wonder if the Falcons can beat the Saints. I think their best bet is catching them in Week 1 at home. However, that's going to be a tough game no matter how you look at it. Then, there's taking two from the Panthers. I see that being a split instead. I like your thinking including the Bears, Commanders and Steelers. I think that stretch of games in the schedule should be circled on the calendar for the Falcons to get some wins. I am not completely sold on the Seahawks, Browns or Cardinals, though. So, I see where your nine are coming from, but I am looking more at six instead.
Truth be told I absolutely looooooathe predictions. I get asked for predictions quite a bit and every time I preface them by saying I think predicting a season ahead is not my thing and never will be, but I realize it's a major topic of conversation leading up to a season. So, I will mentally prepare for more of these questions to come my way in the weeks ahead!
Jake S. from Gainesville, Ga.
Scott, still a lot of free agents available out there. There's a bunch of stuff to read on "who each team should add in free agency " or "best remaining free agents" out there. That being said, I just wanted to thank you and your team for not getting wrapped up in those type of articles. I think it comes down to a false sense of hope for fans at some point. But speaking on the subject lol. Would you be mad if we added a highly paid player this off-season, to a position we already have solid starters at, instead of on a position that we may need more help?
Hi Jake, Tori here. I will pass your question onto Scott when he gets back from vacay, but until then I wanted to take a stab at answering your question.
Here's the thing, I actually would not be mad. The more I think about it the more I wonder: What position is off-limits to add to with this current roster? I mean, really? Is there a position where a highly-paid player wouldn't add immediate value? I don't think so. I think just about every starting job could be taken by the right person. Outside of, say, a hand full of players, I don't think this staff is glued to anyone. Do they have the means to sign a highly-paid player this offseason? Nah. Not really right now. But ask me again next offseason and I'll have a free agency shopping list ready for you.
One more thing: A "highly-paid player" doesn't always equal a "worth-it player." I'd keep that in mind, too!
Submit your questions
Well y'all, it's been fun! Scott will be back next week so make sure you have a bunch of new questions for him. He'll be running the show again while I'm in Jamaica. Submit those questions here. Interested in Falcons tickets?
Join us in 2022 for our biggest season yet! Find the best seats to watch the 2022 draft picks and your Dirty Birds in action!