The Falcons Building Blocks series is a week-long series of stories that focuses in on certain talent that will be counted on throughout the course of the a transitional 2022 year in Atlanta, and beyond.
Last year, Scott Bair authored this series, and he had certain requirements and marks the five players on this list must his. They had to be on a rookie contract. They had to be 27 years old and younger. They had to be thriving already, "with leadership qualities and potential for even better down the road." Though this list follows a similar pattern, there are no such requirements for my list.
I'm looking at players the Falcons can build around, regardless of age, overall status or contract details. The Falcons are in the process of setting a foundation. Who can be the core pieces of said foundation? Chris Lindstrom may be an overlooked option.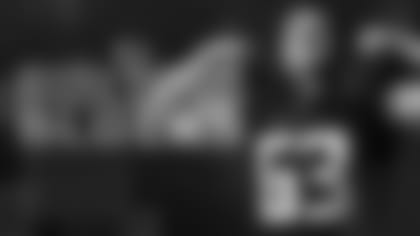 It didn't come as any surprise when the Falcons picked up Chris Lindstrom's fifth-year option, officially keeping him in Atlanta until the 2024 offseason.
Like A.J. Terrell, who we discussed on Tuesday, Lindstrom is a player drafted by the old regime that Arthur Smith and Terry Fontenot find significant value in keeping within the organization, and on the starting offensive line.
Though there have been woeful moments for this offensive line over the course of the last three seasons, Lindstrom has been a secure, bright spot at right guard.
After being drafted in 2019, Lindstrom went through the entirety of that year's training camp, ultimately being named the Week 1 starter at right guard. However, Lindstrom suffered a broken foot in said game and was placed on injured reserve shortly after. He was not activated until December, but started the final five games of his rookie season, and there were obvious differences in the Falcons offensive line when it had Lindstrom versus when it didn't.
Throughout the last two years, Lindstrom's growth in the league has been evident. After a frustrating rookie year he has lived up to his former first round draft pick status. He's started every game over the last two seasons at right guard. In 2020, he graded out to have a 77.1 overall PFF grade. Last season, that grade jumped to 83.7 overall. Lindstrom allowed zero sacks in 2021 after giving up four the year before. Most notably, he was the only guard to appear in all 17 games in 2021 and not allow a single sack.
Long story short? There's value in keeping Lindstrom not just around, but as a focal point of this offensive line unit.
Along with Lindstrom, the Falcons extended Jake Matthews' contract through 2026, making a point this offseason to keep two important pieces of the offensive line together for another two years, at least.
Ultimately, Lindstrom is someone who has never done anything to warrant him not being a part of this list. And that is what makes Lindstrom stand out. Like Matthews, he's someone you don't really have to worry about. You know who he is, what he can do and that he makes the right move or decision more often than not.
Offensive line is a difficult position to grade. If you're not directly entrenched at the line of scrimmage, or know the exact play call and blocking strategy, chances are you can unfairly and unknowingly place blame on a certain member of the front. However, even in this exact thought, very rarely is Lindstrom's performance overlooked by those who know the game.
Lindstrom made last year's list. As Scott Bair wrote then: "The offense will have different personnel in a few seasons, so the Falcons need Lindstrom to continually improve and provide stability at a spot too often taken for granted."
A year later, he's doing exactly that, even with significant transition elsewhere. The expectation should be that he continues to provide these qualities for the Falcons over the course of the next two years. From there? A big contract should be in his future, and the Falcons should hope they can be the ones to provide him that.
The Best Season Ticket Member Benefits are Back
We're offering our best season ticket benefits packages ever this year! Find the season ticket benefits that are most attractive to you.