I am so glad to report on this fine Tuesday that I truly believe you knew exactly who your author was now that I have taken over Bair Mail for Scott Bair (who, as a refresher, is on vacation). I say this because 90 percent of the questions asked for this mail bag were about - arguably - my favorite topic: Dean Pees' defense.
I'd like to thank you all did this for me, but it's probably just a happy coincidence.
Anyways, I digress. Let's get into this defense-heavy mail bag.
Stacy R. from Chattanooga, TN
First off, thanks for a great job in doing this very thing. I've been a fan for over 4 decades now & used to utterly dread the offseason because hardly any news nor information was out there. But you guys do a really awesome job & really allowing fans to gather & open up with good debates & banter....that makes being a fan that much more enjoyable. So again, super appreciate the time and work, absolutely great job and really enjoy it!
Do you view the Casey Hayward signing as great as it should be? Bar none, this was our best signing & I certainly see him & Terrell giving the extra 2-3 steps to the QB this defense has needed in quite sometime now. Especially factoring in Oliver returning as nickel corner...how much QB pressure/sack improvement do you see?
ONE: Thank you for the kind words! Sometimes the offseason is more of a grind than the season because either there's a ton of news or no news, and usually there's no in between. I know Scott and I have worked hard to bring you some interesting and fresh content this offseason, so it's nice to know it's appreciated. Also, as a fellow Chattanoogian (OK, Chickamaugian, technically, but I claim Chatt) thank you for representing the area well with your question!
TWO: Now to said question... Yes. I absolutely view the Casey Hayward signing as one of the best - if not the best - moves of the offseason. If you have listened to the Falcons Final Whistle podcast at all over the last few months you're probably sick and tired of me bringing the Hayward/Terrell pairing up. But I can't stop! I truly believe by putting these two together that the Falcons have significantly improved their secondary. And if Oliver picks up right where he left off last year? Even better.
To be honest, I do see this helping pass rush, but to an extent. It may not be completely noticeable play in and play out but I tend to agree with you that keeping a quarterback in the pocket, ultimately holding onto the ball a second or two longer, could make a difference. However, this secondary can only do so much, and I think we saw that at times last year.
There were moments when the coverage was pretty solid in 2021, but a quarterback could still leak out of the backfield. Limiting those leaks - particularly with a mobile quarterback - is a primary goal of this defense. Having a secondary doing their job helps, but for the Falcons to make real strides in pass rush, the front has to get to that QB quickly, too.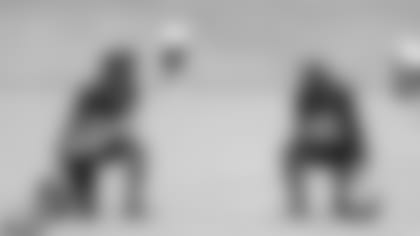 McElhaney Mailbag, Tori Takeover, Tori's Stories, Tori's Inquiries either way glad to have you back. What are your biggest training camp storylines that will define how successful/unsuccessful the Falcons season will be? And what player or players are you most excited to see when the pads are on?
If Bair Mail ever officially gets transferred to me full-time I will think back to this question to decide upon it's rebranded name! Either that or I'll save some of these for any future series I may work on. So, thank you.
As for your question, my answer begins and ends at the line of scrimmage. It's with the offensive line, and how the Falcons go about finding the best five linemen to start this season. It's with the defensive line, too, and how they can actively show improvement in getting after the quarterback. Of course there are a ton of other storylines that I could write about, but there are very few with the importance of these two, in my opinion.
Without an offensive line that protects? The Falcons don't move the chains offensively.
Without a defensive line that attacks? The Falcons don't get off the field defensively.
In my opinion, the Falcons success in 2022 may ebb and flow at the line of scrimmage. It's of the upmost importance that these two groups prove in training camp that they're ready for the challenge ahead in season.
Hey Tori! Long time reader, first time writer! With the makings of a POTENTIAL top CB group (if Oliver comes back healthy, I think the starting 3 could push for best in the league) added to the new players brought in on defense, what is the potential jump this defense can make? Is top 15 a reality or am I seeing things through rose colored glasses?
Welcome to the mailbag, Dennis! Happy to have you. As for your rose colored glasses, I'm not ready to say the Falcons have a top 15 defense yet. There's a lot for this defense to prove in 2022, and a lot of players are getting their first real chance to do so. I think people forget that outside of Grady Jarrett, Rashaan Evans and Hayward (to name a few), this defense is a relatively young one. Jaylinn Hawkins and Richie Grant will get a lot more reps in the secondary this year, and newly drafted players like Arnold Ebiketie, DeAngelo Malone and Troy Andersen may be relied on quite a bit in their rookie year. Then, there's a guy like Mykal Walker who (I imagine) will be in a full-time starting role for the first time. There's a lot of turnover here and I just don't know how they're all going to play together as a unit. I do think it's going to take a minute for this group to get its bearings simply because it's changed so much from last year and - according to what happens with Deion Jones - may continue to change. But hey, keep those glasses on as long as you can, and perhaps I'll be able to tell you to keep them on when we get this season going. Who knows.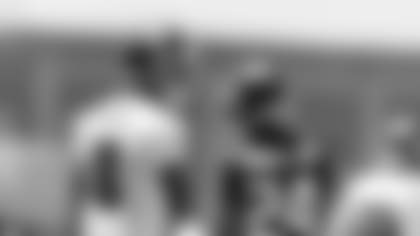 Tori, first of all I have never been happier with a Falcon's staff reporter as I am with you. May you never leave! The question: Many of the Falcons urgent need positions have been addressed, but one, perhaps the most significant one is the interior defensive line. If we can create a 'Gandalf - "You shall not pass" interior on that defense under Pee's genius mind I think we could possibly crank out a top 10 defense this season. Your thoughts?
Well, now I am tearing up in this random Starbucks. Thank you for the kindness. I was a little nervous when making the jump from Journalism (with a capital J) to working for a team, but I am very happy with the digital team around me and very proud of the work we've put together over the last year. Speaking of which, this training camp will mark a year with the Falcons for me. So, reading your submission fills me with a lot happiness for the work of said year! So, thank you.
But about the interior defensive line...
I like the Gandalf connection, personally. I, too, think this would be a great mentality to have. You think there's someone on the open market like Gandalf? I'll talk to Terry about finding him. Salary cap be darned. GET GANDALF.
On a more serious note, though, you're right, and I think you really sum up everything that I've been trying to say in two of the last three questions well. Essentially, for the Falcons to be at their best defensively, it means getting the quarterback off his spot and holding the line. They didn't do either of these things nearly as much as they needed to last year. And Dean Pees has made a point to say time and time again that the Falcons have to see obvious changes in these areas. Have they brought together a group that can do that? I'm not sure yet. I think it may take another year or two to get this defense where you (and Dennis) want them.
Maybe they'll prove me wrong this year, though? Perhaps they already have a Gandalf-ready crew together. If not, it'll be very important for them to put one together in the next couple offseasons. Interested in Falcons tickets?
Join us in 2022 for 9 Regular Season home games! Let us help you find the seats and benefits that interest you!