FLOWERY BRANCH, Ga. – Ask Falcons players about new defensive coordinator Ryan Nielsen and one word comes up over and again.
Intense. Intense. Intense.
Watch him run a practice and see that's true. Nielsen is hands-on. He's competitive as heck. He'll do or say whatever it takes to motivate his unit to win every single snap. Yep. Even in spring sessions without pads.
All that sounds, well, intense.
That description is both accurate and a wild oversimplification of Nielsen's coaching style. He's not a screamer for screaming's sake. He's not in-your-face for dramatic effect.
Nielsen's constantly working to set a tone and expectation for what he wants from his players and staff.
"The way he attacks things every day – he always talks about attack and aggressive – whether we're on the field or in the meeting room or the weight room," safety Jessie Bates III said, "he wants us to attack and be aggressive with everything we do."
Attack and be aggressive.
Even when it comes to the little details. That's why those who focus solely on volume and intensity are missing what Nielsen does best.
"He's an excellent teacher," Arthur Smith said.
He's also an excellent developer of talent. You may relate a statement like that exclusively to his work with younger players.
On Tuesday, it applied to a 16th year veteran likely fit for a gold jacket some day.
"I was working on a drill; I did it and I felt good about it, but he had me do something a little different," defensive end Calais Campbell said. "His way actually felt a lot better. I like that, which is an example of really good coaching. He helped me see what I couldn't see myself. In my 16th year you don't expect that too often, but it was a good feeling.
"The techniques of playing the game, from hand placement to footwork and the nuances that go into the position, are important. There are a lot of different ways to do things and I've played a lot of different ways. The way he coaches it, the way he sees it, is the way I like to do it. It's kind of the perfect fit."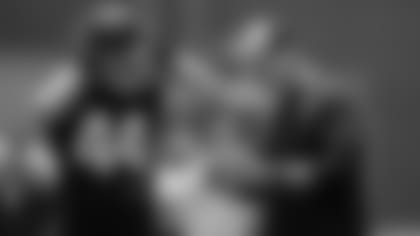 That's an opinion shared by several veterans working with Nielsen for the first time.
"Ryan is intense; he's a great guy, though, very learned," outside linebacker Bud Dupree said. "He knows a ton about football, which is something I found out despite the short amount of time I've been with him. He's always trying to squeeze something out of the game for you so you can have a greater effect on the game. I like him as a coach, one of the better coaches in this league. Being here with him, I have so much respect for him."
Dupree, Campbell, Bates and other Falcons veterans interviewed for this story have been around long enough to know the difference between sound and substance. That's why their early reviews carry weight. They could just provide player-speak. Instead they give detail, anecdotal evidence and reverence for how Nielsen approaches his craft.
Let's add another Nielsen descriptor to the conversation, one that might fit him best.
"I can be a little fiery, but it's with a passion," Nielsen said. "You have to be passionate and you have to be yourself. You love the energy on the practice field and the conversations with the players. That's the most important thing, the relationships with the players. You have to be active and listen to guys and get to know them.
"But, yeah. It's a passionate, fiery game with a lot of emotion and it comes out sometimes."
Dave Huxtable knows Nielsen as well or better than anyone on the Falcons staff. The team's senior defensive assistant started working with Nielsen a decade back, when he was N.C. State defensive coordinator and Nielsen was his line coach. He understands how Nielsen operates, how he develops talent and how he builds relationships with players.
It all starts, Huxtable says, with an unwavering commitment to getting better at all aspects of the job.
"He's a very bright football coach and is someone who has really worked at his craft," Huxtable said. "Our first year together was 2013, and it's been impressive to see him continue to grow and grow because of how hard he has worked at it. It's all paying off for him now, and I'm so happy for him."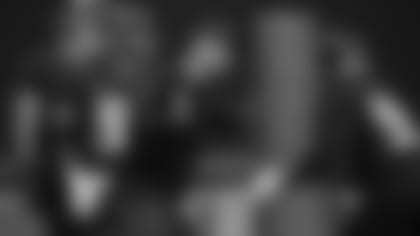 Effective communication, a quality scheme and helping individual players improve has bred confidence through the ranks in what Nielsen is doing and the type of leadership he provides.
He'll be the first to say that having Huxtable, longtime coordinator Jerry Gray and an experienced staff of position coaches has been an immense help in this offseason effort, which should set the Falcons up to make strides this summer. He's right to do so.
It's also fair to say the tone gets set at the top, and Nielsen's message is already being passed on by team leaders.
"We're going to play tough football," Bates III said. "We're going to play hard. There's no one better to have as a leader than Coach Nielsen."
He cares less about the compliments than the progress and commitment to the process of building cohesiveness as a unit. We've seen that this spring. It has to continue this summer to be better in the fall.
"I truly believe in what we're doing," Nielsen said. "That needs to come across to the players, the confidence and the importance that they see how it works. You have to coach with a passion. That's just how I am. That's what I believe. The hands-on approach, that's what I believe works with my personality and in other places I've been.
"I think the guys are excited. They're working hard. They really, really are. You're seeing positive things and I can't wait to continue working and take that next step."