FLOWERY BRANCH, Ga. -- All right kids, school's out for the summer!
But for real: The Falcons finished up their final day of mandatory minicamp on Wednesday, opting to only hold a strength and conditioning session for the final day of minicamp on Thursday. That day will be closed to the media since they won't be practicing. So, for the purpose of our notes and observations, this is it until players report for training camp at the end of July.
Though we've been at this for a while, there's still a bit to catch you up on. Let's dive in.
Notes, observations from practice
Ridder, Ridder, chicken dinner: Every day it seems head coach Arthur Smith is asked about Desmond Ridder. It makes sense why. He's QB1 after all. But on Wednesday afternoon Smith paid the young quarterback a compliment, pointing out Ridder's instincts and anticipation of knowing where his playmakers are. The head coach said this is something Ridder did well in Cincinnati but its different now that Ridder is in a meeting room with Smith with his mental capacity on full display.
Smith went on to say the Falcons have thrown a lot at Ridder this offseason, but even in that the head coach said there's been obvious mental improvement on top of the instincts Ridder already has. Ridder had a good spring, Smith said, and they're pleased with his progress as QB1.
Fitzy packages(?): I've said this before but I'll say it again: I've been really intrigued by John FitzPatrick so far this spring. The Falcons final draft pick of the 2022 NFL Draft didn't play at all last year because of a foot injury, so I've been pleased to see him back out on the field again. He has a presence to him that I think is a bit different than some of the other tight ends the Falcons have. FitzPatrick isn't a flashy player. He's not going to create a mismatch nightmare like Kyle Pitts in the pass game, or even make a one-handed grab like we've seen Jonnu Smith do this spring. FitzPatrick's strength has a foundation in run support and I think we've seen that throughout the spring.
In the early sessions of practice, the Falcons offense splits up a little bit. Pass catchers (receivers, tight ends and running backs alike) go with the quarterbacks while the offensive line works on their run fits and blocks on the other side of the field. A lot of times, though, Tyler Allgeier and FitzPatrick go with the offensive line, with Allgeier being handed the ball (of course) and FitzPatrick working just beyond Jake Matthews or Kaleb McGary at tackle. It makes me think that a now healthy FitzPatrick could really play a role in run support in 2023. Could that role be a significant one? TBD.
Safety spotlight: I've been asked a few times now about the safety rotation with Jessie Bates III in the mix, and after OTAs and mandatory minicamp I think its safe to say that Bates and Richie Grant are your starters and Jaylinn Hawkins is your role player (barring anything crazy, of course).
The Falcons showed a couple three-safety looks with the trio during Wednesday's practice with Bates and Grant deep and Hawkins up at the line of scrimmage, closer to the ball. So, it's not out of the question to see all three on the field together, but in terms of the hierarchy through spring, it's Bates, Grant and, then, Hawkins. But if you think this is a shot at Hawkins, it's not. If you don't think Hawkins is still playing an important role, you're wrong. Smith himself said Hawkins has had a productive spring.
A little more on Bates: Defensive coordinator Ryan Nielsen was asked if there was a specific moment in this offseason program where Jessie Bates III really stood.
Nielsen couldn't come up with one. Why? There were too many.
"There have been a lot of moments, something every day where he shows how good of a player he is," Nielsen said Wednesday. "He's good at recognizing plays. He's always in the right body position. He's just a smart player who is really confident, which he should be. With that combination, you can see why he has had success over his career."
This isn't a note specific to Wednesday's practice but an overall observation, as the offseason program comes to a close, that Bates' presence is always felt. He's always in the right spot and, as Arthur Smith has pointed out, is a player who makes those around him better.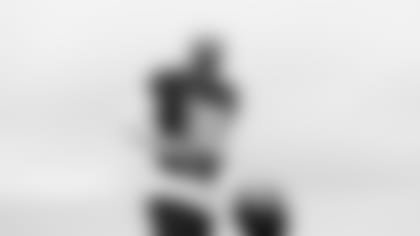 Mini me: This article isn't called "notes and observations" for nothing. So, let's talk about something that I couldn't help but observe on Wednesday. It may mean nothing to you, but it made a few of us media members laugh: Cordarrelle Patterson looks like a stretched out version of Bijan Robinson, or Robinson looks like a shrunken down version of CP. Either way you slice it, it's interesting seeing these two players working in tangent with one another, or even chatting with each other on the sideline. It's a partnership that'll only continue to be fun to watch when camp gets here.
Jonnu Smith shows versatility: Jonnu Smith is quick for such a big dude. The 6-foot-3, 248-pound tight end is often moved off the line and to the outside, where you can see his speed and crisp route running on display. That was clear during Wednesday's minicamp in individual drills and team sessions. He has proved a tough cover during the offseason, frequently pulling down tough catches on passes thrown his way.
That shouldn't be a complete shock when discussing someone who has had some solid receiving years working under Arthur Smith. His best years came with Tennessee in 2019 and 2020, when Smith was Titans offensive coordinator.
Jonnu Smith has said he just feels comfortable with the Falcons, who traded for him back in March, after a few down-ish years with the New England Patriots.
"Arthur [Smith] likes to move people around, and Jonnu will move around just like all of our tight ends," tight ends coach Justin Peele said before Wednesday's minicamp practice. "…He's everything we thought he would be. He has done a really nice job. I like his demeanor and the way he plays the game."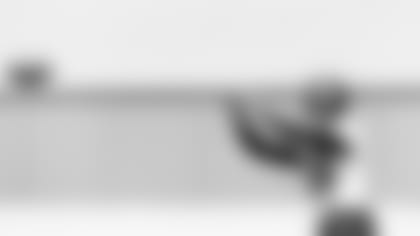 Play of the day: Dorian Etheridge is a player who's name comes up time and time again during the spring and in camp. He's a player on the bubble with quite a few linebackers ahead of him on the depth chart, but he's someone who consistently makes plays in the offseason and preseason. Wednesday was no different as Etheridge dove in front of a receiver, laying out for a Taylor Heinicke pass that was a little off target. The interception was the lone one of the day, but another one to add to Etheridge's standout practice moments.
Quote of the day: Asked about Bijan Robinson and his progress through this part of the season, Arthur Smith wouldn't go into too much detail when singling out the No. 8 overall pick. What he said instead brought forth a few chuckles from the media:
"We don't have buyer's remorse if that's what you're asking."
Scott Bair contributed to this report.
Take a closer look at the newest member of the 7 club, Bijan Robinson! Robinson was a first round draft pick for the Atlanta Falcons in the 2023 NFL Draft and will wear the number 7 jersey.