FLOWERY BRANCH, Ga. -- On Sept. 8, 2021, Matt Ryan made a prediction that some people found bold.
"I think we'll be a very different team in November and December," the veteran quarterback said.
At the time he was flayed on Twitter for saying so.
With comments coming in the form of: "Sounds like the excuses are already starting," or, "lmao when we are out of playoff contention."
Though the Falcons are out of playoff contention, they were in the conversation all throughout December and through the first couple days of the new year. Truthfully, it was a time period a lot longer than most people expected last summer.
Atlanta has one game left in the regular season against their New Orleans rival. They're not playing for the playoffs, but they are playing for pride, and perhaps further proof of offensive evolution. But the proof has already been laid out prior to what happens in Sunday's finale.
The Falcons offense has evolved in notable ways in the first year of the Arthur Smith era. It may not have been pretty or perfect all the time, but growth is evident if you take the time to think retrospectively.
This quote of Ryan's was brought back up to him on Wednesday. The question being: How is this offense different than it was in August and September? Ryan came prepared. He had a list.
Look at the progress the Falcons have made in the run game. Ryan said it's pretty obvious the Falcons offensive line is playing better in their run scheme, with four of the Falcons six most rushing yard games coming in the final eight weeks of the season.
Look at the balance the Falcons have struck offensively in comparison to where they were this time last year. The Falcons offensive attack is more complete, even if they still have consistency issues in the red zone.
But one of the most interesting parts of Ryan's answer came when he discussed what Cordarrelle Patterson has meant to this offensive operation in 2021. If you want the best example of this offense evolving, look to Patterson's journey this season.
With one game remaining, the shifty, position-less offensive weapon has a total of 607 rushing yards (averaging just over four yards a carry), 547 receiving yards and 11 total touchdowns. The Falcons have unlocked Patterson in a way no other team in his career has. Ryan said when you think back to OTAs or training camp, the Falcons had no idea what Patterson would become for them. There's an anticipation at the time, Ryan said, but no one could have predicted this.
Another interesting note Ryan had about the offensive evolution in 2021 had to do with personnel.
"Something I think we did a good job of all year was trying to win with the guys we had," Ryan said.
Just like no one knew what to expect from Patterson coming into the season, no one knew Calvin Ridley wouldn't be a part of this offensive operation. No one knew how Pitts was going to pan out as the Falcons No. 4 overall Draft pick. No one knew how much Jalen Mayfield would have to play left guard. With so many adjustments made offensively throughout the course of this 2021 season, it's interesting to hear Ryan say what he did about the adjustments.
It's even more interesting to hear him say with confidence that, yes, the Falcons are a very different team now than they were at the beginning of the season. It's interesting because it feels true.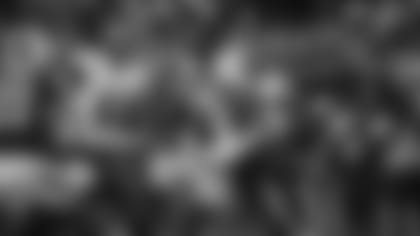 And it actually got me thinking. Is the reason why we maybe don't have a super clear picture of what the Falcons offensive identity is due to the fact it had to evolve away from the original plan because of who the Falcons had available?
When asked if - in Year 1 of a new system - having to figure things out so much in real time, in-season hindered the offense's opportunity to evolve, Ryan said he didn't think so. The offense evolved because of this, not in spite of this.
"I don't think it's been any more difficult because it's Year 1 in the system, because I feel like (Arthur Smith) has done a great job of teaching," Ryan said, "and giving the guys the reasons why in what what we're trying to do and what we're trying to expose."
What's crazy to think about though is that after this final game for the Falcons, the offense could evolve further just because of the turnover they'll likely experience this offseason.
No one knows what's going to happen with Ridley. No one knows if the Falcons will look to make changes across its offensive line. Can the Falcons even resign Patterson now that his market value will skyrocket? Would they want to resign Russell Gage with the production he's had in Ridley's absence? Will Pitts be the only tight end left in the room come the 2022 offseason with Hayden Hurst and Lee Smith's future in Atlanta highly questionable?
Finally, though: Is it OK that the Falcons evolved offensively but didn't show a clear offensive identity? If extensive changes are ahead, the answer could be yes. Falcons Final Whistle | A Postgame Podcast
Break down the hottest topics surrounding the Atlanta Falcons and how they can impact the team's success with Atlanta Falcons Insiders Scott Bair, Tori McElhaney and Kris Rhim. Like and subscribe to join us for the lively debate on Falcons Final Whistle.
Welcome to Falcons Final Whistle – an Atlanta Falcons football postgame podcast during the season that shifts gears in the offseason to answer a pressing question about the team's future each week through free agency, the NFL Draft and the offseason program.