FLOWERY BRANCH, Ga. – Richie Grant and Jaylinn Hawkins spend much of their working days talking shop.
The conversation starts in Falcons' meeting rooms and continues on the field between play call and snap, where the young safety duo must communicate with each other and their teammates on how to adjust to and then combat the offense working against them.
The dialogue doesn't stop once Grant and Hawkins hit the sideline. They keep it going during most every practice play they're not in, working together to maximize each mental rep.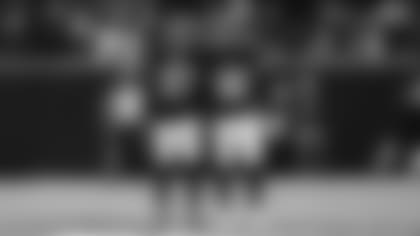 "We're communicating a lot of things," Hawkins said. "We're calling out what we see out there, including formations, the call, how we should disguise, how we want to look. We're running through what we'd say to the cornerbacks about what we're seeing –"
Then Richie, standing next to Jaylinn during this interview with AtlantaFalcons.com, jumps in without skipping a beat.
"-- we're talking about all the possible adjustments we might have to make," Grant said. "We're going over everything."
They're going over the plays playing out in front of them. They're also hitting rewind to evaluate how they just did on the field.
"We're looking at how we should've adjusted to the previous play after watching it play out," Grant said. "We can review and talk about how a previous play went. If you did good, we talk about what type of release you got. There are all types of adjustments you can make. You're going to do a lot of communication on defense. You have to be ready for anything.
"So much of it is making sure we're focused. Locked in."
This steady dialogue isn't unique to Hawkins and Grant.
"It's a safety thing," Hawkins said.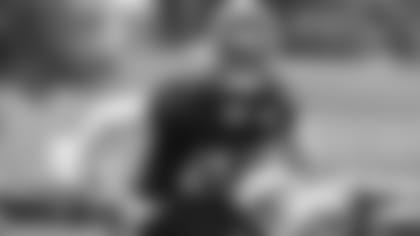 It's an important part of the job during the offseason program, when scheme installation and mastery take center stage.
It's vital for two talents who could be the Falcons' present and future at their positions.
Significant roles are earned around here, never given. Grant and Hawkins understand that, and are working to capitalize on a chance to start.
"It's a blessing and a challenge," Grant said. "Now you have to step up to the plate, show what you've been working on and do what you came here to do. The blessing is knowing they have that confidence in us. The challenge is to go out there, earn the role and be the starters right now."
They appreciate Pees' kind words and value them, but know they must prove themselves throughout the spring, summer and deep into the fall or hungry, experienced veterans Erik Harris and/or Dean Marlowe will step right in.
"Hearing things [Pees said] is cool, but it can't change your grind and how you approach things," Hawkins said. "You still need that resolve. You still have to work to get better and earn it every day. We have to sharpen our tools so we can put our best foot forward, not only for ourselves but also for the team. That's the main thing."
Another key to the position, Hawkins, says, is being a "problem solver."
They can make up for mistakes in front of them, or identify how to help a teammate needing some assistance. That can turn a decent gain into a coveted defensive stop. A mistake in the back, however, can spell huge trouble.
That's why Hawkins and Grant are so committed to their craft and their communication this spring and summer. If they're to make the most of the opportunity Pees mentioned and live up to the team's expectations, they must be in lockstep. They must play well individually and as a unit.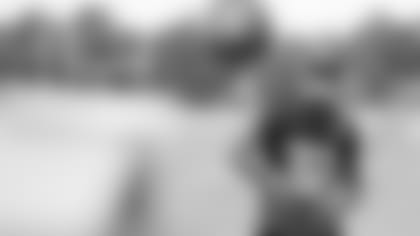 Ask Grant what he likes about Hawkins' play and the answer comes quick.
"He's aggressive. I love that," Grant said. "You're going to attack the ball and you're going to get after it. As a fellow defender, I need that. I need all of that. I need the energy."
Ask Hawkins the same question and you'll get a similar response.
"He goes out there and plays with swag," Hawkins said. "He can finesse and play aggressive. He can disrupt and get off blocks, but also has that ball-hawking ability, with speed in coverage. Richie can do it all."
Grant and Hawkins believe they've gotten better during their time in Atlanta, but they know they aren't perfect. Improvement comes faster with the right attitude.
"People talk about DBs having short-term memory, but you have to apply it all the time," Hawkins said. "For the most part things go well, but even today we had a call where things got a little twisted –
Grant: "then you talk about it, learn from it -- "
Hawkins: "-- and you bounce back."
Hawkins and Grant are trying to maximize their time in this offseason program, to be as prepared as possible for training camp and a golden opportunity before them to earn big roles and help the defense exceed expectations.
"We're getting a lot done," Hawkins said. "This is a group that works hard and is in a good place. All we have to do is keep leveling up." Falcons Final Whistle | A Postgame Podcast
Break down the hottest topics surrounding the Atlanta Falcons and how they can impact the team's success with Atlanta Falcons Insiders Scott Bair, Tori McElhaney and Kris Rhim. Like and subscribe to join us for the lively debate on Falcons Final Whistle.
Welcome to Falcons Final Whistle – an Atlanta Falcons football postgame podcast during the season that shifts gears in the offseason to answer a pressing question about the team's future each week through free agency, the NFL Draft and the offseason program.