FLOWERY BRANCH, Ga. – Sky-high expectations don't fall for NFL Draft picks taken after the first round. Instant impacts are also assumed from second rounders, especially those off the board early on Day 2.
Count Richie Grant in that group. The versatile safety was well regarded coming out of Central Florida, certainly someone worthy of the Falcons' No. 40 overall selection last year.
Common outside perception, rather unfairly, is that he should've stepped right in, taken a veteran's job and played every single defensive snap last season.
That didn't happen, but that doesn't mean he underwhelmed. It doesn't mean he struggled unexpectedly or didn't deserve his draft slot.
Grant's rookie season fell roughly in line with the Falcons internal expectations.
Head coach Arthur Smith talks a ton, especially during the offseason and training camp, about the Falcons' "long-term vision" for a player. That's code for a development plan to maximize NFL potential without overwhelming a prospect or putting him in position to struggle. Smith is a huge believer in creating one for every player, especially younger talents just coming into the league.
We had a pre-draft conversation that included long-term visions for his players, how they're executed and how they don't always match with fan expectations. He used Grant as an example of that.
The safety didn't disappoint the team in 2021. He was committed to his craft. He grew and developed as a rookie, and now it's time to take things up a notch.
These development plans don't exist in a vacuum, susceptible to outside variables like injuries to the player, or within his position group, or the grade of his learning curve.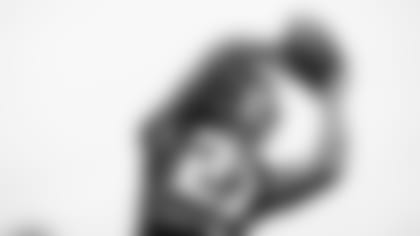 Sometimes the long-term vision doesn't play out according to plan. Jalen Mayfield's an example of that, as the third-round guard was forced into early duty by injuries and a lack of quality depth at the left guard spot.
But, if all goes well, it's possible to bring someone along at the proper pace. While he had to spend significant time as a bigger slot corner, a position he had played before, Grant grew and evolved as a safety during his rookie year.
"We knew that, in Year 1, he would be in a new scheme that was completely different than what he did at Central Florida," Smith said. "We had two veterans in here for the short term – Erik Harris is back, and Duron Harmon did a terrific job for us – but Richie still had an impact even though he wasn't an every-down safety. If one of those guys got hurt and he had to go – Jaylinn Hawkins also had good development – but Richie was a big contributor last year. He got his feet wet. He helped on fourth down. He played over 600 snaps for us."
Grant was a major contributor on special teams, featured on most every return, block and coverage unit. He was a reserve safety, often an option behind a more-seasoned Hawkins, and stepped in at times playing in the slot due to issues there following Isaiah Oliver's injury.
The Falcons were deep enough at safety that Grant wasn't forced to perfect the scheme by the end of training camp and then get thrust into action. His development was a slow burn, which raised eyebrows from some fans and put him somewhat under the media microscope. Grant was always candid and forthright in his self-assessments, though his outlook was always brimming with optimism.
That matches how the team feels about him. Expectations have evolved as he enters his second offseason program, with OTAs starting this week.
"This year the objective for Richie – now, he has to go earn it – is to be an every-down starter at safety," Smith said. "That doesn't mean he had a bad rookie year. Richie had an impact and he helped us. He developed the right way. That was part of the strategy last year when we took him. We didn't envision him as a Day 1 starter. We envisioned him to become a starter and an impact player.
"That's just a small example of a guy we took where we had a short-term plan, there were no injuries that expedited the process, and a longer-term plan that continues heading into his second year." Interested in Falcons tickets?
Join us in 2022 for our biggest season yet! Find the best seats to watch the 2022 draft picks and your Dirty Birds in action!