FLOWERY BRANCH, Ga. -- Since Isaiah Oliver suffered a season-ending injury in the Falcons Week 4 loss to Washington, it's been a revolving door at the nickel position. Dean Pees said early on that Oliver was everything the Falcons wanted, and needed, at the position. His presence was hard to replace.
Atlanta has tried a number of combinations at nickel: Erik Harris, Avery Williams, Darren Hall. But as the weeks have gone by, Pees has started to rely on Richie Grant more and more at the position. Now, he would consider Grant to be the Falcons nickel.
"He's kind of taken over that spot," Pees explained.
This is an important development for the Falcons second round draft pick, who many were clamoring to see early in the year. When asked why Grant wasn't seeing much playing time in the secondary's rotation then, Pees said Grant was still learning the ins and outs of the defense. As the year has gone on, however, Grant's playing time has increased. He's coming off an ankle injury that kept him out of last Sunday's game against Carolina, but that shouldn't throw him too far off course in his development.
In fact, Pees spent a good chunk of his midweek press conference discussing Grant's progress at the nickel position, as well as the added responsibility that goes along with it.
In Pees' scheme, the nickel controls a lot within the scope of the defense. According to Pees himself, though the nickel isn't necessarily making the calls on the field, his alignment "dictates everything" for the Falcons.
Grant has had to learn a lot by way of formations and communication, specifically. Pees said that was a major key to his increased playing time.
"He's has had to learn, 'OK, here's my formation and here's where I have to make my call and let everybody know the nickel is right or left,'" Pees explained, "because that sets up everything that we do."
And there were - of course - growing pains throughout that process. When everyone was wondering (quite loudly) why Grant wasn't seeing the field, he was working and learning and chatting with Pees, because there was a lot he had to catch up on.
Pees said he and Grant will share a laugh every now then when Pees brings something new to his attention.
"I'll make a reference to Central Florida," Pees said, "and (he'll be like), 'Yeah, we didn't really do too much of that.'"
And that's not a knock to UCF, or Grant. There are professionals that have to take time to learn Pees' scheme, especially a nickel who is so vital to the operation.
But going back to Grant's role in the defense and how his communication skills have allowed him to grow into this spot... Pees said it's sometimes difficult for rookies to find their voice. More often than not, they give way to older veterans around them. Early, Grant would fall in step behind Duron Harmon and Harris. They were established. They've been in the league for years. There was very little they hadn't seen before.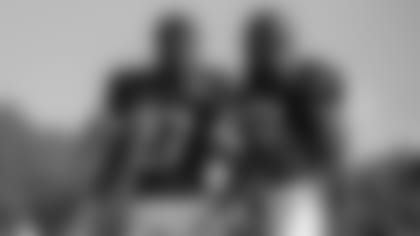 Pees has been around a lot of players, and a lot of rookies, in his decades coaching. He's seen this dynamic play out a lot. He's seen it happen at every stop he's made in his career. That's why he wanted to get in Grant's ear as soon as possible.
"I told him early on, 'That's not why we drafted you. We drafted you because when you were at Central Florida you were a take-charge guy,'" Pees recalls, "'We need that.'"
And though Pees knows there will bumps in the road, he's pleased with Grant's overall development and willingness to take on a new challenge so early in his career. He'll likely be better for it, but it just goes to show: Some things are "just not going to happen overnight."
"The more they do it, the more comfortable they become with it, the easier it becomes for them," Pees said. "But you have to just keep doing it and doing it. Sometimes, you have to go through some pains to get it done. But if you're switching them all the time, they're never ever going to get better at it and actually learn it."
Week in and week out, Grant is a byproduct of this consistent learning, and he has the increased responsibility in the final quarter of the season to prove it. Falcons Final Whistle | A Postgame Podcast
Break down the hottest topics surrounding the Atlanta Falcons and how they can impact the team's success with Atlanta Falcons Insiders Scott Bair, Tori McElhaney and Kris Rhim. Like and subscribe to join us for the lively debate on Falcons Final Whistle.
Welcome to Falcons Final Whistle – an Atlanta Falcons football postgame podcast during the season that shifts gears in the offseason to answer a pressing question about the team's future each week through free agency, the NFL Draft and the offseason program.