FLOWERY BRANCH, Ga. -- Do you remember when the "playing smarter" mantra first started for the Falcons? I do. It was Thanksgiving week. The Falcons were coming off two disappointing losses to Dallas and New England. And if Arthur Smith said the Falcons needed to play smarter once, he said it 10 times.
He was most frustrated in the self-inflicted wounds he was seeing. The false start penalties and illegal formation calls, limiting those was the first obvious answer to "playing smarter football." But when asked for more examples, Smith broke it down further. Receivers weren't getting the right timing and spacing on their routes. Smith added a note on protection. Simply put: Matt Ryan was getting hit too many times. The Falcons were losing the turnover battle, too.
And then, there was the run game. The Falcons struggled to establish the run time and time again, and this - in turn - hindered their third down production as they were facing more and more third-and-long situations.
Fast forward three weeks (and the three games that came with them) and the Falcons are quite improved in a number of these areas.
After turning the ball over seven times against Dallas and New England, the Falcons have just three turnovers in the last three games combined. From a defensive perspective, they've forced six turnovers in the last three games compared to just two in the two games prior. Of those six turnovers, two were pick-sixes.
Since putting up 40 rushing yards against New England, the Falcons have turned a corner in the run game. They've ran for over 100 yards in their last three games. Smith said on Wednesday that you're seeing the line of scrimmage move. That's usually a solid sign that "you're doing something right."
It's been the difference in their third down production, too.
Their third down conversion rate went from a combined 14 percent against Dallas and New England to a combined 50 percent against Jacksonville, Tampa Bay and Carolina. That's a solid jump. That's a necessary jump.
With all of this in mind, Smith said after the Falcons 29-21 win in Charlotte last Sunday that "you're seeing a team that's playing smarter and more together."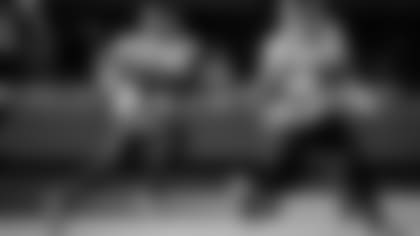 When asked about this comment, Ryan said this can manifest in a few ways. He brought up a note about backside combination blocking, and how this offense is 1) understanding the concepts more fully and 2) able to put better effort into execution.
But then, Ryan brought up a good point about seeing the Falcons be better in certain situations. He said when it comes to the Falcons offense specifically, he feels the unit is doing a much better job in those tricky situational football moments (i.e. end of games, end of halves, on third down, etc.).
Ryan has always believed that the margin for error in this league is "razor thin." He thought back to a few moments in the Carolina game that he felt exemplified this.
"You look at the end of the game with Kyle (Pitts) as a rookie player getting the first down, flying back in and protecting the football, keeping the clock running," Ryan said of Pitts' fourth quarter, third-and-long conversion.
"Then, the end of the half last week," Ryan said of the Falcons getting the ball back after AJ Terrell's interception before the half. "I know - for some people - you want to be aggressive, but the way the game was shaking out with the lead that we had, ending the half with the football sometimes is OK. You're not giving them anything."
And the Falcons didn't in that moment.
As of this point in the season, the Falcons are well aware of what a "razor thin" margin looks like. They are 6-2 in one-score games this year. And when you break down those wins, the Falcons have done what was necessary in the situational moments of the game to come away with more wins than they have losses in those ever-so-close games.
It may seem small, this "playing smarter" mantra that has reverberated through the organization since Smith first said it three weeks ago. But it's vitally important to remember and keep in mind as the Falcons head into the final games of the 2021 season.
"Those things matter in this league where there is such a competitive balance," Ryan concluded. "If you can do those little things right situationally, it leads to those wins."