FLOWERY BRANCH, Ga. – Richie Grant's early-season snaps were primarily spent on special teams. The safety didn't play much defense, if any, in the first third of the season, with many asking why the No. 40 overall NFL draft pick couldn't get into the defensive backfield.
He faced questions about that at several turns, about learning the scheme and his role in it. His second-round draft status certainly played a part in that, carrying high expectations into the campaign despite the presence of veterans Erik Harris and Daron Harmon.
Falcons coaches, especially Arthur Smith, reiterated time and again that the Falcons had a development plan and long-term vision for Grant and they were going to stick with it. There was no need to rush or insert the Central Florida product before he was ready, not with two veterans and second-year pro Jaylinn Hawkins in the fray.
Then he started seeing time as a big nickel back, using his size and physicality to combat certain matchups in the slot. He played 17 snaps there against the New York Jets, then 52 more against the Miami Dolphins. Then after a couple special-teams focused games, he was a rotating option at that spot the past three weeks. All told, he has 24 tackles, a forced fumble and pass defense, while allowing 11 catches for 111 yards and two touchdowns on 13 targets, per Pro Football Focus stats.
It must also be noted that he has been a quality special teams player this whole time, though that won't satiate those looking for more from a high pick.
That's a quick summation of Grants defensive contributions to this point. It doesn't accurately describe the process it took to get here, earning snaps and an ability to contribute defensively.
That has been a day-by-day, rep-by-rep grinds to steadily progress as a defender and earn trust from the teammates and coaches around him.
"I've been sticking to it since I got here and it's starting to pay off," Grant said this week. "I'm getting more snaps and opportunities and I'm doing better in practices. That's translating to games, to making plays. It's about being the ultimate teammate by doing your job when called upon."
Grant has maintained focus and drive during this process, leaning on veterans and coaches to continue to improve away from the public eye. That's often the best place to do so, without attention turning sour when costly rookie mistakes are made during games. Bringing a young player along slowly can be ideal. Third-round offensive Jalen Mayfield didn't have that luxury and some lumps in public while learning on the job, growing into a more dependable player.
Having healthy and available secondary assets ahead of Grant allowed him to keep chipping away and preparing well. There were also internal factors at play that has carried him through.
"Two things: Patience and faith," Grant said. "I know I'm putting in the work every day. Eventually the opportunity is going to come for me to showcase all the hard work I did. That faith in my abilities and work ethic makes the patience easy. I'm a bomb ready to go off, I think. "I'm putting in this work and my teammates and coaches are saying I'm getting I'm getting better so I have the confidence to go out there and may plays."
Grant isn't the only one. Most of the 2021 Falcons NFL Draft class is making significant contributions on offense or defense, especially of late.
That includes fourth-round defensive back Darren Hall, who has also been working in the slot lately after not seeing the field much early on.
"Richie (Grant), obviously we signed Duron (Harmon) and Erik (Harris) we knew we wanted to bring him along the way," Smith said. :He's contributed on teams and his role is starting to grow on defense. Darren Hall, same thing. Those guys have been getting better every week and the biggest challenge now is to do it again against Tampa Bay [on Sunday].".
"That's great to see everybody making progress," Hall said. "It's such a transition from college to the pros. It's different. You have to get the routine and really adapt, but we're doing that over the course of the season. We just have to keep working and improving as the season goes on."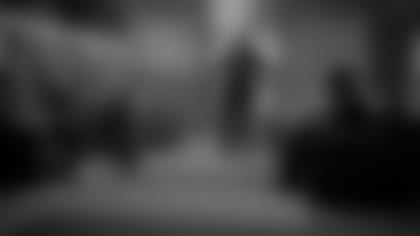 Part 1 | The Attitude
Chapter One in the story of the 1991 Falcons explores the attitude that made them the 'rudest team' in sports.