Editor's note: This is the ninth of 10 prospect profiles on potential Falcons' first-round draft picks that will run here on AtlantaFalcons.com every Tuesday and Thursday leading up to the NFL Draft.
During his three seasons at Michigan, Rashan Gary posted statistics that are more in line with those of a Day-2 or even a Day-3 draft prospect. That Gary is getting attention as a potential top-10 pick in this year's NFL Draft is a testament to his top-end athleticism. And don't be mistaken, he's every bit that athletic.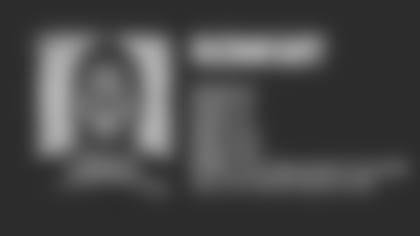 Coming out of high school, Gary was viewed as nothing short of a phenom. He is one of only five players to ever receive a perfect 5-star rating by the 247Sports Composite Rankings, joining Jadeveon Clowney, Robert Nkemdiche, Vince Young and Ernie Sims.
Gary never lived up to those lofty projections at Michigan, however. In his three seasons with the Wolverines, Gary recorded 119 tackles, 23 tackles for a loss and 9.5 sacks. But Gary's athleticism remains irresistible, and he could become one of the best players in the NFL if a coaching staff fully unlocks him.
How Gary fits in with the Falcons
The Falcons have a need on both the interior and exterior of their defensive line, and they need to bolster their run defense in addition to their pass rush. Those are two important and tricky areas to improve quickly. Yet Gary may be capable of doing just that.
At 6-foot-4 and 277 pounds, Gary has the frame and size to play both inside and outside. Adrian Clayborn, who is 6-foot-3 and 280 pounds, is a defensive end who the Falcons have played on the edge in base packages and moved inside in pass-rush situations. Gary could conceivably operate in a similar role.
As an edge run defender, Gary already has the tools to succeed in the NFL and it's in this area where he would likely most help out a team in the short term. Gary's strength, balance and quickness make him a threat to blow up a play on any given snap. These are skills that would be very advantageous in short-yardage situations.
It's difficult to tell why Gary didn't have better stats in college. Unlike some other talented players with limited production, Gary often dominates his individual matchups. It seems as though each time Gary breaks loose the play has already gone away from him.
Whether the ball had just been released on a quick pass play, or a running back had found a hole one step prior to Gary reaching him, his film is full of near-misses. But that's not to say Gary is a step slow, it's quite the opposite. Gary doesn't take his time getting involved in a play, and when the opportunity is present he can make an impact.
There's a possibility that even some small tweaks to Gary's approach, physically or mentally, could help him start cashing in more often. He looks physically dominant at times on film, but it's up to a team to help the production match the athleticism. That's a task worth taking on, though.
At the combine, Gary led all defensive linemen – those who weren't defined as "Edge" players for testing – with a 4.58-second 40-yard dash time. That time is only five one-hundredths of a second slower than highly touted edge rusher Brian Burns, and the fourth-lowest time among all pass rushers. Gary also led the defensive linemen in the vertical and broad jumps, and he finished among the top five in the three-cone drill and the 20-yard shuttle.
That athleticism translates during game days. Gary doesn't make the tackle in the play below but watch how fast he is when he breaks into a straight run. He's always trailing Ohio State's J.T. Barrett, but he keeps pace the whole way.
The other notable aspect of that play is that Gary is not hesitant to chase plays from the backside. It's not often that defensive linemen make a play when trailing downfield, but Gary continually put himself in position to get the opportunity.
One of Gary's shortcomings is his reliability as a tackler, and he sometimes failed to make a play that was right there for him. But that's an aspect of his game that can be coached up. In the meantime, Gary will likely keep getting chances because of his effort.
Gary's lack of production at Michigan is obviously a red flag, but he showed enough at times on film to understand why his upside is so tantalizing. The versatility to play both inside and outside is something that makes Gary valuable early on, and he could become one of the league's top defensive linemen if he ends up figuring it out. There's risk here, to be sure. But Gary may be worth it.
"Five-star defensive end prospect coming into Michigan who leaves with those same five-star traits and loads of potential but a lack of development in key areas. Gary is a face-up rusher who seems content to hit tackles with bull-rush attempts rather than working the edges. He's explosive out of the blocks and in closing to the quarterback, and is just waiting for hand development and additional rush moves. His size, strength and motor could make him a plus run defender in short order. He has elite potential if a defensive coordinator can harness the energy and focus his approach." – Lance Zierlein, NFL.com