Editor's note: This is the third of 10 prospect profiles on potential Falcons' first-round draft picks that will run here on AtlantaFalcons.com every Tuesday and Thursday leading up to the NFL Draft.
Falcons coach Dan Quinn wants his defense to be able to rush the quarterback often and relentlessly. Therefore, it would not be surprising if the Falcons choose to amplify their pass rush by taking one of this year's top defensive end prospects with their No. 14 pick.
Mississippi State's Montez Sweat looks the part of an NFL defensive end and has the natural traits to become a stout run defender and effective pass rusher at the next level.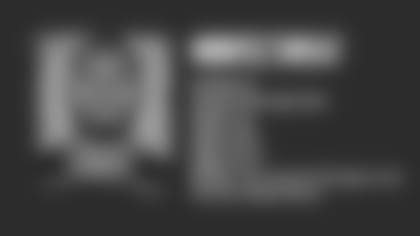 Coming out of Stephenson High School in Stone Mountain, Ga., Sweat was ranked as a three-star tight end prospect by 247Sports' composite rankings. Sweat's journey to Mississippi State was a twisting one. He originally enrolled at Michigan State, where he switched to defensive end, but was kicked off the team after his freshman season.
Sweat then spent one year at Copiah-Lincoln Community College before joining Mississippi State. While with the Bulldogs, Sweat became one of the SEC's best pass rushers.
The 6-foot-6, 260-pound defensive end recorded 101 tackles, 30 tackles for a loss and 22.5 sacks during his two seasons at Mississippi State, highlighting just how effective he was during his short time at the school. Sweat recently displayed his incredible athleticism at the NFL Combine, running the 40-yard dash in 4.41 seconds, faster than any defensive end in his class.
How Sweat fits in with the Falcons
Sweat is clearly an athlete capable of succeeding in the NFL. He has an incredibly long frame and he uses it well. Sweat combines an explosive first step with his length to get on offensive linemen in a hurry and control the action. Very rarely are linemen able to get their hands on Sweat and lock him down.
Not only does Sweat's length keep linemen from getting to his pads, but he uses his long arms to engage opposing players before they are fully prepared. This allows him to utilize bull rushes and other power moves with great effectiveness.
But, as his 4.41-second 40-yard dash indicates, Sweat isn't just a power rusher. He's quick off the snap and eats up a lot of space with long strides. What does hold Sweat back as a speed rusher, however, is somewhat limited flexibility when trying to bend the pocket. Too often Sweat can't turn the corner at the top of his rush and is driven past the quarterback when an offensive lineman recovers.
The speed Sweat possesses, though, should allow him to learn secondary inside moves to take advantage of linemen who are too quick to take away the outside angle.
Against the run Sweat's length is a major asset. He stacks offensive linemen to keep his body clear, and his massive wingspan lets him disengage and make plays in adjacent gaps. Sweat does not miss many tackles, often wrapping and rolling to sweep a runner's legs out from under him, and he does a good job of identifying plays and staying disciplined.
Another quality of Sweat's that will likely stand out to the Falcons is his pursuit while away from the ball. While he doesn't always track plays down from the backside, Sweat won't give up on a play easily. That not only helps him get sacks after his initial rush fails, but it helps him clean up plays when his teammates miss tackles.
Sweat might not have the upside of some of the other edge prospects in this class, but he has a lot to offer a team right away. He's got plenty of qualities that simply can't be taught and would be an immediate asset to the Falcons' defensive line rotation.
"Some will see Sweat as a leggy edge prospect with average play strength and a lack of refinement in his pass rush. I see a talent, similar to Danielle Hunter out of LSU, with above-average length and a prospect who should continue to grow into his frame, allowing him to unleash his rush flashes into a consistent attack. His transition as an NFL rusher will take some time, but like Hunter, he should come out on the other side as a good, impact starter as an every-down edge defender." – Lance Zierlein, NFL.com