Editor's note: This is the fifth of 10 prospect profiles on potential Falcons' first-round draft picks that will run here on AtlantaFalcons.com every Tuesday and Thursday leading up to the NFL Draft.
This year's draft class is loaded with talent along the defensive line, despite players such as Quinnen Williams and Ed Oliver grabbing a lot of the headlines. Former Clemson defensive tackle Christian Wilkins is a player Falcons fans have surely heard of, and he's one who deserves to be mentioned in that group of top-tier prospects.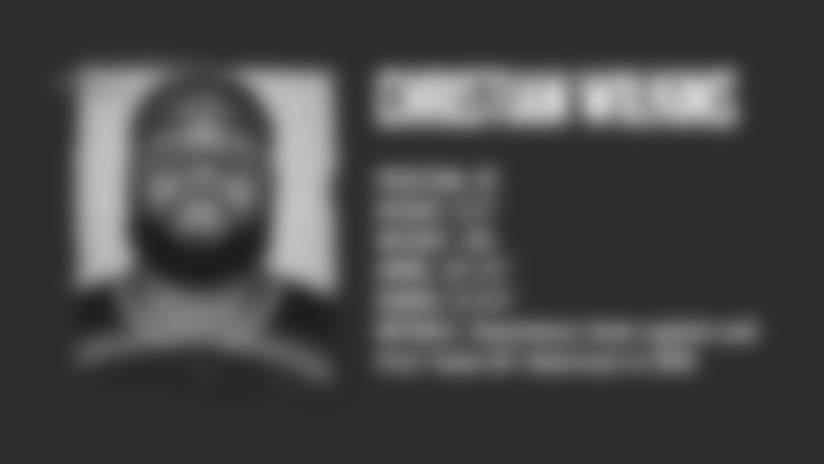 Wilkins entered Clemson as a five-star prospect coming out of high school and the sixth-ranked defensive tackle in his class, according to the 247Sports Composite Rankings. Wilkins played in 11 games for the Tigers as a true freshman, but he quickly developed into a team leader both on and off the field. After four years with the Tigers, Wilkins left Clemson having recorded 192 tackles, 40.5 tackles for a loss, 16 sacks, 15 pass defenses and three offensive touchdowns.
A unanimous first-team All-American in 2018, Wilkins was a team captain for Clemson's national title run. Viewed as one of the most respected players on a very talented team, Wilkins would be a welcome addition for the Falcons both on the field and in the locker room.
How Wilkins fits in with the Falcons
Wilkins does not have the pure athleticism and explosive burst off the ball that some other defensive tackle prospects have, nor does he possess length, but he has a lot of quality experience and combines legitimate pass rush moves with near-perfect leverage to beat his opponents.
His sack totals may not be impressive compared to some other players in this class, but this is an NFL-caliber swim move Wilkins flashed in the national championship game against Alabama.
An NFL team is going to put that move to use. But while Wilkins does have an array of rush moves that he showed in college, he doesn't rotate through them a smoothly or quickly once the ball is snapped as he probably could. There's room to grow there.
In that same national championship game there were a number of times when Wilkins was up against a single blocker but couldn't disengage. He often tried different counters to beat his lineman, but they weren't a flurry of moves in quick-succession, which is what he will need in the NFL.
That's not a grave concern, however, because he at least comes into the league with some already developed pass rush moves, which isn't something all prospects can say. Beyond his moves as a pass rusher, Wilkins has nice physical traits. He isn't overly explosive, but he is quick enough to beat linemen and has impressive flexibility to bend around the pocket.
The best aspect of Wilkins' game is his leverage. From watching him play, you would not guess Wilkins is 6-foot-3, because he plays incredibly low and balanced. This allows him to fully utilize his power and create an effective bull rush. It's also a major asset as a run defender, and Wilkins showed he was capable of holding up against double teams and taking away run lanes.
Wilkins could be driven back by double teams at times during his college career, but that happens to virtually every defensive tackle at some point. He also maintains his power while on the move, playing under control and maximizing his athleticism while chasing down plays.
Another notable aspect of Wilkins' game is his intelligence while a play is unfolding. Wilkins deflected 15 passes during his final three college seasons, which is a terrific number for a defensive tackle. That suggests that Wilkins understood how best to impact a play if he knew he wasn't able to get to the quarterback in time.
Wilkins will enter the NFL ready to play a large role from Day 1. His upside is not as high as others in this class, but he is close to a complete package and will be an incredible asset to a team's culture and mindset. One more notable fact to highlight how much of an all-star Wilkins is off the field: He is the first scholarship football player in Clemson history to earn a degree in two and a half years, and he also has a master's degree.
"Desired combination of athleticism, production and character with the ability to fit into a stop unit that already has some pieces in place. Wilkins is a slippery, upfield three-technique with the ability to make plays outside his area. He plays with low pads allowing for optimal disruption leverage in the gaps, but he needs to be paired with an attacking front as he lacks the length and strength to hold his ground as a read-and-react tackle. He's busy and agile as a rusher, which could keep him on the field for more snaps." – Lance Zierlein, NFL.com