Editor's note: This is the fourth of 10 prospect profiles on potential Falcons' first-round draft picks that will run here on AtlantaFalcons.com every Tuesday and Thursday leading up to the NFL Draft.
The last time the Atlanta Falcons chose to use their first-round pick on an offensive lineman was in 2014, when Jake Matthews was selected at No. 6. Matthews has started all but one game for the Falcons at left tackle during his five-year NFL career and was named to his first Pro Bowl after the 2018 season.
The Falcons, who averaged the sixth-fewest rushing yards per game last season and allowed Matt Ryan to be sacked 42 times, could use that same level of consistency at a number of spots along the offensive line. They may find just that in former Alabama tackle Jonah Williams, who has compared himself to Matthews.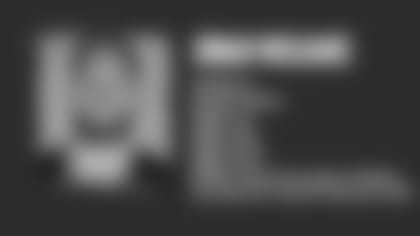 Williams was labeled a five-star recruit and the No. 2 offensive tackle in his recruiting class by the 247Sports Composite Rankings when he joined the Crimson Tide in 2016. As a true freshman, Williams earned the starting right tackle job at Alabama and went on to earn Freshman All-American honors for his performance. During his sophomore and junior seasons Williams switched over to left tackle and became the star player on Alabama's offensive line.
At 6-foot-4 and 302 pounds, Williams is regarded as the top offensive lineman in this year's draft class. His experience playing against elite college competition and on the biggest stages should help him assimilate quickly to life in the NFL.
How Williams fits in with the Falcons
What's interesting about Williams, as it pertains to the Falcons, is his versatility. Atlanta is set with Matthews at left tackle, but Williams has experience playing on the right side of the line or could bump inside to man one of the guard spots.
Williams has not been shy about letting people know his favorite player to watch was longtime Browns left tackle Joe Thomas, and there are plenty of similarities in their respective styles. At this point in his career, Williams shows more technical prowess than he probably should. He doesn't purely overpower defenders, although he can at times, but rather attacks the right spot at the right time and stay in perfect command of his own body.
The times when Williams gets himself into trouble is when he guesses and lunges instead of reacting and mirroring. Williams played a good cat-and-mouse game with Clemson's Clelin Ferrell, another top draft prospect, in the 2017 Sugar Bowl, and there were certainly times when he was bested in that matchup.
But Williams rarely gets beaten so easily. In fact, the reason that clip was included in this piece was because it stood out as one of only clear bad moments against a really good defensive end.
More often than not, Williams is patient and steady while setting the pocket. He doesn't overextend himself and absorbs the initial blow from a pass rusher while maintaining his composure and balance.
Williams has always been an outstanding run blocker, positioning his body in very specific ways to out-leverage defenders and seal off angles to the ball. His improvement in pass protection is what has helped him become a true top prospect at the position, and it's something the Falcons will be glad to see as protecting quarterback Matt Ryan is a top priority.
Ryan is notably different from Alabama quarterbacks Tua Tagovailoa and Jalen Hurts, who hold onto the ball longer and move around more often. Still, playing with those quarterbacks has given Williams a lot of experience holding his blocks longer against very good competition.
The most common knock against Williams leading up to the draft is his lack of prototypical length. But that's not something Williams can help, and it could be easily mitigated by moving inside to guard. Still, Williams has proven himself up to the task against top draft prospects and has improved throughout his college career. At this point, he seems to have a really high floor with room to continue to improve with NFL coaching.
"Williams' balanced and smooth footwork, combined with technical refinement and excellent play strength make him an exciting prospect. While he deserves a chance to prove his lack of reach will limit him too much in the NFL, he has tremendous upside as an interior blocker. A three-year starter at Alabama, Williams has been tested against the best pass rushers college football has to offer and should be able to make an early impact in his NFL career and anchor a font five for years to come." – Joe Marino, The Draft Network