Editor's note: This is the sixth of 10 prospect profiles on potential Falcons' first-round draft picks that will run here on AtlantaFalcons.com every Tuesday and Thursday leading up to the NFL Draft.
In each draft class there are often a couple of physical outliers among all of the top-notch athletes. Players who NFL coaches could only dream of getting to play to their potential. In the 2019 NFL Draft, former Oklahoma tackle Cody Ford is one such outlier.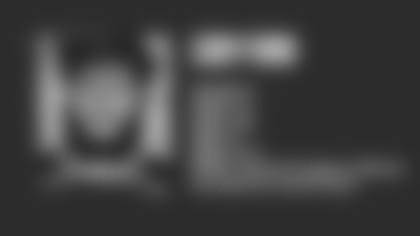 Ford was only a three-star prospect coming out of high school, per the 247Sports Composite Rankings, but he developed into a tremendously athletic lineman during his time at Oklahoma. At 6-foot-4 and 329 pounds, Ford is a very well-built offensive tackle. What makes Ford so tantalizing is the way that he moves from someone that size.
Rarely does Ford look out of his element while on the move. He displays very desirable balance and fluidity in his movements to counter speed moves, and Ford is simply too big to be beaten consistently by a power rush. There is still a lot of inexperience in Ford's game, but he should have a lot to offer a team – and likely sooner rather than later.
How Ford fits in with the Falcons
The Falcons averaged the sixth-fewest rushing yards in the NFL last season, they need to find a way to consistently run the ball moving forward. Ford would likely help the Falcons take a big step in the right direction. Few players his size are able to move well enough in a zone-based scheme, and Ford is a very capable open-field blocker.
In addition to capable, Ford is eager to find another man to block while on the move. He doesn't watch a play develop on the back side, Ford (No. 74, below) actively looks for another defender and tries to take them out of the play.
But while Ford has enough strength to deliver a crushing blow to an unsuspecting defender, his most valuable weapons are his hands. When Ford gets a vice grip on a defender, the battle is over nine times out of 10. He's simply too strong for defenders to break free, and Ford often continues to drive his feet until the whistle, leaving defenders very little chance.
Ford's strength isn't just apparent in the open field, however. Oklahoma took advantage of Ford's size and strength fairly often in short-yardage situations.
It's no surprise why they did. Ford, despite his relative lack of starting experience, shows a good understanding of how to time his punches and where to strike. This allows Ford to get inside of a defender quickly and dictate how a hole can develop for the runner.
Ford's biggest area of development is likely as a pass protector, but there are enough moments on film that point to him have excellent potential in that facet of the game as well. That slight weak spot could be managed by putting Ford at guard initially, but he has the tools to be a very good offensive tackle.
Possessing the speed to cut off even above-average speed rushers, Ford also has the natural size and balance to absorb bull rushers. And, as was the case in the run game, when Ford gets his hands on a defender, he likely isn't letting go. Again, keep your eye on No. 74 on this play, which he finishes with a pancake block.
And that's far from the only time Ford looked so dominant in a one-on-one block. His tape was full of moments like the one above and the one below, both of which occurred against Alabama.
Only a one-year full-time starter at Oklahoma, Ford appears to be much further ahead in his development than he should be. He has nearly every physical skill a coach could ask for, and he works throughout the entire play. A slight injury history, including a broken leg in 2016, is the only slight red flag for Ford, who has the potential to become one of the best picks in this draft.
"Ford's tape is among the best and most fun of the 2019 offensive line class, as he shows everything from high-end promise to unbelievably physical finishes. The muscle of the Oklahoma offensive line, Ford has just one year as a full-time starter under his belt, but already his mental processing and technique are pretty impressive. He's a mauler at the point of attack, while also possessing the athleticism to get out in space and the agility in pass protection to shut down all types of rushers." – Jon Ledyard, The Draft Network