The Falcons will never truly be able to move on from the shadow of Matt Ryan until they find their next quarterback of the future. Ryan helped the organization do the same when he was drafted in 2008, leading the Falcons to the playoffs in his first season, and lifted the Falcons out of the shadow of Michael Vick. That type of player isn't on the roster, and Falcons' leadership has made that clear.
That next "version of Matt Ryan" the Falcons are looking for could be found in the 2022 NFL draft. That future version of Ryan does not mean another 6-foot-4 pocket passer but a player who can stabilize this franchise for the next decade at the quarterback position.
Here are a few quarterbacks the Falcons could take in the draft: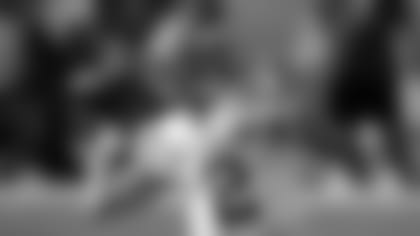 The Ringer calls Corral "Mini Marcus Mariota." Who better for Corral to learn from than the actual Marcus Mariota? Corral poses the similar dual-threat skill that Mariota has and carried Ole Miss in 2021 to a 10-2 record before suffering an anke injury in the Sugar Bowl. He threw for 3,349 yards, 20 touchdowns, and five interceptions, adding 614 yards and eleven touchdowns on the ground in Lane Kiffin's heavy RPO offense. Corral's inconsistency and accuracy concern scouts at the next level. He threw 14 interceptions in 2020, and eleven came in two games. He threw six against LSU and five against Arkansas. Corral cleaned that up in his final season, but like with Pickett, the Falcons may wonder if his spectacular season was a one-off.
Ridder has compared himself to Ryan Tannehill at multiple points this offseason and even added that he believes he is a mix of Tannehill and Deshaun Watson. A fascinating mash of talents, as Tannehill is believed to be more of a game-manager and Watson a franchise-changing quarterback who just got the most guaranteed money in NFL history.
Still, Ridder's comparison might not be far off. He has 4.4 speed, ideal size at 6-foot 3, 207 pounds and played in a spread offense where he made adjustments at the line of scrimmage and showed the ability to make almost any throw on the field. Ridder seems to be more NFL ready than a guy like Willis, and also has the many of the physical traits to become an above average starter in the league.
Howell has seemingly been on the outside looking in at the group of four quarterbacks who are widely considered to be the top four in the draft. Howell is undersized at 6-foot-1 but has the confidence and arm strength to push the ball downfield. After losing his top two targets in 2020, Howell showed his skill as a runner, making plays when receivers weren't open. Howell rushed for 828 yards and eleven touchdowns – compared to just 146 and five touchdowns in 2020 – and threw for 3,056 yards and 24 touchdowns in 2021. The amount of sacks Howell took is a slight concern —he took 22 on third down, the most of any draft-eligible quarterback in 2021 — but his confidence and adaptable skill set could be something the Falcons see potential in.
I have lost count of the number of times I have written about Willis this offseason. He's the most talented quarterback in this draft, with a running ability similar to Jalen Hurts and a power arm that's right up there with some of the biggest arms in the NFL. Willis is also the kind of player and leader that people gravitate towards, who could easily captivate a city, especially Atlanta, where he grew up. There are concerns about Willis's consistency and accuracy, but teams have seen significant returns betting on talent like Justin Herbert and Josh Allen. If the Falcons believe the risk is worth the reward, Willis makes sense.
Pickett is considered the most NFL-ready quarterback in this year's draft. He had a meteoric rise in 2021, throwing for 4319 yards, 42 touchdowns, and seven interceptions to lead Pittsburgh to an 11–3 record and the ACC Championship title. Compare that to the year before when he threw for just thirteen touchdowns and nine interceptions. While Pickett's year in 2021 was terrific, evaluators wonder if it was an outlier. Joe Burrow and Kyler Murray were also "One-year wonders," but Pickett isn't as talented as they were out of college.
Like Ridder, Pickett comes from an offensive that challenged him to make adjustments at the line of scrimmage and total progression reads. Pickett is a player who likely would be ready to play and impact an NFL team from day one.
The Best Season Ticket Member Benefits are Back
We're offering our best season ticket benefits packages ever this year! Find the season ticket benefits that are most attractive to you.