BUFFALO, NY -- It's cold here, but I guess it wasn't difficult to be colder than Atlanta is on this fine Saturday. When I parked my car at the Atlanta airport the temperature on my dashboard said 72 degrees. That's a stark difference from the 40 degree temperature I find myself in right now.
But you didn't come here to have me rambling on and complaining about my southern blood freezing. You came here to read about the Falcons game against the Bills set to kickoff on Sunday in snowy Buffalo. At least, I hope that's why you're here. If not, I'll be the first to tell you: You're in the wrong place.
If you're here, though, you might as well stay and take a look at these five storylines to watch come Sunday's kickoff.
Oh! And before I forget: Happy New Year! Thanks for following along this season. I know there are only two games left in the regular season but it's never too soon to say thank you for reading, watching and engaging with us over here at atlantafalcons.com. I think I speak for our entire digital team over here with the Falcons when I say we're so appreciative of every single one of you. Have a happy and healthy 2022!
1. The effects of the COVID-19 spike league-wide
As we've covered extensively already, the Falcons are not immune to the influx of COVID-19 cases across the country. At the time of this publication, the Falcons had 12 players on the reserve-COVID-19 list. Because of the Falcons full vaccination status, updated league protocols and shortened isolation periods, Arthur Smith said earlier in the week that he feels optimistic that Atlanta can get some of these players back on the active roster before kickoff on Sunday.
So, there's a chance this number could change in either direction in the next 24 hours. Who the Falcons have available is a major storyline as we continue down this list.
Here are all the players the Falcons currently have on the reserve/COVID-19 list at the time of this publication: Willie Beavers, Jonathan Bullard, Brandon Copeland, Marlon Davidson, Dorian Etheridge, Feleipe Franks, Richie Grant, Jaylinn Hawkins, Hayden Hurst, Tajae Sharpe, Jason Spriggs and James Vaughters.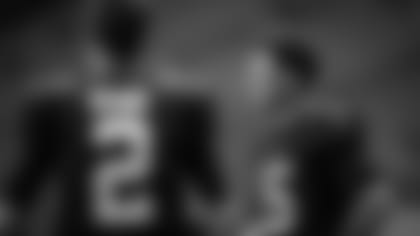 2. Depth in the secondary
Fabian Moreau is doubtful to play on Sunday with a rib injury. Grant and Hawkins are on the reserve/COVID-19 list. Erik Harris was placed on injured reserve not too long ago. All of this means the Falcons depth in the secondary is slim, very slim.
As Scott Bair explained in his Friday injury report: If Moreau can't get the green light on Sunday, the Falcons will need to find someone to play opposite AJ Terrell. That could be Darren Hall, Avery Williams or Kendall Sheffield. The Falcons could also call up Cornell Armstrong or Luther Kirk from the practice squad.
Then, there's the safety position to worry about (and nickel, too). The Falcons could look to use Shawn Williams more in place of Hawkins, who has started in Harris' place beside Duron Harmon since the veteran safety went on IR. At nickel, Hall or Williams could see their role inside expand without Grant.
How the Falcons account for these absences will be important to keep in mind.
Pitts had a record breaking game last Sunday against the Lions. With 102 receiving yards, Pitts surpassed Tony Gonzalez's record for the most receiving yards by a tight end in a single season in franchise history. More records could be on the way for Pitts in Buffalo.
Pitts needs just 11 receiving yards to pass Julio Jones for the most receiving yards by a rookie in franchise history. More so, he needs 51 yards to become the second rookie tight end to reach 1,000 receiving yards in NFL history. He'd join the likes of Pro Football Hall of Famer Mike Ditka who did so in 1961.
Keep on eye on Pitts on Sunday.
4. Watch out for the Bills' pass defense
Standing in the way of Pitts and these potential records is the snowy weather and Buffalo's pass defense, which currently holds the top spot in the league.
Smith said during the week the Bills defense is a challenge, with the the safeties - particularly - being a problem. Smith noted he thinks the duo of Micah Hyde and Jordan Poyer are as "underrated" a duo as any in the league. When asked about the challenge those two specifically present, Cordarrelle Patterson said they play together and compliment each other in a way that's notable. The Falcons offense will have to be firing on all cylinders against this Bills defense on Sunday.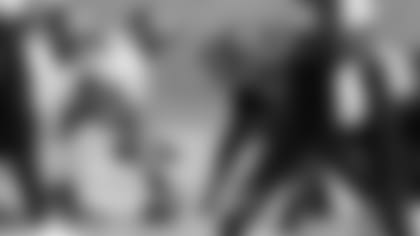 5. The... weather
OK. I know I said I wasn't going to say anything else about the weather, but I feel as though I have to. It's supposed to snow, which in and of itself isn't a crazy development. It's just that - again - the weather in Atlanta has been warm and rainy since Christmas, not freezing and snowy.
These are professional athletes, yes, but the weather has its effects. We've already seen examples of it when the Patriots played the Bills in Buffalo a few weeks ago. This is an environment the Falcons haven't played in this year, not even close. Seeing how they adjust to it and account for it has to be a storyline.