FLOWERY BRANCH, Ga. -- Arthur Smith said he's always felt a bit more compassion for rookies in their first year.
"It's the longest year they'll have," Smith said, and he went on to explained why he believes that to be true. Once their final college season ends, they're jumping right into gearing up for the draft. That means all-star games, meetings with agents, workouts across the country, their own pro days and (at some point) the combine.
"You're just constantly nitpicked as you go through the draft evaluation," Smith said. "(The football calendar) is just different for them."
Smith said it doesn't stop when they're drafted either. If anything, it escalates. There's more evaluations and rookie camp and OTAs and a new playbook to learn and more meetings and training camp and then - finally - the actual season arrives, and it is much longer than any they've played in college.
"It's kind of like drinking from a fire hydrant," Smith said.
Flashing back to the midway point of training camp, Smith actually noted then that he felt like this was a "mature" rookie class. Did that mean more opportunities for some early in the year? Sure. Kyle Pitts was never going to be sitting on the sidelines. However, there were some individuals who's roles had to be expedited.
Take Jalen Mayfield for example: A guy who's been the Falcons starting left guard since Week 1. There has been significant progress made by the rookie who's playing in a new position for the first time in his career. And the Falcons coaching staff likes what they've seen, so much so that there isn't any thought to move him any time soon, even with Kaleb McGary on the reserve/COVID-19 list. Smith confirmed on Wednesday that Mayfield won't be moved to right tackle in the interim if the Falcons have to go without McGary on Sunday, which very much seems to be the correct move in order to do right by Mayfield and the work he's put in at left guard.
Then, there's the progression of the rookies in the secondary. Between Avery Williams, Richie Grant and Darren Hall, they've all shown flashes of the players this staff hopes they can become. Williams has taken a primary role on special teams returning punts, and has helped out in the secondary at times. Though he had to miss the London came with a hamstring injury, Smith said he is "hopeful" Williams will return to full participation this week and be back up for the Miami game this Sunday.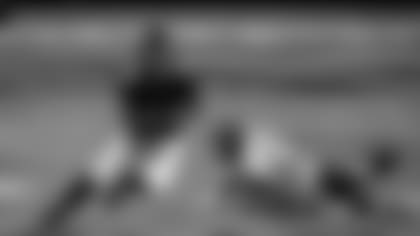 As for Grant and Hall, they were two of the main role players who had to step into a different role because of injuries. With Isaiah Oliver out for the year with a knee injury and Williams sidelined as well, it was Grant who took over at nickel against the Jets.
"If I'm out there, they're calling on me to make a play," Grant said. "I love the game and being able to help my team win, no matter how that is. Last game, that was in the nickel. We came out with a 'W.' I feel like I played a part in that, which is great."
Hall was also present in certain packages, playing in 30 percent of the defensive snaps against the Jets in London, significantly more than anything he's had up to this point as he was a healthy scratch through a couple of games.
Let's not forget Ade Ogundeji and Ta'Quon Graham, either. Both have also played key rotational roles across the Falcons defensive line. Ogundeji, particularly, has established himself as a player who has earned the right to play more and more as the weeks have gone on. He's a player who has shown that with more live reps comes more consistency. He played arguably his best game last Sunday, sacking Zach Wilson once for a loss of nine yards. He also contributed a couple key tackles and quarterback hurries, too. Outside linebackers coach Ted Monachino said a couple weeks ago that the vision for Ogundeji is to one day be the "bell cow" of the position group. He's trending the right way.
"When I got here in OTAs I was only thinking about learning the defense every single day," Ogundeji said. "... The playing time comes with knowing what you're doing, knowing how to do it and doing your job."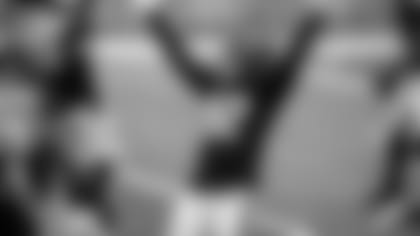 We all had a pretty good idea about what Pitts was going to be for the Falcons in Year 1, but seeing the rest of the rookie class step into roles early has been a nice surprise as they've held up their own at times. Sure, in certain ways, they still play like rookies. Dean Pees said last month that a reason Grant hadn't gotten into the rotation more defensively was because he was still learning the defense, which is to be expected, especially with the Falcons potentially moving him around in different packages and coverages. And just because we haven't seen much of Drew Dalman live doesn't mean the offensive lineman isn't playing a role in depth. Same with Frank Darby.
So, while we have spoken more about some rookies than others, there is one thing about this class that feels certain: They're right where they need to be, and for some, they may actually be ahead of schedule. Falcons Final Whistle | A Postgame Podcast
Break down the hottest topics surrounding the Atlanta Falcons and how they can impact the team's success with Atlanta Falcons Insiders Scott Bair, Tori McElhaney and Kris Rhim. Like and subscribe to join us for the lively debate on Falcons Final Whistle.
Welcome to Falcons Final Whistle – an Atlanta Falcons football postgame podcast during the season that shifts gears in the offseason to answer a pressing question about the team's future each week through free agency, the NFL Draft and the offseason program.