The Atlanta Falcons surprised a lot of people – especially their fan base – with a series of aggressive moves this past offseason.
Those are some fairly significant new faces.
So, who did Knox pick for the Falcons? New tight end Hayden Hurst, and I'm not surprised.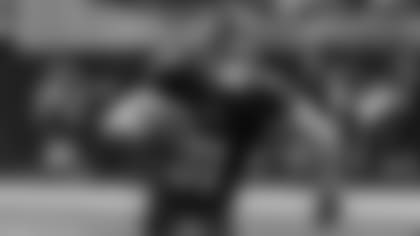 A lot of Falcons fans were less-than-thrilled when former Pro Bowl tight end Austin Hooper hit free agency and ended up signing a four-year deal with the Cleveland Browns worth a reported $42 million with $23 million guaranteed. Hooper, as most Falcons know, improved every single season he was in Atlanta and finished 2019 with career highs in receptions (75), receiving yards (787) and touchdowns (six) in 13 games.
So, on the first day of the new league, the Falcons made a bold move and traded for the 26-year-old Hurst. Atlanta sent one of its second-round picks (No. 55 overall) and a fifth-round pick (No. 157 overall) in April's NFL Draft for Hurst and the Ravens' fourth-round pick (No. 134 overall).
Hurst was selected by the Ravens with the 25th-overall pick in the 2018 NFL Draft after starring at South Carolina. In two seasons with the Ravens, Hurst caught 43 passes for 512 yards and three touchdowns.
"Atlanta will provide Hurst with a fresh start, and the preseason will give an early idea of what he can do with the opportunity," Knox wrote.
When I asked Falcons fans which newcomer they thought would make the biggest impact back on June 17, the results were close with Dante Fowler receiving the majority of the votes.
While Falcons fans eagerly await to see what Hurst can do in the Black and Red, one player has already seen firsthand what the newly acquired tight end can do.
"I've been incredibly impressed with Hayden's work ethic," Matt Ryan said back on June 9 after working out with Hurst. "He's got great speed, great athleticism. Wants to be a great player … the effort, the attitude all of that stuff is there. He fits in well with the group of guys we have." MAILBAG
Do you have a question about the Falcons that you want answered? Ask a question here and it could be posted on AtlantaFalcons.com.
Go ahead, ask the Beek
Do you have a question about the Atlanta Falcons (or anything football-related) you'd like to ask Matt Tabeek? If so, hit the link. Please remember to include your home state (or country if you live outside the U.S.). Thanks for reading SFTB!