I've been covering the Falcons four-and-a-half months now but have been writing about the NFL a lot longer than that. The previous 13 years were spent chronicling teams on the West Coast, a continent away from what was happening here in Atlanta.
It's fair to have categorized me as a casual Falcons observer before taking this job, and that includes Matt Ryan as a public face of the franchise. I can vouch for his solid national reputation as a reliable, standout quarterback as good as any in the league. He's also known as a polished presence, someone who is always calm, cool and collected on the field and off. The dude's nicknamed Matty Ice for goodness sakes, and it seemed to fit.
While all those things are true, I have discovered since moving to Atlanta that his national perception is incomplete.
There's the polished Matt Ryan you see at the podium every Wednesday during the season. Then there's the passionate, fiery leader in practice and games who looks (and talks) like the guy heard on camera telling his teammates to "Get [freaking] set," only he never says freaking.
I don't claim to know Ryan on a personal level – the pandemic has eliminated any real chance to speak with him outside press conferences – but I can say he cares deeply about each outcome and the work that's put into it, demanding similar commitment from those around him.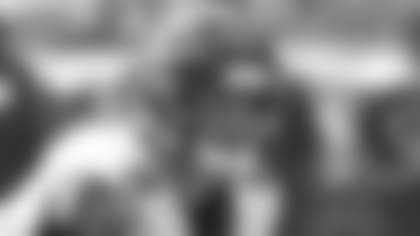 While the national perception omits a few key details, I've discovered some of the locals also don't have it right. There's an active and vocal faction who thinks Ryan is washed, undeserving of a place in Canton, Ohio, and should be exiled in favor of a young, drafted quarterback.
I felt compelled to combat such false logic on a regular, spending one Bair Mail after another debating detractors with hard evidence and what I've seen with my own eyes since coming to the Atlanta.
Ryan's still got it. He can still be awesome at 36 years old. He can lead this team to victories the Falcons wouldn't earn without him. That's relatively common knowledge outside the ATL. That it's debatable inside the market was truly shocking to me.
If the argument can't be settled with words, may I humbly offer up the past three games as Exhibit A. Ryan has 868 yards, eight touchdowns and zero interceptions while completing 69 percent of his passes. During that span he eclipsed 5,000 completions and became No. 8 all-time in passing yards.
For those who don't care about numbers unless they're wins and losses: the Falcons were 2-1 in that span, should've been 3-0. Ryan engineered a fourth-quarter comeback in one win and sealed the other with a 75-yard drive in the fourth quarter.
And before we start belittling the accomplishments by degrading the opponent or pointing to earlier games with less success, remember he's new working with head coach Arthur Smith and the scheme being run.
He was never going to be perfect out of the gate, but it's clear from his increased efficiency and yards per attempt that Ryan's adjusting well to the system. Smith, for one, likes the offensive trajectory and Ryan's not-so-steep learning curve.
"As Matt (Ryan) and I have gone through games, I have gone on record and said that there would be a natural evolution because it's like a new marriage so to speak, I guess," Smith said. "I'm really pleased with how Matt's playing."
Are you? Or, better question, how could you not be?
And, don't hold your response until he makes a mistake or has a subpar game to volley a, "See? I told you so." That's no way to live.
Appreciate what you've seen and what you're witnessing now. Don't saddle him with your disappointment over the lost Super Bowl and the lackluster run that followed just because he's a rare holdover from those times. And don't think for a second fans of other teams struggling to find a franchise quarterback wouldn't give it all up for a decade-plus with Ryan under center.
While Ryan has made it clear he wants to continue playing [and playing here] for a long time, there will be a succession plan executed at some point and a formal changing of the guard. We're not there yet. Instead, we're seeing Ryan enhance his legacy by continuing solid play while helping usher in a new era of Falcons football.
"You focus every week on trying to get yourself ready to play the best you possibly can that week," Ryan said. "I think having tried to stay in that mindset for the duration of my career has allowed me to kind of stack some of those accomplishments.
"I won't change. I'm proud of what I've accomplished, but I'm focused on trying to help this team win as we move forward." Falcons Final Whistle | A Postgame Podcast
Break down the hottest topics surrounding the Atlanta Falcons and how they can impact the team's success with Falcons Insiders Scott Bair, Tori McElhaney and Terrin Waack. Like and subscribe to join us for the lively debate on Falcons Final Whistle.
Welcome to Falcons Final Whistle – an Atlanta Falcons football postgame podcast during the season that shifts gears in the offseason to answer a pressing question about the team's future each week through free agency, the NFL Draft and the offseason program.