Matt Ryan is the Atlanta Falcons starting quarterback at his base professional level, but we all know he's more than that.
He's an institution, an icon around here who means so much to so many.
Franchise record holder in most passing categories. Former MVP. Public face of the franchise going on 14 seasons. Pillar of the community involved in important charitable work. Always represented the Falcons with class.
That's how he'll be remembered. That's not necessarily how he's viewed.
It's through this grimier lens.
He's 36 years old with a massive salary (the Falcons agreed to pay) and an unflattering cap figure now that'll get worse in the future. Oh, and he's not Justin Fields.
Those are the current talking points, hammered home in any Ryan discussion until the nail head warps and bends. Notice how none of that has anything to do with his ability to play quarterback, to make the right read, get into the right play, go through his progression and throw a strike.
Now that the 2021 regular season's about to begin, that's all that matters. The Falcons are under the current salary cap, and his paystub won't change that. His age is a number far less important now than those he's able to generate each Sunday while trying to win Falcons games. And please recall Ryan had zero say in the Falcons drafting Kyle Pitts over Fields. The Atlanta native's a Chicago Bear now and isn't coming home.
Volume remains high on all that superfluous noise despite its temporary irrelevance. Ryan admitted this spring that it has gotten tougher to tune out. He does have eyes, ears and a phone, after all, and stumbles upon it even if he's not actively seeking it out.
Ryan said Wednesday that there's solace found in the routine and a tighter, closed circle.
"For the most part, you have to focus on your preparation and getting yourself ready to go," Ryan said Wednesday. "And then [focus on] the opinions of the people that matter to you. I really feel like I've got a good support system for myself. I feel like I'm in a great place and have a good routine and process. I find confidence in both of those things."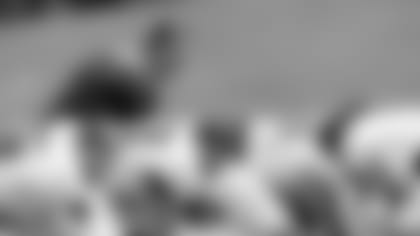 If you're a fan looking for glory on Sundays, to watch as many wins as possible, Ryan's the best option to get you there. We're at a point in the calendar when the context of his career matters far less.
Preparation and performance matters. That's it. There will be a time to discuss Ryan's place in the Falcons pantheon, his Hall-of-Fame case, including a Super Bowl loss that wasn't his fault, and whether he fits into the team's near or distant future.
We shouldn't be actively evaluating his legacy when Ryan hasn't even hinted at hanging up his spurs. Doing so is akin to eulogizing someone right after they complete a triathlon. His career's far from dead. The guy threw for 4,581 yards last year with little semblance of a running game and uninspired play calling.
But, yeah, right. He's washed.
Honestly, that's an impossible case to make at this point. It's far easier to argue he's a top 10 quarterback capable of helping the Falcons win shootouts with Calvin Ridley, Kyle Pitts and Co. in the pattern than the opposite.
We're at another transition point in Ryan's career, where he's starting fresh with a new play caller and some additional, intriguing assets. That's where larger context becomes more relevant to this specific season. His experience plays a part in the volume of information and responsibility Smith is willing to entrust. It's also a factor in how Ryan goes about his business during this adjustment period.
"I do a lot of things different," Ryan said. "A lot of them come in terms of…when you're young, you're taking advice from all different places. It takes a period of time to learn what works for you. In my film study, going through the game plan, I think I'm more efficient with my time. I have a better understanding of what actually matters to me and what doesn't.
"I think the same in terms of my physical preparation, too. I feel like the way that I train and the days that I train is much different than it was early in my career. It has come from a place of constantly evolving, trying to get better and learning from my mistakes as well and things that have come up in my career."