FLOWERY BRANCH, Ga. – Feleipe Franks lined up out wide to the offense's left, with his unit working red-zone drills, during Thursday afternoon's OTA session. The second-year pro worked his defender a bit and created just enough separation to invite a Desmond Ridder throw.
It was on point. Franks secured it well in the end zone, eventually going to the ground for a surefire scored. Teammates mobbed him, acting like it was a bigger moment that an OTA rep in early June. Excitement was high, most likely, because the quarterback turned hybrid player/tight end is, in small moments, starting to see some hard work pay off.
Franks downplayed it later Thursday afternoon, but said it was nice to see a rep like that executed well.
"It gives you confidence seeing a play come together," Franks said. "That's not just for me, but for [Desmond Ridder] who threw a great ball and the other receivers. It's a group effort. It's not just me running a route. It's everybody doing their job to make that play happen.
"When you see plays come together, it's nice and they can be staples going into the season. For sure, it's a confidence booster."
The career quarterback turned true hybrid player is gaining confidence doing somewhat new things outside the offensive backfield. Don't forget that the Falcons had him working at tight end and on special teams during last season, including a few snaps during the 2021 campaign. We just didn't see it much because practices were largely closed when he started changing responsibilities.
Maybe it's because Franks has been working more at tight end in open OTA sessions, or that media's seeing him working less in a red non-contact jersey and a decent amount in standard black and while. So, again, this is nothing new. It is a continuation, maybe an expansion – we'll see on that – of his hybrid role.
That said, Franks hasn't regularly playing a position outside quarterback since middle school. He was a safety then. In terms of offense, though, he was always a passer.
Franks is also a big, athletic dude who can move. It's certainly possible he can be helpful as a tight end or receiver or special teams player. While the Falcons have more mobility than ever under center with Marcus Mariota and Desmond Ridder, there are creative things the Falcons can do with versatile players.
Franks is leaning into an opportunity originally presented to him a year ago.
"I'm about whatever I can do to help," Franks said. "It was more about adding more value for myself in the quarterback and tight end room. For me, it's about being able to do more things, at tight end and quarterback and on special teams. I'll do whatever."
He has been doing a fair amount of tight end work – while still throwing after practice – during the select OTAs open to the public. Offensive coordinator Dave Ragone said he's doing more tight end work at this early stage. That's helping the player learn a position that's pretty (but not completely) new.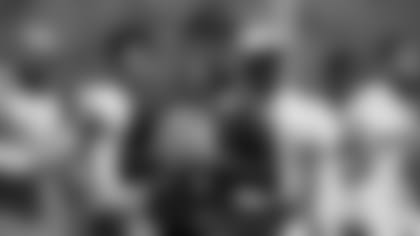 "I really want to learn what I'm being asked to do," Franks said. "With the tight ends, I really want to understand what they're doing so I'm not missing anything. I don't want to do too much at one time. So, learning that position, and obviously in the quarterback room, I'm staying on top of that. I just want to be available for whatever they need."
Fellow University of Florida product and tight end Kyle Pitts has been will to help his friend in this new endeavor, a resource that has been beneficial to this point.
"Me and Kyle have always been good friends since college, so it's comfortable for me to go up to him and ask questions," Franks said. "He has been doing it a high level for a while now and seeing how he works his hands and his feet really helps. Of course, you want to learn from someone like that."
Franks is attacking the position from a mental and physical standpoint, trying to learn as much about it during this relatively relaxed time in the NFL calendar, which is primarily focused on learning.
"That's part of the quarterback mentality that he has, and he still obviously operates at quarterback," Ragone said. "For him, like a lot of our players, it's about putting the team first and, if the team does well, I do well." Falcons Final Whistle | A Postgame Podcast
Break down the hottest topics surrounding the Atlanta Falcons and how they can impact the team's success with Atlanta Falcons Insiders Scott Bair, Tori McElhaney and Kris Rhim. Like and subscribe to join us for the lively debate on Falcons Final Whistle.
Welcome to Falcons Final Whistle – an Atlanta Falcons football postgame podcast during the season that shifts gears in the offseason to answer a pressing question about the team's future each week through free agency, the NFL Draft and the offseason program.