FLOWERY BRANCH, Ga. -- Everyone got their first look at Bijan Robinson as a Falcon on Friday during the team's first rookie minicamp practice. As previously announced by the team, the first-round pick out of Texas was wearing No. 7.
Robinson wore No. 5 in college, the number that receiver Drake London dons every game day. It's complicated, but that would've been a difficult number to take.
Robinson, therefore, had to make a change.
When asked about the number, Bijan was quick to give thanks. While wearing a diamond cross earring, Robinson spoke about his faith, belief in God, and referenced the No. 7 being in the bible numerous times.
"My reason was, it's biblical, my faith is the biggest thing for me," Bijan said.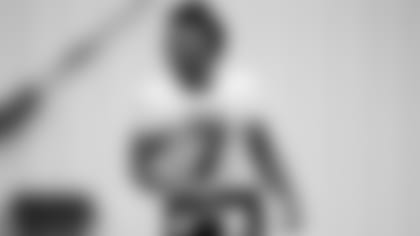 Robinson will be the ninth player in Falcons history to wear the number and the second since Michael Vick. Younghoe Koo wore the legendary number for the past four seasons before eventually allowing Robinson to have it.
Some fans believe the No. 7 should be retired for the Falcons franchise because of Vick, but the Falcons haven't retired a number in their history. Even Claude Humphrey's legendary number 87 is worn by players today.
In Atlanta, it is not uncommon to see many fans still wearing their Vick jerseys from the early 2000's. After asking Koo and Vick, who expressed his excitement about Robinson, today, there is a new No. 7 in town. The Falcons hope he is going to be here for a long time.
"I asked Younghoe, even Vick," Bijan said. "It's big because there's legendary dudes in this program that have worn it the right way. If I can just carry it on, that would be more of a blessing. ... Hopefully we can talk about some special stuff in the future with it."
Fans surely hope the number that was once magical over two decades ago -- and treated Koo well -- still has some spark left and will propel Bijan to new heights.
Take a closer look at the newest member of the 7 club, Bijan Robinson! Robinson was a first round draft pick for the Atlanta Falcons in the 2023 NFL Draft and will wear the number 7 jersey.