Unless you've been living under a rock for the last 48 hours, you know exactly how this year's Super Bowl played out. The Rams defeated the Bengals, yes, but it's the overarching story of the 2021 Bengals that has captured the attention of teams across the league. For many sitting at the bottom half of the league, looking at the Bengals' worst-to-first blueprint makes everyone also think: "Why not us?"
The Bengals finished last in the AFC North in 2020. They were without their No. 1 overall draft pick that season after quarterback Joe Burrow tore his ACL, ending his rookie year in Cincinnati just as it was starting to begin. Fast forward to the midway point of the 2021 season and the Bengals still weren't making significant waves in their division, ranking last in Week 9. Then, everything started to come together in Cincinnati throughout the back half of the 2021 season. One thing eventually led to another and the Bengals found themselves playing in the Super Bowl this past Sunday.
It's a story (and a blueprint) that really depicts why timing and draft hits matter, along with the marriage of smart moves in free agency. If we're looking towards the Falcons' 2022 offseason, this Bengals blueprint is one they could perhaps hope to follow. It's one just about everyone will be, too. All doing so in hopes that they will also catch lightning in a bottle.
So, just two days removed from the 2022 Super Bowl, let's take a look at what the Bengals built and how the Falcons can relate to it.
What do we think was the key ingredient for the Bengals in 2021... A key ingredient not named Joe Burrow?
Tori: For me, it was the marriage between top draft picks panning out coupled with solid moves in free agency. I think we can talk all day long about the impact of Joe Burrow, Ja'Marr Chase, Tee Higgins, etc. You can't talk about the 2021 Bengals and not talk about these draftees. However, I think just as important was how the Bengals essentially pieced together its defense through free agency. There was a graphic the Super Bowl production team put together for the broadcast that showed individuals of the Bengals defense and what teams they were with in 2020. That, to me, was so telling. It shows how important it is to simultaneously build a team through both avenues. We talk so much about the draft and its impact all the time, finding value picks on the free agency market is just as important. I think the Bengals (and the Rams, too) showed us this.
Kris: The key ingredient was a combination of many different spices – like one of my mother's recipes that involve many different seasonings that she can't write down but only show me because of how complicated the process is. This Bengals team was successful because they hit big on free-agent additions: Trey Hendrickson, who set the franchise record for sacks, and Chidobe Awuzie, a second-team All-Pro by Pro Football Focus. Add All-Pro Ja'Marr Chase and the battered AFC North with former MVP Lamar Jackson missing five games, the Steelers struggling offense, and the many issues with the Browns — the Bengals had the perfect mix of talent and luck to catapult them three points from a Super Bowl win.
Scott: Everything that has been said to this point is right. It took a lot of smart investments making an immediate impact. I'm going to hone in on just two -- the No. 1 overall pick in 2020 and the No. 5 overall pick in 2021. Cincinnati struck solid gold with two elite talents who jumped right into the elite class at their positions as game changers of the highest order. If you're going to select in the top 5 back-to-back years, you want to come away with players like Burrow and Chase. They couldn't have won so much on their own, but Chase and Burrow were allowed to thrive thanks to the support of so many on the team and in spite of some real protection issues.
And, of course, it's about winning consistently AND getting hot at the right time. And maybe a little lucky. That's how the Bengals ended going form worst in the AFC North to the Super Bowl. That doesn't mean they'll be a perennial power, but they're an example of a quick ascent, that a reclamation project doesn't have to take forever.
OK. Now let's talk about Joe Burrow. How do you even begin to replicate his impact?
Tori: I think this is an unfair question (and I am the one who wrote the question). I don't think you can replicate Burrow and his impact. All you can do is hope to strike gold in your own way. If you're the Falcons, the way the Bengals built around Burrow is just as important. They got him the weapons he needed to be successful. Though the offensive line left something to be desired, there is still a lot Joe and Co. could do even with the sack numbers being what they were. The best thing the Bengals did was build around Burrow in the years before and in the year after his ACL tear so that he could return to a team that could help him. So many people think a rebuild starts with a quarterback, and while I also agree, putting that quarterback in the right situation to be successful is how rebuilds succeed.
Kris: Football is the ultimate team sport. Having the best players help, and certain athletes can even elevate the play of teammates who seem to be less talented. So for this question, I think the answer is less about Joe Burrow's impact and more about the importance of having gifted quarterbacks in situations where they can thrive. The Super Bowl was the perfect example with Matt Stafford, who had not won a playoff game before this season because Detroit failed to surround him with a talented group, facing up against Burrow, who led the Bengals 2-7-1 before missing the remainder of the 2020 season. The Bengals season proves what I think most people who watch football already know: a great quarterback is essential to winning in the NFL, but having that player in the right situation is paramount.
Scott: That's a tougher one. Burrow was a consensus No. 1 pick for a reason. He's that good and it's no shock he has performed so well in the pros. Unless you want to stink badly enough to get the No. 1 pick in a year when a transcendent quarterback is coming out of college, that's hard to do. You can, however, replicate the strategy of employing a quality passer and then giving him tools to succeed. There are plenty of talented quarterbacks who didn't pan out and have been thrown in the "bust" bin because they entered a bad situation with no help around him. The David Carr example immediately comes to mind there. The Bengals didn't do that. They gave him talent to work with at the skill positions -- now they've got to help protect him -- and on defense. That allowed Burrow to be Burrow and perform well under pressure.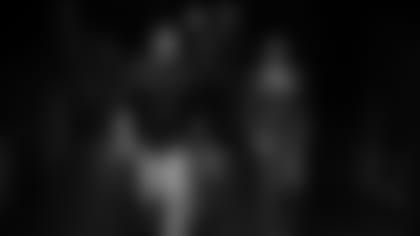 Let's tie this all back to the Falcons, where do they begin to try and forge their own way as playoff contenders with this blueprint in mind?
Tori: I go back to something we discussed in our very first Question of the Week installment about Matt Ryan. It's also something I started to get into in the last section: It may be the most beneficial for the Falcons to build around Ryan for the next two years so that when his time is over in Atlanta, the Falcons are in a good position to bring in a new quarterback to take over an offense that is secure. This Bengals blueprint just reinforced in my mind that the situation a quarterback goes into is vitally important to his success early in his career. So, how do the Falcons forge their own way into playoff contention? If we're thinking long term: It starts with a succession plan at quarterback that includes securing the positions he'll work with the most before he even gets there.
Kris: It's been reported that the Buccaneers will take a "big swing" at the quarterback position, and a player like Russell Wilson or Aaron Rodgers could make them just as good if not better than where they were with Brady. A superstar quarterback would also be a great recruiting pitch for potential free agents. If this big swing doesn't come to fruition, however — and the Falcons make a few additions through the draft and free agency — Atlanta will likely go into next season with the best quarterback in the division. In that scenario, they would be even a step ahead of the Bengals plan.
Their strategy could look more similar to the Chiefs plan when they built around Alex Smith. Patrick Mahomes sat behind Smith for a year, and transitioned seamlessly with a team loaded with weapons. I am not saying that there are Patrick Mahomes types of players available for the taking, but the plan could follow that style.
Scott: Back in the first question I talked about striking gold with two consecutive top picks. The Falcons already have one in Kyle Pitts. Pulling an elite player -- a defender would count -- from the eighth pick would speed up the process, especially at a game-changing position like edge rusher or cornerback. They already have a quarterback who is a top 12 passer. Adding elite talent to the group accelerates the growth process.
The Falcons won seven games last year. Solid investments in free agency and the draft could get the Falcons to 10 wins in a year or two and then get hot (and a little lucky) in January. Oh, and let's not forget that the Bengals took a bit of time getting cranked up. They also didn't have the salary cap headaches the Falcons are dealing with. Atlanta has some unique challenges to slow the process, but it's certainly possible some value free agents, creative contract structuring on an established veteran import -- a left guard or right tackle, anyone?? -- and an excellent draft, like, a signature draft class can get things turned around in a flash. Falcons Final Whistle | A Postgame Podcast
Break down the hottest topics surrounding the Atlanta Falcons and how they can impact the team's success with Atlanta Falcons Insiders Scott Bair, Tori McElhaney and Kris Rhim. Like and subscribe to join us for the lively debate on Falcons Final Whistle.
Welcome to Falcons Final Whistle – an Atlanta Falcons football postgame podcast during the season that shifts gears in the offseason to answer a pressing question about the team's future each week through free agency, the NFL Draft and the offseason program.