It's a point of pride for Jarrett, who agreed to a contract extension through the 2025 season. He's a franchise mainstay during a time of great transition, with Julio Jones and then Matt Ryan gone, with the Falcons roster experiencing tremendous turnover.
They'll need Jarrett to produce. They'll need him to lead.
Jarrett said Thursday he's ready for all that responsibility.
"I'm excited to be here, to stay home," Jarrett said, in his first public comments since the extension. "...It means a lot when the front office makes a commitment to you. It's something that's earned. Over the years I've been here I've seen different faces every year, but I've been consistent. It has been a blessing. It also means I'm doing something right. I just want to keep growing, keep leading and keep giving it my all."
Coordinator Dean Pees knows he'll get it. That point was made clear in comments made about Jarrett throughout last season. Despite regularly effusive praise, Pees may not have said anything nicer about Jarrett than he did today.
"There wasn't anybody happier on this planet than me when he signed," Pees said. "I really hope that he has the opportunity to be a Falcon forever. Being in Baltimore where Ray Lewis was the face of the franchise on defense, I think Grady is that to us. He's the perfect pro. He's everything you ask for as a coach in a player. The way he practices, the way he plays, everything. Having a guy like that with not only his talent but the type of man that he is, it's so important to us and our unit. I couldn't be happier that he got that thing extended."
Jarrett wasn't ready to guarantee he'd be a Falcon forever – but "it would mean a lot" -- nor was he ready to take the "face of the franchise" title vacated with Ryan was traded to Indianapolis.
He was more than willing to join this roster's massive chip-on-your-shoulder crew, with a prove-it mentality that will define how this Falcons team practices and plays. It's clearly the tone being set around here, and the former fifth-round pick fits right in.
"I've always had that chip on my shoulder," Jarrett said. "There are a lot of good players around here who are hungry. They want to earn that respect. Coach wants respect as a coach. Terry [Fontenot] wants respect as a GM. You can't beat that. You can't coach that. It's just a feel, and I think everybody feels it. I'm excited to be part of a group like that."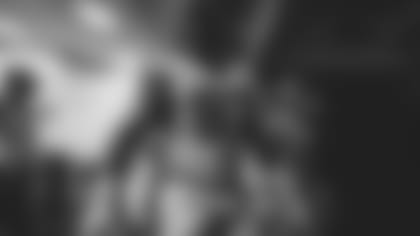 Jarrett will be part of a group trying to prove itself and compete in 2022. There's hope that significant salary-cap space will help the Falcons field competitive teams in the future, though this team's focus is on the present. The Falcons presently have a young team with veterans mostly on short-term contracts, without Ryan for the first time since 2007, and will need someone to wear the captain's C and lead the team into the future.
"What I appreciate about Grady, he's the same guy every day," head coach Arthur Smith said during a Thursday press conference. "He comes in here – so it's those habits that you hope people try to pick his brain on. 'Alright, Grady, how did you have this success? Why are you still playing at a high level? What are you doing?' I think it naturally, you'd be very smart as a young guy to watch what he does and what Jake [Matthews] does." Interested in Falcons tickets?
Join us in 2022 for our biggest season yet! Find the best seats to watch the 2022 draft picks and your Dirty Birds in action!