The running joke of the last few weeks since the 2022 NFL Draft is that Arthur Smith is putting together a basketball team on offense. It's become such a storyline that Arthur Smith had to lay down the law two weeks ago at rookie minicamp, jokingly saying he doesn't discriminate against receivers under six feet tall. Olamide Zaccheaus is still one of his favorite players, Smith added.
However, joke or no joke, one can't overlook the size the Falcons have added to the roster this offseason. To play alongside Kyle Pitts, who stands at 6-foot-6, 245 pounds, the Falcons have drafted Drake London (6-foot-4, 219), signed Auden Tate (6-foot-5, 228), traded for Bryan Edwards (6-foot-3, 215) and brought back Cordarrelle Patterson (6-foot-2, 227).
Smith doesn't discriminate against receiving weapons under six feet tall, but he did gather them this offseason, and he brought them (or kept them) in Atlanta.
Truth be told, it's a noticeable change on the field, as the Falcons opened their first OTA practice of the offseason on Thursday for local media to see. New quarterback Marcus Mariota sees this development better than most, since it affects him more than most.
"With those guys in there, they make you look good," Mariota said. "You don't always have to be perfect with your throws. Being able to have these guys whether it be their catch radius, whether it's their ability to get in and out of cuts, the receivers have really made all of us quarterbacks look good this offseason."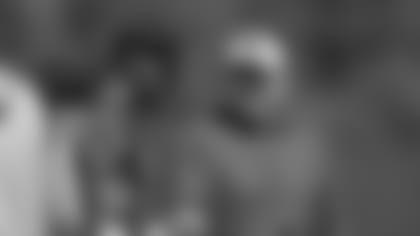 Prior to the start of practice, Smith made a point to say how fun it was to coach Mariota again. After practice, Mariota was asked about rejoining Smith in Atlanta after the two's time together in Tennessee. He said it's interesting to see how the offensive system has Smith's fingerprints on it, and how that has evolved since the years they worked together.
"There are some similarities, but there are obvious differences, and I think that has to happen," Mariota said. "Over the course of a couple years, Art has learned some things, has gone through some different situations, different experiences. Being around it now, I like where the system's at. I think it really tailors to the people and the players that we have here."
And what they have is size, which is something that Smith has seemed to carry with him throughout his Tennessee days to Atlanta. It was something a new receiver picked up on as much as anyone.
The Falcons traded for Edwards prior to the start of the offseason workouts. They sent a 2023 fifth-round pick to Las Vegas for the receiver. Edwards didn't know too much about Smith and his offensive preferences prior to the trade breaking. When he started diving into Smith's scheme, he saw the common theme.
"This system is built for big-body receivers, and we have a lot of those," Edwards said. "... I knew (Smith) likes bigger receivers, and they run a lot of in-breaking routes where guys can get the YAC and make big plays off of it."
Ultimately, it's a theme Edwards thinks he can thrive in.
"When I heard I was coming here, I thought it was a really good fit," Edwards said, "about as good as it can get."
Observations and notes from practice:
Roll call: Smith confirmed that Deion Jones, Keith Smith and Vincent Taylor would not be participating in offseason workouts as all three are rehabbing for various procedures. It was reported Jones' procedure was on his shoulder, and Keith Smith's on his knee. Taylor suffered an ankle injury in Week 1 of the 2021 season, and is still rehabbing that injury. Other veterans like Casey Hayward, Damien Williams and Cordarrelle Patterson were also not in attendance on Thursday, but it was just for the day. Hayward and Williams have been involved in other OTAs this week not open to the media.
Familiar faces: Mariota and Edwards spoke at length about the relationship they built while both were with the Raiders. Mariota said Edwards was someone he really enjoyed working with and learned a lot from. Edwards said having Mariota around "makes it easier" on him to be in Atlanta and in a new system, while also adding that if anyone can step in after Matt Ryan's departure, it's Mariota.
"People tend to forget that Marcus Mariota is a Heisman Trophy winner. He's not new to pressure... If you ever talk to him he says the gray in his hair is for wisdom. If there's anyone who can do that job, it's him."
The new duo: It seems in the last few years that the Falcons have had a steady stream of safety duos. Two years ago, it was Ricardo Allen and Keanu Neal. Last year, it was Duron Harmon and Erik Harris, until Harris was injured late in the year. Now, the baton is passed to Jaylinn Hawkins and Richie Grant, who seem to have built up an easy relationship with one another. Though Harris is still around, he's coming off injury and is not 100 percent quite yet. So, as the veteran team ran through 11-on-11 drills, it was Hawkins and Grant spending a lot of time together in the secondary.
Lots of snaps or Lorenzo: Speaking of spending a lot of time on the field, Lorenzo Carter did. As the older veteran of a very young position group, Carter is going to have ample opportunities to be "the guy" in pass rush if he so chooses. Ade Ogundeji ran opposite him more often than not, with rookies Arnold Ebiketie and DeAngelo Malone working with the rookie group.
O-line similarities: Smith has spoken at every check point of the offseason about adding competition up front. That process started well before players hit the field this week, but once they did - so far - they've kept last year's group together. Going left to right: Jake Matthews, Jalen Mayfield, Matt Hennessy, Chris Lindstrom and Kaleb McGary. Talking to the media after practice for the first time since his fifth-year option was not picked up, McGary called it "good motivation."
"Obviously, I wish they had, but I can't let it bog me down. Have to keep trying to be the best player I can be for myself, but also my teammates that I am still here with."
The quote that speaks for itself: Dean Pees also spoke to the media for the first time since Grady Jarrett signed his contract extension after the draft. Pees' quote - in full - perfectly details the respect he has for Jarrett.
"There wasn't anybody happier on this planet than me when he signed. I really hope that he has the opportunity to be a Falcon forever. Being in Baltimore where Ray Lewis was the face of the franchise on defense, I think Grady is that to us. He's the perfect pro. He's everything you ask for as a coach in a player. The way he practices, the way he plays, everything. Having a guy like that with not only his talent but the type of man that he is, it's so important to us and our unit. I couldn't be happier that he got that thing extended." Interested in Falcons tickets?
Join us in 2022 for our biggest season yet! Find the best seats to watch the 2022 draft picks and your Dirty Birds in action!