FLOWERY BRANCH, Ga. -- Call it an old-fashioned notion, but I do not believe in participation trophies. I believe in giving credit where credit is due for a solid performance, but trophies (or the pride that goes along with a trophy) is reserved - in my opinion - for those who, well, win.
On Sunday night, the proverbial trophy went to Tampa Bay. There were moments in the game and even individual Falcons players who improved or performed quite well. However, it's difficult to really give significant praise when a win didn't follow.
And that's essentially what this notebook is. I highlight the moments in which I felt good about what the Falcons did, but I also look at the game critically.
It's not enough to get a participation trophy in this league. Tampa Bay will likely clinch the No. 1 spot in the division soon. They're the standard right now. So, to critically evaluate how far the Falcons are from the Buccaneers is - at least partially - my job. I'm covering professional athletes. And they should be treated as such. Truthfully, I tend to think they would agree with that.
With all of that in mind, let's dive into this week's notebook as we take a look back at the Falcons 30-17 loss to the Buccaneers.
The run game is trending upwards
I have no idea what Arthur Smith said to the offense two and a half weeks ago that lit a big enough fire under them to perform the way they have the last two games in the run game, but I have my suspicions. If you've played any sport, ever, or you've been raised by someone who coached any sport, ever (Hi Dad!), you probably have a good idea what that conversation was like.
I'm not saying Smith jumped all over them, but that's also not... not... what I'm saying, you know?
But I digress. Whatever he said, it's working. The Falcons are running the ball as well as we've seen them do so all year. With 121 rushing yards and a 5.3 yard per carry average, the Falcons have now put back-to-back games together in which they've ran the ball well against a top-ranked run defense (Jacksonville was No. 3, Tampa Bay was No. 1).
It really feels as though the Falcons are hitting their stride in this particular area. The offensive line is opening up more and more run lanes. Cordarrelle Patterson and Mike Davis' production keeps rising.
So, what's the catch? Essentially, it's twofold in my mind:
1) Can the Falcons sustain this production through the final month-and-a-half of the season?
2) What's it going to take for the Falcons to be in better positions going into the fourth quarter so they can more easily rely on the run game late?
The Falcons had to get away from the run on Sunday against the Bucs because the score dictated they do so late. But what happens if the Falcons are in a better position (score-wise) going into a fourth quarter? Can they still run the ball the same way they have early in the last two games? That's what I am curious about now that I feel as though the run game has been established.
Continuing to monitor the trends of the run game is something I looking forward to doing over the course of the final stretch of the 2021 season.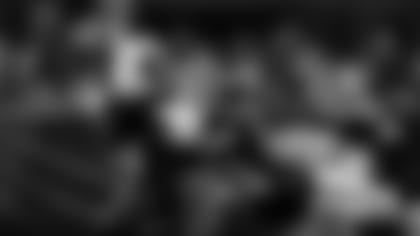 Falcons can't match Bucs
When I wrote this statement, I meant it in two ways. The first way was by just looking at the score itself. The Falcons weren't matching the Buccaneers' production. I thought Matt Ryan explained this best postgame when he was discussing how the Falcons weren't getting into the endzone offensively.
"When you're playing against a really good football team, a really good offense, an offense that can score, you know you have to come away with touchdowns," Ryan said.
And the truth is the Falcons didn't. With an offense like that led by Tom Brady, you know they are going to score. In some way, they're going to come away with their fair share of drives with points. I said this in our Falcons Final Whistle podcast on Sunday night, but it bears repeating: If you're not matching the Bucs production, the game is going to get away from you. And that's exactly what happened on Sunday night.
The second way in which I meant the above statement was more on an individual level. When it came to specific matchups, I often felt as though Tampa Bay had the upper hand. The Falcons had a difficult time matching up with Rob Gronkowski, particularly in and around the red zone. Chris Godwin was a thorn in the secondary's side all afternoon (as his 143 receiving yards show).
The same could be said for Buccaneer defenders, too. Ndamukong Suh and Vita Vea had two sacks each. The Tampa Bay front's performance on Sunday afternoon was one of the key differences in the game. And it's because of all of these different matchups that the game likely went the way it did.
No pat-on-the-back for individuals if the team doesn't win
I was going to spend an entire section talking about Marlon Davidson's pick six (a future highlight of his career, no doubt). I was also going to note how good it was to see Russell Gage heavily involved (outside of his fumble, he had a very productive day with 11 catches for 130 yards). However, the more I looked at my notes taken on the two, the more I asked myself, "What's the point?"
I am all about giving credit where credit is due, but I also don't want to placate, as I mentioned at the very top of this notebook. And I feel as though I have spoken to enough players after losses to know that while individual performances are great and all, they would rather win. So, that's what led me to write the above statement postgame.
It's not enough anymore that the Falcons have one or two people who have a good game. At this point in the season, I want to start seeing units have solid, consistent games. With five games left, the time to chase that elusive complete game is now, more than ever. And I - for one - want to see it. As I am sure you do, too. Falcons Final Whistle | A Postgame Podcast
Break down the hottest topics surrounding the Atlanta Falcons and how they can impact the team's success with Falcons Insiders Scott Bair, Tori McElhaney and Terrin Waack. Like and subscribe to join us for the lively debate on Falcons Final Whistle.
Welcome to Falcons Final Whistle – an Atlanta Falcons football postgame podcast during the season that shifts gears in the offseason to answer a pressing question about the team's future each week through free agency, the NFL Draft and the offseason program.