ATLANTA -- There's one stat line more than any other that tells the story of the game. It's one that what all of the Falcons issues in Sunday's loss stem from. It was the source of a 30-17 Tampa Bay win.
It was the play of those on the line of scrimmage.
On Sunday, Tampa Bay's defensive line wreaked havoc on the Falcons offensive line. By the end of the game, Matt Ryan had been sacked five times for a loss of 38 yards. He was hit 11 times. The Falcons were dropped for a loss six times.
In comparison, the Falcons had one quarterback hit from Grady Jarrett. And that's where any production worthy of a stat ended. Tom Brady picked apart the Falcons secondary, using the triple-headed threat of Chris Godwin (143 yards), Mike Evans (99 yards) and Rob Gronkowski (two touchdowns) to do so. Brady threw for 368 yards.
"Yeah," Arthur Smith said of these stats, "that's usually a pretty good tell of how (a game) went."
The difference in this game lay in what happened in the trenches. Essentially, stats support the assertion that both the Falcons offensive and defensive lines were dominated by the Buccaneers. And though the Falcons continued to trend in the right direction in the run game, three of Ryan's five sacks came on third down when the quarterback dropped back. At the end of the day, not enough pressure was put on Brady while arguably too much pressure was put on Ryan. It didn't really matter how many steps were taken in the run game. Without production from the offense in the red zone or the defense slowing down the onslaught of Brady passes, there was little else the Falcons could do to beat Tampa Bay at home.
According to Ryan, the Falcons knew going into the game that it was "going to be tough sledding" at times against this Buccaneers defensive front. It was a front that helped keep the Falcons offense out of the endzone for three quarters. If there's area for improvement, Ryan said it would be that the Falcons only punched it in for a touchdown on their very first drive of the game, and never again thereafter.
"It's one of those things that we have to do a better job of as we move forward," Ryan said. "When you're playing against a really good football team, a really good offense, an offense that can score, you know you have to come away with touchdowns. That part was disappointing for sure."
The Falcons weren't consistent enough on offense. They had their spurts, but nothing was sustained. And too many opportunities were missed, like not punching it in from the one yard line in the second quarter.
"When we have our explosives and we make our plays we've got to capitalize on those drives," Ryan said. "I think if we're going to be successful moving forward, those are things we have to do."
Then there were the sacks, and Smith said those are always going to hurt an offense's rhythm as they accumulate.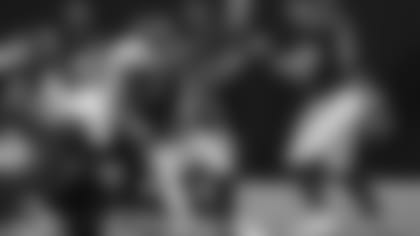 As for the Atlanta defensive front's role in this, the Falcons knew what they were in for against Brady and Co., too.
The Buccaneers only ran for 57 total yards. Against any other team that would be a source of pride for a defense to hold an offense to that few rushing yards. Against Tampa Bay? Not so much.
"That's kind of who they are," Smith said of Tampa Bay's offensive attack. "I believe coming into this game they were 31st in the league in rush attempts. They have good players up front, but when you have the talent level that they have outside and you have Brady at quarterback and they protect pretty well for most of the year, they throw it. That's always been Bruce Arians' MO."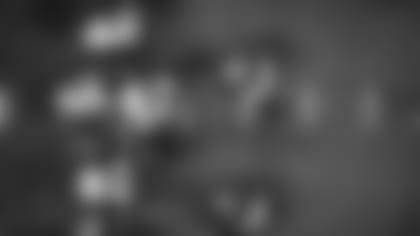 And Brady had no trouble throwing the ball, or getting it in the hands of his playmakers. He completed 38 of 51 passes, and of his incompletions it wasn't really because the defense was putting pressure on him. He just missed his mark on a few occasions.
In all, coaches and players said the Falcons will have to really evaluate the play of both lines of scrimmage in their film review this week.
They have another divisional opponent coming up next week as they travel to Charlotte to face Carolina. It's not time to go back to the drawing board, but Tampa Bay showed there is much to fix in the trenches.
"We'll go in there (on Monday) and watch it. We'll address the mistakes that were made," Matt Hennessy said. "… We'll continue to be detailed and very intentional about what we need to do to get better." Falcons Final Whistle | A Postgame Podcast
Break down the hottest topics surrounding the Atlanta Falcons and how they can impact the team's success with Falcons Insiders Scott Bair, Tori McElhaney and Terrin Waack. Like and subscribe to join us for the lively debate on Falcons Final Whistle.
Welcome to Falcons Final Whistle – an Atlanta Falcons football postgame podcast during the season that shifts gears in the offseason to answer a pressing question about the team's future each week through free agency, the NFL Draft and the offseason program.