Mykal Walker dropped into coverage as the ball was snapped to Marcus Mariota during the middle of a 7-on-7 period on Thursday afternoon. With a pass intended for KhaDarel Hodge, fellow inside linebacker Rashaan Evans put a hand on the ball, tipping it away from Hodge's waiting hands. At that point, it looked like that was going to be the end of the play. The ball falling to the ground, and the drill reseting. That's not what happened, though.
Cutting back towards the quickly falling ball, Walker dove towards it, laying his body out to plunk the ball out of the air a mere inch from the ground. It was a great play, an interception that may have been the play of the practice. As Walker ran down the sideline with the ball in hand, players following beside him.
In that moment, you saw a glimpse of what the Falcons want Walker to be, what he wants to be.
After being drafted in the fourth round of the 2020 NFL Draft, Walker's opportunities have been limited through his first two years in the league. The Falcons had Deion Jones and Foye Oluokun as their inside linebackers. Walker got to play sparingly, even starting six games his rookie year. But it really felt like the position gravitated around Jones and Oluokun. Walker wasn't the focal point. He was a rotational piece, playing on special teams but making a few plays here and there on defense when he had the chance (most notably his pick-6 against Carolina last season).
However, circumstances have changed in Atlanta since the final game of the 2021 season, a season that saw Walker make two starts. Oluokun signed a big contract with the Jaguars this offseason, and Jones is rehabbing a shoulder procedure and hasn't been to any voluntary OTA practices. The Falcons picked up veteran Evans in free agency and drafted Troy Andersen in the second round of this year's draft. The group will look different in 2021, and that may be good news for Walker who has been itching for more responsibility and playing time since his rookie year ended.
"I feel like I was ready last year. I've been ready for my opportunity," Walker said. "Every day I am going to go out there and compete with myself, just go out there and get the respect from my coaches, the players."
This is a stand Walker has been honest about for a year now. Towards the end of the 2021 season, Walker was candid that the year didn't pan out how he wanted it to from a personal standpoint. He just wanted more from his second year in the league. More playing time. More production. More.
He goes into the 2022 season ready to step into the more he missed last year.
"I think my goal, personally, was that I knew this was probably going to be my year to step up and takeover," Walker said. "… You have to get that respect from everybody. It's not like I don't know what I am doing any more, so just having them believe in me, especially with the coaching staff."
Earning respect and belief is something that came up a couple times with Walker on Thursday. He wants his teammates to respect him as an inside linebacker on this defense. He wants the coaches' belief that he can bring this position group into a new day. Ultimately, respect and belief are traits of a leader at the position, and that's exactly what Walker wants to be in 2022. It's what he's telling himself he is.
"I feel like I am the leader of the group. That's what I am striving to be… That's how I look at it. So, I'm going to come out here every day and work like it," Walker said. "I can't ask anyone to do anything that I'm not willing to do. I am trying to be that focal point, that figure head."
The spirit of the room? Walker wants it to flow through him.
That's a lot of responsibility to carry, but it is responsibility Walker has wanted for a while.
When asked about Walker stepping into a bigger role, Evans said there are opportunities galore for Walker in this scheme and at this particular time in the organization's turnover.
"This is a year that's special to him because he has an opportunity to start and do some of the things he wants to do," Evans said. "I'm right there with him, to help him out in any way that I can, to let him know some things I've been through as well and things he can get better on. Overall, I'm excited to play with a guy like that."
Walker has made it no secret that he's ready to take the next step in his career. Now, he actually has the opportunity in reach to do so.
"Speed is the name of the game now," Walker concluded. "The faster I can get things down the faster I can play on the field, and play that much better."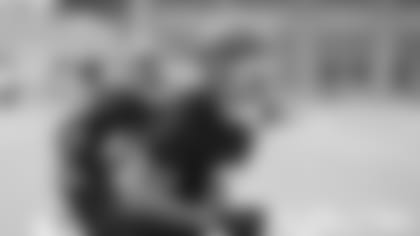 Practice notes and observations
A unicorn in the endzone: Working through a redzone 7-on-7 period of practice, Mariota connected with Kyle Pitts in the end zone, with the tight end going up and over defensive back Mike Ford for a nice grab. Showing a little excitement in front of the defensive back group on the sideline, Pitts tossed the ball high in the air before exchanging a few words with the secondary players watching from the sideline. It was all in good fun, though, as the defense celebrated Walker's interception loudly a few plays before.
An interesting note from Mariota: The Falcons quarterback spoke to the media after practice. Asked about what he likes about Arthur Smith being in charge, Marcus Mariota made a comment that caught my attention. He said Smith and the staff at large makes a point to "stimulate your mind constantly." He said that involves a lot of conversations and questions thrown his way and thought-processes challenged. He said this staff keeps him on his toes, and he likes that a lot. It keeps things fresh.
The loudest moment of practice: Also in the 7-on-7 period, Desmond Ridder connected with Feleipe Franks right at the goal line. It was a pretty nice catch, too, by the former quarterback turned part-time tight end. Diving to bring the ball in right across the goal line, the offense erupted with praise for Franks. And Franks himself seemed particularly pleased with himself, too. It's something to continue to monitor: Franks' move through the offense.
A close second: A few plays later, the defense tried to bring the practice's momentum back to them with rookie UDFA Nathan Landman picking off Ridder. It was a being-at-the-right-place-at-the-right-time moment and the veterans were particularly happy with the play, bombarding Landman as the period came to an end.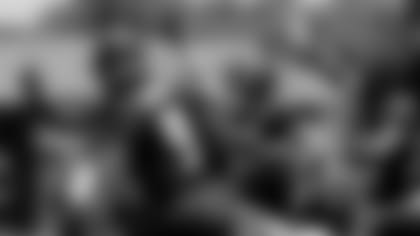 Interested in Falcons tickets?
Join us in 2022 for our biggest season yet! Find the best seats to watch the 2022 draft picks and your Dirty Birds in action!