There's no doubt the Falcons are in need of wide receivers. With Calvin Ridley suspended for the 2022 season and Russell Gage joining Tom Brady in Tampa Bay, the Falcons are in the market to find WR1 and WR2.
Though there are many that would consider Kyle Pitts and Cordarrelle Patterson to hold these mantels, they don't. Not officially, because at the end of the day they're a tight end and running back. Atlanta needs true receivers, and with the NFL Draft exactly a week away, they have a chance to draft some young talent to replenish the position group.
Here are five options the Falcons could target (with any of their first five picks in this year's draft) that fit the mold of what Arthur Smith's offense needs: YAC bros.
First round targets
Treylon Burks: An underrated trait of Burks that may get overlooked because it doesn't necessarily show up in a highlight reel is his ability to draw defensive penalties. He has a build that works to his advantage in one-on-one situations that puts the pressure on a defensive back. He's just strong. That's something the Falcons need at the position: Pure physical strength.
Drake London: One of the strengths that stands out about London is his ability to keep the play going. He's someone who's long, with good range and a solid basketball background. All of these things make him stand out as a potential first-round pick, but he'd be on the Falcons' radar because of his toughness. As Dane Brugler put it in his 2022 NFL Draft guide: "College defensive backs didn't want to tackle him, and he provides YAC skills thanks to his toughness and ability to stay afloat."
Second round targets
George Pickens: Pickens' 2021 ACL injury and questionable decisions made throughout his career at Georgia will give teams pause, which is why he likely drops into the second round. However, he still has a significant upside that a team like the Falcons would value. For starters, what he can do with his body in-air is impressive, and he's able to make catches away from his body look easy. He's a little on the leaner side, but a couple years in the league should add some bulk and build to him that will evolve his game in the long term.
Christian Watson: Though someone who needs a bit of polishing at the position, Watson is also someone that showcases an intriguing size and speed combination as an overall athlete. He's explosive and North Dakota State utilized him best on jet sweeps. He even started a game at running back this past year. He's a bit different than the others on this list in terms of skillset, but perhaps that's what the Falcons would like best: His versatility.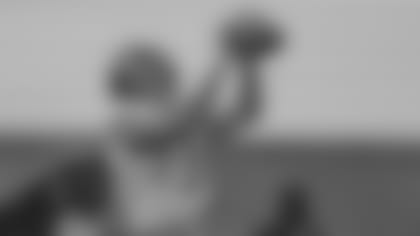 Third round target
Alec Pierce: The Falcons were in attendance at Cincinnati's pro day a few weeks ago, and though many would say they were there for Sauce Gardner or even Desmond Ridder (and they likely were), it wouldn't be surprising if they wanted to see a guy like Pierce perform, too. Though Pierce doesn't have the YAC stats the Falcons need more of, he's got hops. Evaluators believe Pierce is the type of receiver who can give his quarterback a large target because of his overall size and agility. 2022 Season Tickets Now Available!
Our Longest & Most Flexible Ticket Payments
Instant Member Benefit Access
Best Available Seat Locations