Reports have surfaced that Taysom Hill will be starting for New Orleans at quarterback on Sunday against Atlanta. In light of Drew Brees's injuries, the Saints' quarterback position has been a main storyline ahead of this weekend's rivalry game.
From the Falcons' perspective, they assert that they are prepared for either Hill or Jameis Winston, a former No. 1 overall pick and starter in Tampa Bay. Given that this is a division rival and that Winston was the starter for another division rival, the Falcons' have plenty of experience with both quarterbacks.
"They have a couple of really good quarterbacks on their roster," Falcons interim head coach Raheem Morris said. "Obviously, Taysom and Jameis, two guys that have been productive in their system and some, in Jameis, in obviously the Tampa system that he came from. They're pretty fortunate with their quarterback situation. Then, obviously, you know Sean Payton and Pete Carmichael, who they are and what they are and how they go about their business, they will plan diligently enough to get those guys ready to play against us, and we have to prepare for both. There's no doubt about that."
If Hill does indeed start on Sunday, it will be just his 14th NFL start but the first as New Orleans' lead quarterback on a game day. In his four seasons, Hill has completed just 10 passes for 205 yards with no touchdowns and one interception. Hill's a versatile athlete, however, and the Saints get creative with how they deploy him as a weapon. He's carried the ball 98 times for 538 yards and four touchdowns while also catching 28 passes for 312 yards and seven touchdowns.
Winston has far more experience as a starting quarterback. A Pro Bowler in 2015, Winston has completed 2,559 passes for 19,812 yards and 121 touchdowns with 88 interceptions in his career. He was the quarterback who replaced Brees in the Saints' win against the 49ers, but it remains to be seen what kind of role he will have on Sunday.
Julio Jones says 'blood is boiling' when Falcons play Saints
For much of their history, the Falcons and Saints have competed in relative obscurity. That has changed throughout the last decade and one of the league's best rivalries is now getting the attention it's due. Julio Jones knows full well just how competitive things can be when Atlanta and New Orleans play each other, and he is looking to again make an impact in the latest meeting.
"With the Saints and Falcons, it's a rivalry game," Jones said. "Blood is boiling, it's chippy at times, things like that. That's what you're going to get in this game. I'm looking forward to playing in it."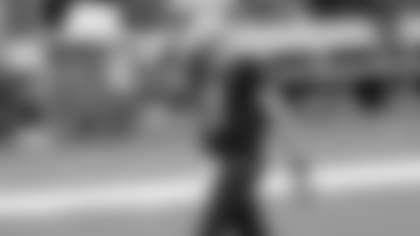 Does the Drew Brees news change things for Falcons? Yes, and no
Although much attention has been given to the Saints' quarterback situation, this is as complete a roster as there is in the NFL that the Falcons are up against. Running back Alvin Kamara is legitimately in the MVP conversation and New Orleans' defense is beginning to play like one of the best in the league. In evaluating how much a change at quarterback impacts the Saints, Matt Tabeek pointed to the last time the team was in this situation.
"Remember when Brees had to undergo thumb surgery last season and missed several games," Tabeek writes. "The Saints didn't miss a beat, if you recall, as Teddy Bridgewater stepped in and went 5-0 as a starter."
Behind Enemy Lines: Falcons up against loaded defense, MVP candidate
New Orleans is again among the top teams in the NFC and holds a 7-2 record. The Saints will be without future Hall of Famer Drew Brees on Sunday, however, and it's been reported that Taysom Hill will be the quarterback who starts in his stead. There's far more to the Saints than just the quarterback, though, so we reached out to ESPN's Mike Triplett to get a better sense of what the Falcons are up against this weekend, including a very dangerous Alvin Kamara.
"My gut says yes – considering he is a leading candidate for the NFL's Offensive Player of the Year award, if not league MVP," Triplett responded when asked if this was the best he's ever seen Kamara play. "And I would definitely say that the Saints have never relied on him more, considering Michael Thomas missed six games and the downfield passing game started out so sluggish. Kamara ranks second in the NFL with 1,134 yards from scrimmage, 11 TDs and 6.6 yards per touch. He is on pace for 119 catches, 1,152 receiving yards and 864 rushing yards. But I don't want to shortchange what Kamara did in his first two seasons, when he also gained more than 1,500 yards from scrimmage each year and scored a combined 32 TDs. This year has just been a reminder of what a special player he was before injuries slowed him down a bit last season."
Kevin Burkhardt: Falcons have 'a star in the making'
FOX Sports analyst Kevin Burkhardt shared some thoughts on Sunday's rivalry game with Kelsey Conway. Among the topics discussed were the improvements made defensively for Atlanta, the Falcons' abilities on offense and what to expect from the Saints this weekend.
"I'm expecting the unexpected," Burkhardt said. "I think you're going to see a ton of Taysom Hill and a ton of Alvin Kamara for New Orleans. I think Taysom Hill even with Jameis Winston likely to take a ton of snaps at quarterback, I think Hill is going to play under center. I think they are going to use him all over the field. I think that's the biggest storyline from a Falcons defensive standpoint is stopping Taysom Hill. Because as great as Alvin Kamara and Michael Thomas is, I really think he's going to have a huge impact this week and if they slow him down, they have a great chance to win."
'Put all you have into being the best'
One of the subjects Burkhardt discussed with Conway was the emergence of linebacker Foye Oluokun, who he called "a star in the making." That conversation timed up with a feature story written by Conway on Oluokun's breakout season and the long journey he took to get to this moment.
"He fights for inches every second of every day," Falcons defensive coordinator Jeff Ulbrich said of Oluokun. "Whether that's in meetings, he's just extremely attentive and detailed with his notes. Then that carries over to the walk-through where he's asking 17,000 questions and he's constantly alerting everybody on the field to what's coming. Then to practice, he plays practice like it's a game. He approaches every moment almost like it's his last. It's just been really fun to watch him progress and become the player he's starting to become. I really hope the league starts to take notice of him because I think he's very deserving of the credit."
Matt Ryan on Saints rivalry and battles with Drew Brees
Matt Ryan and Drew Brees have played each other more times than any other quarterback duo in NFL history, but they won't continue this rivalry on Sunday. Brees's absence is obviously big for how this game could play, but Ryan knows that there are plenty of challenges remaining, especially on the defensive side of the ball for New Orleans.
"They're playing well for sure … they were pretty good in 2009 and had it rolling back then," Ryan said. "It's certainly up there though. Their front-seven is playing extremely well and they add Kwon Alexander at the linebacker position the last couple of weeks who we know from being in the division, he's incredibly athletic. I think they're playing great right now; I think they're doing a good job of being disruptive right now on first down, knocking people off schedule. I think we have to do a good job of being efficient on first down."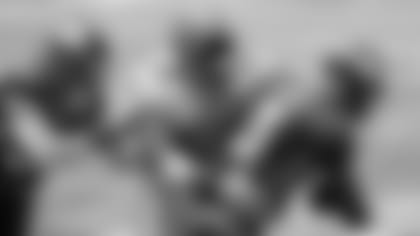 How the Falcons' pass rush is doing more with less
In their previous four games under Raheem Morris, the Falcons recorded seven sacks – the same number they achieved in five games under Dan Quinn. Those sacks have come about in different ways, though. Despite blitzing more with Quinn, the Falcons were less successful when bringing more than four guys. Morris has figured out how to make the Falcons a much more efficient blitzing team, which has helped them earn wins with key defensive plays late in a game. If the Falcons continue to improve in this aspect of the game, it could help them greatly down the stretch.
Improvements Raheem Morris would be 'jacked up about'
During the Falcons' bye week, there was plenty of time for reflection. Chief among those reflecting was interim head coach Raheem Morris, who has taken his job seriously the moment he was appointed it by owner Arthur Blank. For all of the talk about Atlanta's offensive prowess, Morris is aware that to succeed in the NFL it takes a team. The Falcons have been in most games this season, but they will need to win most games moving forward to have a shot at making anything of this year. It appears that's exactly where Morris's head was during Atlanta's time off.
"You've got to find out what's not up to snuff and you've got to be ready to correct and adjust on every side of the ball and every phase of it," Morris said. "Obviously, we have an offense that's going to go out there and score some points and put us in position to be in leads, so we've got to figure out a way to fill those needs on defense. And when you're on offense, you've got to figure out a better way to maintain those in the second half without not becoming yourself."
The Falcons are preparing to take on the Saints for the first time in 2020. Take a look at the best images from practice in this gallery, presented by Quikrete.