The parking lot of the Atlanta Falcons facility is full of just about every make and model of car you can imagine, from luxury sports cars to pickup trucks and SUVs. It's often said the type of car someone drives shows the personality of someone. For the starting linebacker Foye Oluokun, that's exactly the case. The Falcons' current leader in tackles and forced fumbles drives what he calls his "dream car" and it's unlike some of the luxury sports cars his teammates drive - he's all about durability, not appearance, necessarily.
And while the Yale graduate continues to get more attention as he's developed into one of the best linebackers in the NFL, don't expect all of this new-found attention to get into his head. It's not who he is and it's not how he was raised by his parents, Steve and Josephine Oluokun, who placed a high value on character, education and hard work over material objects since the day he was born.
When Steve immigrated from Nigeria in 1983, he wanted to get an American education. He majored in chemical engineering at Texas A&M University-Kingsville. Josephine arrived in the U.S. nine years later after Steve began working, and the couple had two sons: Fadeseye and Foyesade.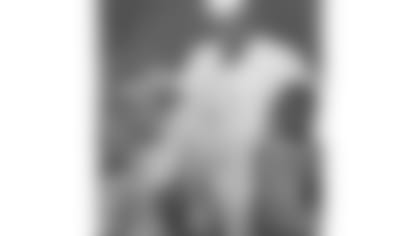 Education always has and always will come first in the Oluokun household but Foye has always had rare athletic qualities and if he kept his grades up, he was able to participate in almost every sporting activity he wanted. Soccer was the first sport Foye participated in, then came basketball, baseball and football. One of Steve's biggest pieces of advice to his kids was to devote themselves fully to any task at hand and that will lead to success.
"The way I raised my boys is that whatever you decided to do, put all you have into being the best," Steve said. "I know that is one of the keys to success. Don't do anything halfway. I leave the rest to good luck and God."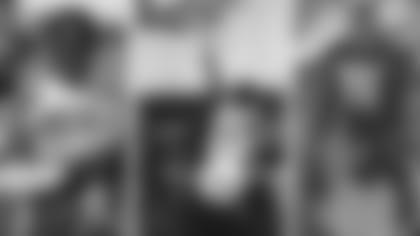 Foye didn't get serious about his career in football until his junior year of high school at John Burroughs School in St. Louis. Basketball was his first love and it wasn't until he realized the chances of him playing a sport in college were more realistic if he played football. With only 26 players on the team, Foye played wide receiver and defensive back for coach Gus Frerotte, who played quarterback in the NFL for several teams and was a Pro Bowl selection in 1996. Foye was also teammates with current Dallas Cowboys' All-Pro running back Ezekiel Elliott. Foye credits Elliott as a person who has heavily influenced his career in terms of realizing his dream to play in the NFL.
As Foye started to draw interest from schools all over the country, Steve and Josephine reiterated their stance on the importance of education to their son and Frerotte. They weren't interested in sending their son to a school that didn't value academics over education. Given Foye's athletic skill set and grades, he was bound for an Ivy League school. He earned a 30 on his ACT and left John Burroughs with a 3.8 GPA and had his choice between three academically elite schools – Yale University, Harvard University and the University of Pennsylvania.
Opposing teams would stay away from throwing the ball or running it Foye's direction. His athleticism allowed him to play safety, cornerback and linebacker where he was easily one of the best players on the field. But as a Division I Football Championship Subdivision (FCS) athlete, he didn't draw nearly the type of attention he would have if he played in one of the Power 5 conferences – Atlantic Coast Conference (ACC), Big Ten Conference, Big 12 Conference, Pac-12 Conference, and Southeastern Conference (SEC).
After attending both basketball and football camps at Yale, Foye fell in love with New Haven, Connecticut. He knew he could succeed in both school and football there and that's exactly what he did.
But when the Atlanta Falcons scouts brought Foye's tape to defensive coordinator and linebackers coach Jeff Ulbrich, he saw something special in the few plays Oluokun would make a game.
"His tape was brutal to watch because you would go through 65-70 plays of Ivy League football because he was the best player on the field, they would never go his way," Ulbrich said. "There would be 60 plays of him just running on the backside, chasing. But then you saw those two, three snaps a game where you said, 'Oh, there it is.' You saw the physicality; you saw the stuff we're starting to see now that got you really excited."
Without an invite to the Senior Bowl or NFL combine, Foye had to rely on his pro day to impress NFL scouts. The way he moved his 6-foot-2, 200-pound frame impressed those in attendance and suddenly he realized he might be busy come NFL Draft weekend in 2018. The Falcons selected Foye in the sixth round, but he never let himself believe he was a draft pick.
Heading into his third season, Foye knew the importance of this year for him professionally. He was committed to getting himself in the best shape possible and spent hours studying other linebackers in the NFL in his spare time. Before the COVID-19 pandemic, Foye traveled to Colorado to train. Due to the travel restrictions, he ended up extending his trip a month and felt the extra time spent out West was more than beneficial.
When linebacker Deion Jones suffered a foot injury and was expected miss several games in 2018, Foye went from a role player to a starter. He showed enough promise in the games he saw action in that when the Falcons opted not to re-sign De'Vondre Campbell – a four-year starter for the Falcons – ahead of the 2020 season, it was due to the level of confidence the coaching staff had in Foye.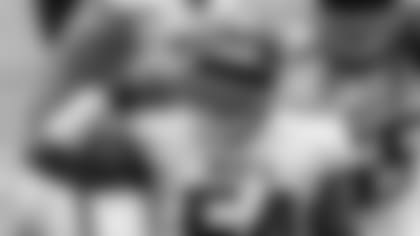 When Foye returned to Atlanta and the Falcons were unable to enter the building for their offseason workout program, he took matters into his own hands. He used the time alone to better himself.
"I loved not being able to go anywhere and just being able to focus on the football part," Foye said. "I loved not having to give an excuse. Before, I would have to give people an excuse to not meet up. Now, I just got to work and focus on myself."
The odds have never been stacked in Foye's favor and all he's done is outwork everyone around him to achieve success. His tireless work ethic that's been instilled in him from a young age is evident at every moment of the day.
"He fights for inches every second of every day," Ulbrich said. "Whether that's in meetings, he's just extremely attentive and detailed with his notes. Then that carries over to the walk-through where he's asking 17,000 questions and he's constantly alerting everybody on the field to what's coming. Then to practice, he plays practice like it's a game. He approaches every moment almost like it's his last. It's just been really fun to watch him progress and become the player he's starting to become. I really hope the league starts to take notice of him because I think he's very deserving of the credit."
In eight games, Foye has recorded 62 tackles – two more than he had for all of the 2019 season. But where's he has made the most impact has been his ability to take the ball away and create turnovers. Foye has registered four quarterback hits, three forced fumbles, one sack and one interception. He was named NFC Defensive Player of the Week for his performance in the Falcons' 34-27 win over the Denver Broncos on Nov. 10. His 10 tackles, four quarterback hits, one sack and one pass deflection helped Atlanta earn its first win at home this year.
Steve and Josephine watch every Falcons game from their home in St. Louis thanks to Direct TV's Sunday NFL Ticket. While watching TV was not really something Steve made easy for his sons growing up, he's got all he needs now to support Foye from afar. They've traveled to Atlanta for a few games over the last three years but due to the pandemic, they haven't been able to see their son play in person this year.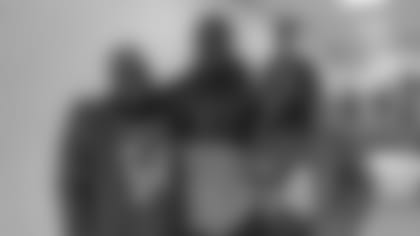 "We thank God for what he has made possible for us in the country," Steve said. "Hopefully in the future, I'll be able to go to more of his games. I would like to express my gratitude to the coaches, teachers, parents, teammates, trainers and agents that have made Foye what he is today."
As for what Foye plans to do with the bachelor's degree he received in economics that means so much to his family, he mentioned the idea of working on the business side of a sports team as something he could see himself doing when he's done playing football.
But he doesn't want to talk about what's next for him just yet and it's hard to blame him. With the way he's playing right now, it appears he's just getting started in what looks to be a long, promising career in the NFL.
"Right now, I'm trying to be the best football player I can be," Foye said.
Before heading into the 2020 NFL year, we are going to look back at the best images from players on the active roster. Take a look at the best of linebacker Foye Oluokun.