For the first time this season, the Falcons and Saints will re-ignite their long-standing rivalry, one of the NFL's best.
New Orleans is again among the top teams in the NFC and holds a 7-2 record. The Saints will be without future Hall of Famer Drew Brees on Sunday, however, and it's been reported that Taysom Hill will be the quarterback who starts in his stead.
There's far more to the Saints than just the quarterback, though, so I reached out to ESPN's Mike Triplett (@MikeTriplett) to get a better sense of what the Falcons are up against this weekend.
What do we need to know about Jamies Winston and Taysom Hill?
Triplett: Well, the Saints are trying to use some of that element of mystery to their benefit this week – keeping their plans close to the vest. And that's a pretty effective strategy, considering all three of New Orleans' quarterbacks couldn't be more different from one another. But reports emerged Friday that they're going with Hill, which suddenly makes this perhaps the most compelling matchup of the weekend in the entire NFL. Sean Payton and the Saints have always maintained that Hill can be a successful starting QB, even though he is a run-first athlete with only 20 career pass attempts. They proved that by signing him to a two-year, $21 million contract extension this offseason. And now they'll get a high-stakes test run.
Is this the best version of Alvin Kamara you've ever seen?
Triplett: My gut says yes – considering he is a leading candidate for the NFL's Offensive Player of the Year award, if not league MVP. And I would definitely say that the Saints have never relied on him more, considering Michael Thomas missed six games and the downfield passing game started out so sluggish. Kamara ranks second in the NFL with 1,134 yards from scrimmage, 11 TDs and 6.6 yards per touch. He is on pace for 119 catches, 1,152 receiving yards and 864 rushing yards. But I don't want to shortchange what Kamara did in his first two seasons, when he also gained more than 1,500 yards from scrimmage each year and scored a combined 32 TDs. This year has just been a reminder of what a special player he was before injuries slowed him down a bit last season.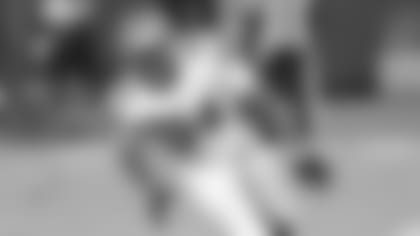 Is the Saints' defensive line the unit that should most worry Atlanta's offense?
Triplett: Maybe, but it's a virtual three-way tie now that the Saints' defense has been playing up to its potential again over the past two weeks (a 38-3 win at Tampa Bay, followed by a 27-13 win over San Francisco). The d-line is definitely loaded with talent -- starting with DE Cameron Jordan, who had four sacks in his last meeting with the Falcons – and the more underrated Marcus Davenport, David Onyemata and Trey Hendrickson. But LB Demario Davis is a first-team All-Pro who has helped New Orleans' run defense become one of the best in the league over the past three years (they rank second behind Tampa Bay this season by 0.2 yards per game). And the secondary has great depth, led by standout CB Marshon Lattimore.
What is the opinion of the Falcons down in New Orleans?
Triplett: Is this a family website? The Falcons are by far the most hated, reviled opponent in New Orleans (even though fans might not admit there is a healthy respect for great players like Julio Jones, Calvin Ridley and New Orleans-native LB Deion Jones, among others). Saints fans enjoy Falcons losses almost as much as Saints wins. Heck, they'll probably still be opening "28-3" themed gifts all around the city for Christmas this year.
What do the Saints need to accomplish to win this game, and how do the Falcons pull the upset?
Triplett: We saw the blueprint for a Falcons underdog win last year in the Superdome when they stunned the heavily-favored Saints 26-9 in one of the ugliest losses of the entire Brees-Sean Payton era. And the Saints know that they can never take a team with Atlanta's offensive firepower lightly. So, the Saints need to make sure they don't give the Falcons too many "freebies." They need to limit the turnovers from either Winston or Hill as much as possible. And they need to avoid giving up deep passing plays to Jones and Ridley, if healthy. The Saints had a problem with zone-coverage breakdowns and pass-interference penalties during the first half of this season, and they can't let those creep up again.
The Falcons are preparing to take on the Saints for the first time in 2020. Take a look at the best images from practice in this gallery, presented by Quikrete.