FLOWERY BRANCH, Ga. -- When Kyle Pitts was asked about the feelings he has to suit up in his first NFL game with the Falcons, Pitts said he's still "pretty nervous" about the Week 1 game ahead. But just as quickly as the word "nervous" was out of his mouth, Pitts wanted to take it back. He didn't feel as though it was the right word to truly express his feelings.
"Let me take that back," Pitts said through a quiet chuckle. "I wouldn't say nervous. I would just say eager."
It's been a long time coming, this true debut for the Falcons No. 4 overall draft pick. To a certain extent, there's now an exhale that happens. After all of the draft talk, all of the expectation talk, Pitts can finally just play football. And that's all he wants to do.
"I'm excited," Pitts said. "I'm eager to put my talents up against another team in a game that counts."
One snap. One catch. That's all Pitts got in any of the Falcons three preseason games. That was by design. It was also a sign of where this staff thinks Pitts is in his development.
Head coach Arthur Smith has said on a few occasions during the preseason that if Pitts wasn't as far along as he was that - of course - they would give him more live game reps. But that wasn't the case. He was doing every thing asked of him and doing it to the standard of which the staff wanted him to. There was no reason to see him in any preseason game. The coaching staff already knew what they had in him.
And as Pitts looked back over his first training camp period, this was actually something he, too, was fine with. That's because the rookie tight end said his head coach - at his core - is a great teacher.
"I am very comfortable," Pitts said. "I think (Smith) did everything for a reason. He does a great job of teaching. He kind of made it easier for me to learn. And I found ways to learn his way. Me and him, we kind of gel."
Through Smith's eyes, he likes to keep perspective on Pitts' first year in the league. Smith has been adamant that he will reserve judgement about the rookie's season when said season is over. But - he added - Pitts' individual success means little if the Falcons aren't winning games.
"Ultimately, once we get to the end of the season we will see then where he's at and what kind of impact he had in helping us win," Smith said. "If he has 70 catches and then we lose a bunch of games in blow outs, who cares. It's like being a high volume scorer on a bad basketball team."
For someone who's going to be a major part of this offense, that's the last thing Smith wants for Pitts. It's the last thing Pitts wants for himself, too.
There's a lot to be said about the expectations on Pitts' shoulders. There's even more to be said about the success - or lack there of in certain cases - of high-drafted rookie tight ends in the league. For Pitts and Smith, none of that really matters at the end of the day. What matters is Pitts' development, and Pitts' development alone.
"I don't view Kyle Pitts as the same player as Tony Gonzalez. I don't view Kyle Pitts as the same player as Delanie Walker. I don't view him as the same player as Dallas Goedert, Zach Ertz or Travis Kelce. He's Kyle Pitts," Smith said. "We need to bring him along the right way as a rookie."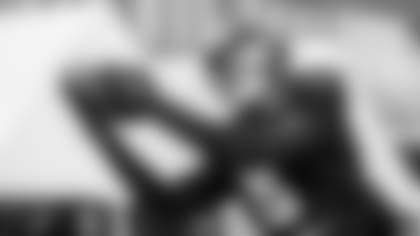 + Kendall Sheffield has officially been placed on IR. He missed majority of the preseason with an undisclosed injury. The rule is that players placed on IR have to miss at minimum three weeks from the time they were initially placed on the list.
+ Brandon Copeland returned to practice on Wednesday at a limited capacity. He's been dealing with a hamstring issue.
+ Smith said before practice that preparing for a Week 1 game against an opponent that also has a new staff is like preparing to play a bowl game. There are times, he said, where a coach can talking himself out of things because there is just so much film to base decisions off of.
"Once the ball is kicked, though, there's no sentimental value just because it's the first game," Smith said. "We have to do whatever we can to win that football game."
+ Matt Ryan said his ability to be in sync with Smith started to evolve about half way through training camp. He noted things started moving at a much quicker pace and they were on the same page more and more. Both Smith and Ryan stated they were confident in the relationship they have built as a play caller and quarterback duo.
"I expect it to be efficient. I expect communication to be pretty clear," Smith said. "… It's not Matt's first rodeo."