FLOWERY BRANCH, Ga. -- In a perfect world a head coach would be able to rely on the same five offensive linemen day in and day out. The NFL is not a perfect world.
To combat the imperfections, Arthur Smith said one must have contingency plans set in place. It would have been nice to not have to worry about said plan(s) for a while, but here in Week 1 of the season, the Falcons are already having to enact it on the offensive line.
The offensive front seemed set in the final week of training camp, but then Josh Andrews broke his hand and went on IR last week. Enter Jalen Mayfield, who moves into his spot and (likely) a starting role come Sunday at left guard.
"Somebody's gotta draw the short end of the straw every play," Smith said.
When it comes to getting in the heads of some of these young offensive linemen (of which Smith has a few of in Atlanta), the first-time head coach said he draws upon relationships he's acquired over the years to really put those first league snaps into perspective.
"I found it valuable working with guys like Russ Grimm or Bruce Matthews or Mike Munchak, guys that played up front," Smith said, "All three of those guys are in Canton and they can tell you stories endlessly about their first snaps or the match ups they may have had week to week."
Week 1 will be a first for this Falcons offensive line, in more ways than one. Even Smith noted on Monday that - outside of Jake Matthews - this is a very young group by way of other more experienced offensive fronts across the league. It was something he said back in January he was excited about getting a hold: this young offensive line. Now the first game of the season is right around the corner and that young offensive line will be put to the test.
Chris Lindstrom and Kaleb McGary are just in Year 3, and Lindstrom's injury his rookie year makes it feel more like Year 2 for the right guard considering how much of his rookie year regular season he had to miss. Matt Hennessy steps into Alex Mack's vacated shoes after playing only limited game reps as a rookie center last year. And Mayfield gets thrown into the deep end at left guard following Andrews' move to IR.
How does this group work together? Is there an obvious improvement in run blocking? What about protecting Matt Ryan? All of these things we still don't know the answer to. And this isn't an easy first test against the Eagles' defensive front either. Keeping perspective will be important during and after Sunday, per Smith, especially in the context of Mayfield's workload and performance.
"We understand that there may be some growing pains," Smith said, "and you try to limit them, but at some point there's going to be a third down and you're going to have to block one of their guys."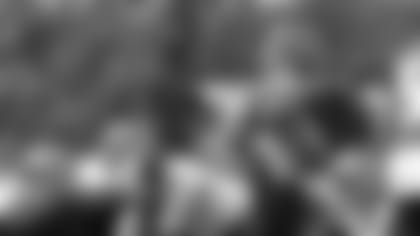 Precision of technique is what you have to fall back on in those moments of growing pains. It's an area of his game that Hennessy said was an important offseason focus of his. He said the difference in Matt Hennessy in Year 1 vs. Matt Hennessy in Year 2 is that confidence in technical precision. It'll be tested on Sunday.
"That precision has allowed me to take another step this year," Hennessy said.
At the end of the day, there's a lot of unknowns regarding this offensive line. Sunday will be a nice measuring stick to see how far this group is from where Smith wants them to be.
"We believe in these guys," Smith said, "but there's a lot to learn."
+ Roll call: Brandon Copeland and Kendall Sheffield were still not in attendance on Monday during the 30 minutes open to the media. Smith has said previously that he does not want to put a timeline on their return, but he did mention last week that Sheffield "should be getting close." It'll be something to monitor this week with both defenders.
+ The Falcons released running back Qadree Ollison last week to sign running back Wayne Gallman. On Monday, Smith went into detail about the roster move, saying Gallman was a player the staff thought "could add something" on fourth down.
"That was a big part of it," Smith said.
He also noted that he doesn't see this being the end of the road for Ollison.
+ Along with discussing his offseason work and what his expectations are for the season, Hennessy explained that he and Ryan are pretty "balanced" when it comes to who's making the calls offensively. It goes back to what Matthews' said previously during OTAs about Hennessy taking on more communicative responsibilities.