FLOWERY BRANCH, Ga. -- Six practices are now in the books for the 2017 AT&T Atlanta Falcons Training Camp, and there continue to be new developments with every single one.
One thing that hasn't changed, though, is how deep this team has the potential to be. Now entering his third season, coach Dan Quinn's fingerprints are all over this team. The Falcons look fast. They look physical. And the competition has been full-throttle.
As always, let's dive into the biggest takeaways from Wednesday's practice.
1. Defensive line's flexibility and depth is 'unbelievable'
Atlanta's defensive line contained the NFL's sack leader last season, yet many felt there was still room for improvement. If the early portion of training camp is any indication, that improvement has already occurred.
During one-on-one drills and the team periods, the Falcons' defensive linemen have looked as impressive as a team can look in practice. There is an excellent blend of speed and size, especially with the addition of Dontari Poe on the interior.
Starting center Alex Mack may have the best summary of what Poe's addition means; "The Poe, Grady (Jarrett) combo is a heavy one," he said.
Factor in Courtney Upshaw and Ra'Shede Hageman, and the Falcons have to like the way their two-deep looks at defensive tackle.
On the exterior, Atlanta has just as many options. Vic Beasley returns after registering a league-high 15.5 sacks last year. Adrian Clayborn looks like a man on a mission now that he's fully healthy and Takkarist McKinley should add fuel to the pass rush on the other side. Oh yeah, and don't forget about Derrick Shelby and Jack Crawford.
"I think the flexibility and the depth that we have is unbelievable," Beasley said when asked what makes this year's line different than last year's. "We've got guys that we brought in from different teams and they've been playing exceptionally well right now as we've been practicing.
Of course, with the addition of Takk, we have a lot of tools in place."
2. Julio participates in 11-on-11 drills for first time during training camp
For the first time since camp began, the Falcons' All-Pro receiver participated in full-team drills. This is obviously big news, as Jones has only been contributing during the individual periods of practice.
"He was, and that was good to see," Quinn said when asked if Jones was back in 11-on-11s. "We knew he was moving back closer. So, the first four-day block it was going to be all the individual (drills), getting the conditioning right; and then now, we're kind of going back into a return to play, so to speak. So he got about four or five (plays)."
As for how the Falcons will handle their star receiver during preseason games, coach Quinn said no decision has been made.
To read more about Jones' participation in 11-on-11 and other injury news, click here.
3. Continuity brings 'comfortable' feeling to the offensive line
Aside from the right guard battle, which Quinn explained after Wednesday's practice is expected to continue for quite some time, the offensive line returns four starters from last season.
The Falcons were the only team to start the same five offensive linemen in every game last season, and that continuity was a major advantage for the offense. Although there will be a new addition to the starting unit this fall, starting left tackle Jake Matthews said the familiarity up front is important.
"It makes you feel a lot more comfortable out there," he said. "Especially me playing by Andy (Levitre), he does a really good job of communicating, we're always on the same page with each other. And Alex (Mack), too, he's the one initiating everything, going up there and making the calls. And he's so on top of everything, it makes my job so much easier. But, we've got a good group. We communicate well, I think we're really well coached and we get after it. We're going to try to build off of what we did last year."
4. Allen believes Falcons' secondary can 'match up at any position'
Atlanta's defensive line isn't the only unit that appears to have great depth. The Falcons' defensive backs have made a big play seemingly every day in practice, and the level of competition within that unit has been remarkable.
"I think it's been six days in a row that us as a secondary has caused a turnover or been around to force a turnover," safety Ricardo Allen told reporters after Wednesday's practice. "Man, our depth is just amazing. Every position we feel that our 1s and 2s and 3s can go out and play with really anybody in the league. I feel like we can match up at any position. Our corners can match up with tight ends, running backs, slot (receivers); our safeties can also do the same.
"We've built so much depth that we can do it all now. We can play zone, we can play man, we can all blitz. We've got it now that our packages are just huge; we can do anything we want to. Our rotations, people can't tell, because it's not just going to be one guy doing one thing anymore."
With starting cornerback Desmond Trufant in the mix, the Falcons have a strong starting five in Trufant, Allen, Robert Alford, Brian Poole and Keanu Neal. Behind them, Jalen Collins, C.J. Goodwin, Akeem King and Damontae Kazee have also made nice plays in training camp.
5. Falcons had a celebrity guest in attendance for second straight practice
That theme continued on Wednesday when wrestling legend Ric Flair took in a practice and mingled amongst the fans. Like Holyfield, Flair quickly spoke with the team after the session was over and broke the huddle.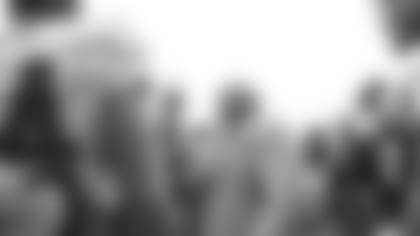 6. Highlights: Beasley makes presence felt during team period
During Wednesday's first full-team period, Beasley showed that he can do more than just rush the quarterback. After defeating his block, the defensive end got a hand free and knocked the ball loose from running back . With six forced fumbles last season, Beasley is showing a knack for creating turnovers.