Welcome to Straight from the 'Beek! We're days away from the start of mandatory minicamp and you know that means, right? Training camp is right around the corner – and you've got tons of questions. So, let's get right to them. Just remember, all opinions here are mine unless noted otherwise.
Thanks for the opportunity to ask questions of you, 'Beek. Do you foresee the offense making the adjustment to Sark's offense in a similar fashion as they did with Shanahan? My concern is that Sark was not really running his offense per se, but Shanahan's offense. What do you think will change between Sark-the Shark and the offense to take this team into the Super Bowl and win in Atlanta? One last thing, as hard as people were about Shanahan's first year, and about hiring Sark, it has been remarkably quiet over this offseason.
Matt: Hey there, Flavius. I had an opportunity to speak with Falcons offensive coordinator Steve Sarkisian on Wednesday while he answered questions from the media. Based on what he said, it definitely sounds like he's much more comfortable with his surroundings, the offense and the personnel heading into his second year. And that made a lot of sense to me, and it should be encouraging for Falcons fans everywhere. But the one thing that stood out to me was when he talked about having the ability to tweak the offense and make changes where he deemed it necessary, especially with the year of experience as OC here in Atlanta under his belt. That's big. In case you missed what I wrote  on Sarkisian (you can read the full story here), he said: "Now I can make some of the tweaks that I feel like are needed for this offense to continue to grow. I've got a really good understanding of every player – and the things that they're really good at, the things that they maybe need to work on, and things that I would be wrong in putting them in position to do. I think all of those things just puts me at a much different level of comfort, where you just feel good every day walking in like, 'OK, this is what we're going to work on today because I think we can get better at it. And if we really want to run this play, X player needs to run this play, not this player because X player runs it better.' And that goes a long, long way when you think about it." Granted it's early, but I expect the offense in Year 2 under Sarkisian to be better in 2018, Flavius. Thanks for the question, as always.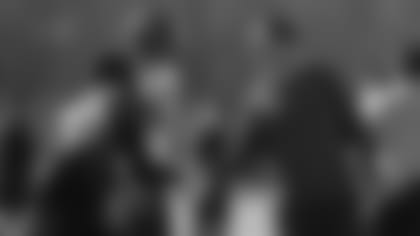 ---
Beek, great job with the All-Time Falcons Team and can't argue with any of your selections. In recent years the club has been giving a lot more recognition to players from the early days, and it's great to see. Can't argue with Roddy White's inclusion – at all – but my favorite No. 84 remains Alfred Jenkins, who's often overlooked as one of the all-time greats of our franchise. He was amazing in part because of his small size – not only short but also slender – but exceptionally explosive, elusive and productive, with a career YPC that I believe still ranks ahead of Julio Jones and White. For those that don't know his amazing story as an undrafted small college guy that tried out for the WFL and later went to two Pro Bowls, this *AJC* piece is worth a read.  I'd love to see two No. 84 jerseys honored at the stadium. He and Roddy are both worthy of that honor. That's probably a pipe dream, but any recognition you can throw towards Alfred Jenkins would be deeply appreciated. Thanks – from a 51-year-long Falcons fan!
Matt: Thanks, Chris. You know, when I was opening emails Wednesday morning, I had no idea that I would be formulating my all-time Falcons team. But it was fun putting together, even though it's always tough when you have to leave guys off. Based on the reaction from Falcons fans, I plan on putting one of those out every year now. Next year, it will definitely be more in-depth. I remember seeing Alfred Jenkins in Falcons highlights when I was a kid growing up in New York. One game does stick out – a divisional round playoff game against the Cowboys that was nationally televised. And Jenkins caught a 60-yard touchdown from Steve Bartkowski to put the Falcons up on Dallas. Jenkins had some very good years with Atlanta, but just not enough to supplant Roddy White from that all-time list. Next time I'll put together an honorable mention or just missed list to go with it. Thanks for writing in, Chris.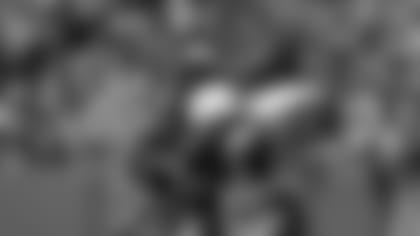 ---
Julie from Sandy Springs, GA
Our roster is in really good shape. That's why the only question I have is, who is the favorite for the punt return job? Keith Armstrong recently named Hall, Ito, Oliver, Hardy, and a few others as the favorites. I think we should start Hall at kick returner for his speed and Ito Smith at punt returner for his agility. What say you?
Matt: I think the roster is coming along and filling out nicely. We had an opportunity to speak with special teams coach Keith Armstrong on Wednesday and he had some really interesting and insightful things to say about special teams, specifically some of the new NFL rules and how they'll affect the kickoff and kick return units. One thing you can expect is a change to the make-up of those units, specifically the kinds of players (positions) you'll see on those units – Armstrong said to expect more fullbacks, tight ends and outside linebackers (mid-size players who can run and catch) on the field more. As far as the returners go, that's an ongoing competition right now that will play out through minicamp, training camp and the preseason. We asked Armstrong about who were the favorites right now for kick returner and he rattled off a few names, including Marvin Hall, Justin Hardy, Ito Smith, Isaiah Oliver and Calvin Ridley. Although he did add that Ridley was "probably wishful thinking" on his part.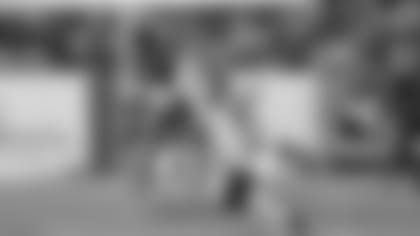 ---
Hi, Beek. Hope your injury recovery is going great! One thing I will not do is debate your top Falcons players by position. Great selections and thanks for publishing! A couple of comments. Scott Case deserving but a cheap shot player. That takes away from his legacy (a la coach Jerry Glanville). What do you and/or the coaches see in left tackle Jake Mathews to put him on the list? Matthews is a player but …
Matt: Hey, Mark. Thanks for the kudos, but it sounds like you're not too high on Jake Matthews being on this list. I wanted to be sure to consider former players from previous eras but not to overlook current players. And I'll admit with some of the names on this list, I did some projecting. I could have easily gone with Bob Whitfield as one of the tackles. He played with the Falcons from 1992 to 2003 before playing one year in Jacksonville and two with the Giants. But in 12 seasons with the Falcons, Whitfield started 167 of 178 games and made one Pro Bowl. But I went with Matthews because of his upside and the fact that he's been an integral part of the best offense in franchise history for the last four seasons (he's started every single game since being drafted in the first round – sixth overall – in the 2014 NFL Draft). I knew I might catch some flak over some of my picks, but that goes with the territory.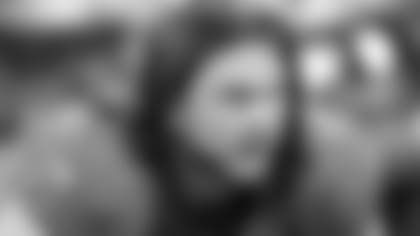 ---
I have seen some highlights of Ito Smith in college and I think he has the size for a very good running back. I do think his grade was underrated. Do you agree, and do you think Tevin Coleman or Devonta Freeman could possibly get replaced by him?
Matt: Hey, Chris. The Falcons really like Ito Smith, too – enough to spend a fourth-round draft pick on him in the 2018 NFL Draft. Yes, he was very productive while at Southern Miss. He's one of 10 players in NCAA history to finish his career with at least 4,000 rushing yards and 1,000 receiving yards – he finished his four-year career at Southern Miss with 4,538 yards and 42 touchdowns on the ground while averaging 5.5 yards per carry. He also caught 140 passes for 1,446 yards and seven touchdowns. But what matters now is what Smith does in minicamp, training camp and during the preseason. He'll be able to make an immediate impact on special teams and, according to special teams coach Keith Armstrong, Smith is one of the candidates for the kick return job right now. As far as replacing Tevin Coleman and Devonta Freeman goes, no. I don't see that happening – not this year. Thanks for your question!