Welcome, everyone, to a post-Thanksgiving, pre-Jaguars edition of Bair Mail. Hope everyone enjoyed their holiday and the leftovers that'll get you through this weekend until the Falcons kickoff Sunday afternoon in Jacksonville.
We have a ton to discuss, though most of it revolves around a theme. You all want to dive deep into the Falcons running game, how it can improve and which backs deserve carries.
Let's get into that and a few other forward-looking offensive issues in this Friday mailbag.
Travis Dixon from Bowling Green, Mo.
Thank you first and foremost for this platform. We do appreciate it and hope you have a great upcoming holiday! My question/observation is the lack of a real run game and why has ATL been awful at this since 2016?
Bair: I didn't include all of your question, Travis, but your points about scheme and draft selections up front and at running back being central issues are all valid. The Falcons run game is an issue that must be remedied.
We know head coach Arthur Smith's running game works. We've seen that in Tennessee. The Falcons need some more and maybe different talents to operate the scheme well. The Falcons definitely need better blocking up front. Mike Davis hasn't been terribly efficient running the ball despite entering the season expected to be the primary back. Cordarrelle Patterson has provided a spark, but he has a unique role that sends him all over the place.
I'm not sure a first-round running back is the answer, either. That's generally out of fashion these days and the Falcons need help at premium positions often taken high. We could see some shuffling along the line and a later-round pick added this offseason. Time will tell on that front, but I agree with you that the run game hasn't been right for a while and must improve to find the offensive balance Smith desires.
Tom Bennett from Canton, Ohio
Hi Scott, I've always been intrigue by Qadree Ollison. After banging out 4 touchdowns in 2019, he sat out the entire 2020 season and then the Practice Squad in 2021. It seems he has been preparing for his opportunity and it was great to see him enthusiastically knock down a couple of first down runs against the Patriots early on. He was successful @ Pitt especially behind a fullback. What is your opinion, and do you think we'll see more of him?
Bair: You aren't the only one intrigued by Qadree Ollison, Tom. He has been a popular player for some time, even if he hasn't had the production many expected. I thought he was only okay during training camp, which was hindered a bit by injury.
He earned carries last week against New England with Patterson out of the rotation with an ankle issue and Davis struggling some. He brought a physicality and downhill rushing style that still wasn't super efficient but better than what the Falcons had. He also popped two runs of 10-yards plus and did some good things with his opportunities.
Will we see more of Ollison? That would require another practice squad elevation – that would be the last allowed; they would have to add him to the active roster to play him after that – but Smith made it sound possible.
"I thought Q ran hard. It was good to see," Smith said on Wednesday. "I thought he was - we talked about physical, but he ran physical. He's a guy that's worked through it, but obviously hasn't been the easiest season for him. It's a hard job and understanding it's the NFL but guys like him that go through the ups and downs, the journey of the roster, but I thought he certainly earned the right for more carries and we'll just have to see how the game plan goes and as week goes."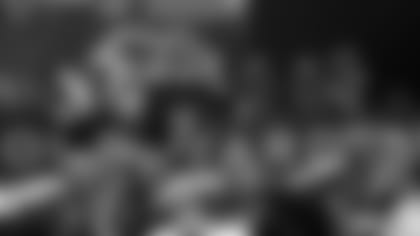 Craig Green from Angier, N.C.
Hey Scott, I want to follow up on a question I heard asked to Arthur Smith several weeks ago. Previously, Coach Art said that he and Matt Ryan are about "70 percent" in sync when asked for a percentage of how well they know and/or work with each other. Where is that percentage at now, heading into Jacksonville? Thanks, and happy holidays!
Bair: Happy holidays to you, too, Craig. Thanks for the submission. Smith was talking about his working relationship with Matt Ryan, which will grow over time as coach and quarterback run games and practices together. I didn't have time to ask him this week, but I'd say 75. I'd also say they'll never say 100 percent because the dynamic is always evolving. It's a good sign that they're in solid sync in their first year working together, and I would expect significant growth between Years 1 and 2.
Christopher Duke from Oceanside, Calif.
My question is geared more towards Matty Ice's succession plan. It is obvious that we cannot (and probably will not) ever get the O-Line (and D-Line) issues corrected. Should we look at drafting or acquiring a mobile QB? Maybe having a mobile QB will buy the offense more time to execute once a play breaks down (I'm just looking at the added dimension that J. Hurts provides the Eagles). Your thoughts?
Bair: The Falcons will execute a succession plan at quarterback, though I wonder if this next draft is the time to do it, considering they need top talent at edge rusher, cornerback and maybe along the offensive line. That said, the Falcons should go after any quarterback they truly fall in love with. Mobile quarterbacks are en vogue right now, with speed and athleticism being valued traits many top passers possess. That shouldn't stop them from addressing the offensive line, however. While Smith's Titans were good because of Derrick Henry, they were also good because they had top talents up front. Falcons Final Whistle | A Postgame Podcast
Break down the hottest topics surrounding the Atlanta Falcons and how they can impact the team's success with Atlanta Falcons Insiders Scott Bair, Tori McElhaney and Kris Rhim. Like and subscribe to join us for the lively debate on Falcons Final Whistle.
Welcome to Falcons Final Whistle – an Atlanta Falcons football postgame podcast during the season that shifts gears in the offseason to answer a pressing question about the team's future each week through free agency, the NFL Draft and the offseason program.